Chinese naval hospital ship making first-ever call at a South American port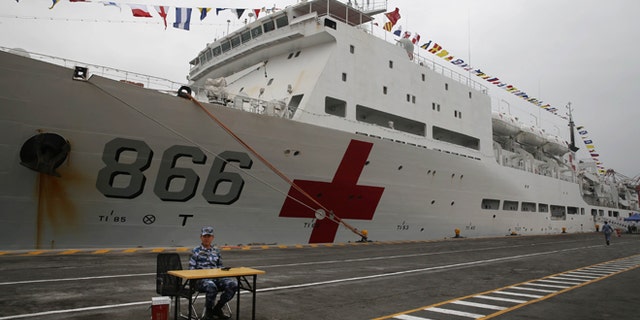 LIMA, Peru (AP) – A Chinese naval hospital ship is making a first-ever call at a South American port in a sign of the Asian economic giant's growing influence in the resource-rich region.
The Peace Ark, with 500 beds and 118 medical professionals, docked Monday at a port outside Peru's capital of Lima for a seven-day service visit. It's the last destination on a three-month mission that also included stops in Australia, Mexico, Barbados, Grenada and the U.S. The 756-foot ship is expected to perform 2,000 free medical procedures during its stay in Peru.
"We're very thankful because during this holiday season they're going to give the gift of health care," Peruvian Health Minister Aníbal Velásquez said at a ceremony alongside China's ambassador to Peru.
Such goodwill visits have been a mainstay of U.S. diplomacy in Latin America for decades, the latest being the hospital ship USS Comfort's visit to 11 nations during a regional tour earlier this year. But the Chinese outreach is more recent, having gained momentum as the country's demand for Latin America's natural resources has soared over the past decade.
"It's definitely an approach that was partially inspired or learned from U.S. actions," said Evan Ellis, an expert on China-Latin America relations at the U.S. Army War College in Carlyle, Pennsylvania. "It's like the Boy Scouts. You show up and see who you can help."
While Ellis says the humanitarian mission in what has traditionally been Washington's backyard shouldn't set off alarm bells, the timing of the visit, with the U.S. distracted by unrest elsewhere, is propitious for Chinese aims of gradually expanding its military influence around the world.
"It's not necessarily nefarious, but one does notice what is happening," Ellis said. "It impacts the U.S. position as the partner of choice" for several Latin American countries.