Cat food recalled for low levels of essential nutrient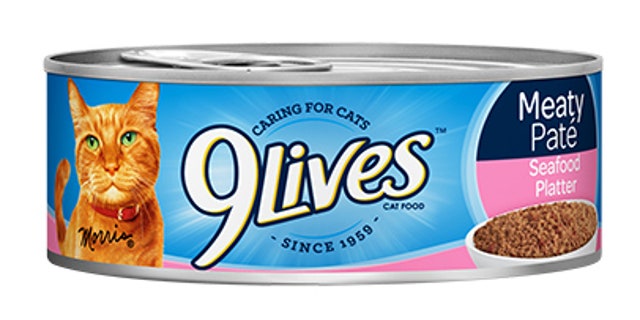 The J.M. Smucker Company has announced a limited voluntary recall on 20 canned cat food products from the brands 9Lives, EverPet and Special Kitty because the products may have harmfully low levels of thiamine (vitamin B1).
Cats with low thiamine in their diets may be at risk of developing a deficiency, according to the Food and Drug Administration (FDA). Symptoms of vitamin B1 deficiency include gastrointestinal or neurological issues, as well as decreased appetite, salivation and weight loss. Neurological signs can occur in advanced cases and may include wobbling walking and seizures.
According to an FDA news release, cats suffering from nutrient deficiency can fully recover with prompt treatment.
The FDA has not received any reports of illness, and the company is recalling the products out of an abundance of caution, the J.M. Smucker Company said in the release. The company discovered the deficiency during a quality assurance team review of production records.
Retail customers purchased the recalled cat food between Dec. 20 and Jan. 3. The company did not disclose how many of the affected products were sold. Customers with product from the affected lots should stop feeding it to their cats and call The J.M. Smucker Company at 1-800-828-9980 Monday through Friday 9:00 AM - 6:00 PM EST or at consumer.relations@jmsmucker.com, the FDA said.

The following products are affected by the recall:
? 9Lives Meaty Pate Chicken and Tuna, 7910052238, 6354803, 12, 13 oz, 7910052228
? 9Lives Meaty Pate Seafood Platter, 7910000402, 6356803, 24, 5.5 oz, 7910000402
? 9Lives Meaty Pate Seafood Platter, 7910000367, 6355803, 6 4pk 5.5 oz each, 7910003670
? 9Lives Meaty Pate Super Supper, 7910000327, 6358803, 24, 5.5 oz, 7910000327
? 9Lives Meaty Pate Super Supper 7910000286, 6358803, 6, 4pk, 5.5 oz each, 7910002860
? 9Lives Meaty Pate Super Supper, 7910052239, 6355803, 12, 13 oz, 7910052229
? 9Lives Meaty Pate Super Supper, 7910052239, 6364803, 12, 13 oz, 7910052229
? 9Lives Meaty Pate with Chicken and Seafood, 7910000364 (793641) 6356803, 6, 4pk, 5.5 oz each, 7910003640
? 9Lives Meaty Pate with Chicken and Tuna, 7910000324, 6356803, 24, 5.5 oz, 7910000324
? 9Lives Meaty Pate with Chicken Dinner, 7910000410, 6356803, 24, 5.5 oz, 7910000410
? 9Lives Meaty Pate with Liver and Chicken, 7910000312 (793121), 6355803, 6, 4pk, 5.5 oz, each, 7910000312
? 9Lives Meaty Pate with Ocean Whitefish, 7910000420, 6358803, 24, 5.5 oz, 7910000420
? 9Lives Seafood Poultry Variety Pack, 7910053377, 6307803, 24, 5.5 oz, 7910053377
? 9Lives Meaty Pate with Chicken & Tuna, 7910000366, 6357803, 6, 4pk, 5.5 oz each, 7910003660
? EverPet Mixed Grill Dinner, 7910053114, 6356803, 12, 13 oz, 7910053114
? Special Kitty Beef and Liver Dinner, 8113112120, 6355803, 12, 13 oz, 8113112120
? Special Kitty Classic Tuna Dinner, 8113112157, 6358803, 12, 13 oz, 8113112157
? Special Kitty Mixed Grill Dinner with printed wrap, 8113109609, 6355803, 1, 12 pk, 13 oz each, 8113109609
? Special Kitty Mixed Grill Dinner without printed wrap, 8113112119, 6356803, 12, 13 oz , 8113112119
? Special Kitty Super Supper, 8113179041, 6355803, 12, 13 oz, 7910079041