Bystander CPR may boost survival odds when ambulance delayed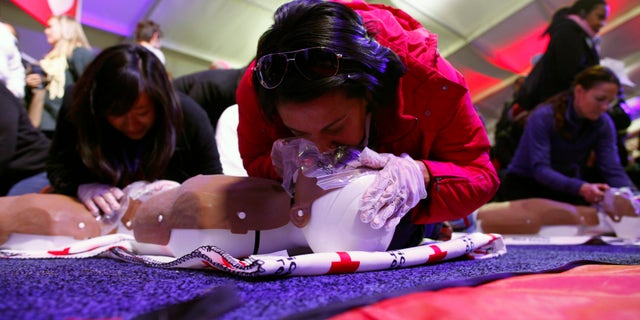 Cardiac arrest patients who get cardiopulmonary resuscitation (CPR) from a bystander at the scene may have better survival odds even when an ambulance takes a long time to arrive, a Danish study suggests.
Researchers examined data on 7,623 cardiac arrest patients and found when an ambulance arrived within five minutes of a 911 call, patients were 2.3 times more likely to survive at least 30 days if they received bystander CPR than if they didn't get this aid at the scene.
When ambulances took up to 10 minutes to arrive, bystander CPR was associated with tripled survival odds, the study also found. After 13 minutes, patients who got CPR at the scene continued to have better survival odds but the difference was no longer statistically meaningful.
"Early CPR saves lives, and the lack of CPR efforts from bystanders could result in significantly decreased chances of survival," said lead study author Dr. Shahzleen Rajan of Copenhagen University Hospital in Denmark.
Cardiac arrest involves the abrupt loss of heart function, breathing and consciousness. Unlike a heart attack, which happens when blood flow to a portion of the heart is blocked, cardiac arrest occurs when the heart's electrical system malfunctions, often due to irregular heart rhythms. Cardiac arrest may occur with no warning and is often fatal.
Chest compressions or CPR can help restore circulation, increasing the odds of survival. Bystander CPR generally won't restore a normal heart rhythm but it can buy time by maintaining blood flow to vital organs.
"We know from previous research that 1 in 8 people survive after a cardiac arrest if a bystander initiates CPR before the arrival of the emergency medical services," Rajan said by email. "In contrast, if CPR is not initiated before the arrival of the emergency medical services, only 1 in 30 people survive a cardiac arrest."
For the current study, researchers looked at 30-day survival for patients who had cardiac arrests outside of a hospital between 2005 and 2011.
When the ambulance arrived within five minutes, 14.5 percent of patients in the bystander CPR group survived at least 30 days, compared with 6.3 percent in the group that didn't get this help.
For ambulance arrival times up to ten minutes, 6.7 percent in the CPR group and 2.2 percent of the other patients survived. If the ambulance took more than 13 minutes, the survival rate was 3.7 percent in the CPR group and 1.5 percent for the others - a difference that wasn't statistically meaningful.
The study is observational and doesn't prove bystander CPR increases survival odds, the authors note in Circulation. Researchers also lacked data on how quickly bystanders intervened after the start of cardiac arrest, which could influence outcomes, the authors note.
"Once a victim has sustained a cardiac arrest with little or no blood supply going to the heart or brain, the time to reestablishing blood flow with oxygenated blood is critical," said Dr. Lenworth Jacobs, director of trauma and emergency medicine at Hartford Hospital in Connecticut.
"It is generally thought that the sooner this is implemented the better," Jacobs, who wasn't involved in the study, added by email.
The biggest obstacle to bystander CPR remains that too few people know how to do it, said Dr. Peter Pons, an emergency physician in Denver and professor emeritus at the University of Colorado School of Medicine.
"Clearly, if someone has been motivated to learn and has been taught CPR, they will often assist," Pons, who wasn't involved in the study, said by email. "When someone does not have that knowledge, they tend to be more reluctant to act and may fear making things worse."
SOURCE: http://bit.ly/2hYh4Iq Circulation, online November 22, 2016.