Boy battling cancer granted wish to be firefighter for a day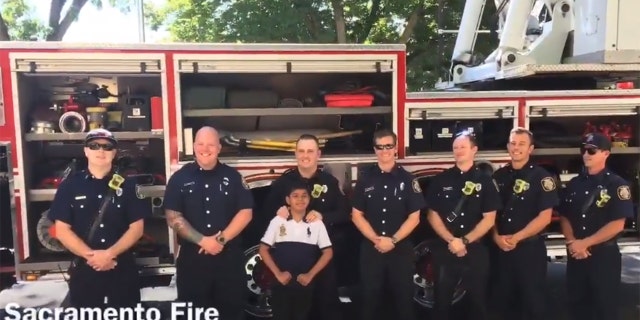 A Sacramento firefighter who helped make a sick boy's wish of becoming a fire-eater come true on Wednesday said he knows first-hand what the Make-A-Wish experience can do for a child. Derrick Perry, who was on-hand to help 9-year-old Saul Orejel become a member of the Sacramento Fire Department, battled the same illness as the boy at the same age, and was even treated at the same hospital, Fox 40 reported.
Orejel, who took a break from leukemia treatment to try on gear and take a ride on the fire engine, said hearing Perry speak about becoming a firefighter has inspired him even more.
BOY WITH AUTISM FIGHTS TO KEEP SERVICE DUCKS AFTER TOWN ORDERS FAMILY TO GET RID OF THEM
"He's saying he was in the same thing that I was and he's a firefighter, that means I can do it too," Orejel told the news outlet.
Leukemia is the most common cancer in children in teens, accounting for about 1 in 3 cancers. According to the American Cancer Society, most childhood leukemias are acute lymphocytic leukemia (ALL), or acute myeloid leukemia (AML). It is not clear which Orejel was diagnosed with, but both are typically treated with intensive chemotherapy.
Perry said his own Make-A-Wish experience had a lasting impact on him.
"It might give him a chance to see the light at the end of the tunnel," he told Fox 40. "There's more after a life-changing event like this."