Army veteran dad making 10-year-old son's final months memorable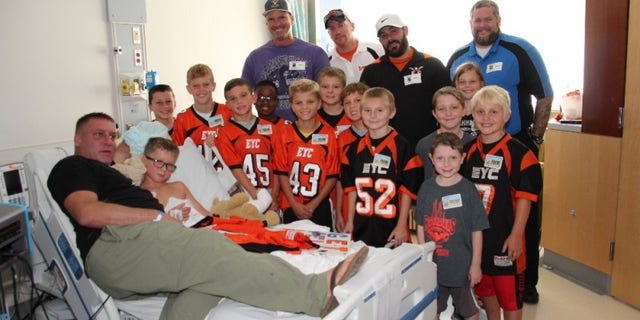 Seven months ago, 10-year-old Ayden Zeigler-Kohler was diagnosed with an aggressive brain tumor and given between eight and 12 months to live. His Pennsylvania-based family spent the first few months frantically searching for a clinical trial aimed at beating diffuse intrinsic pontine glioma (DIPG), but has since decided to focus on helping Ayden enjoy the time he has left.
DIPG brain tumors are highly aggressive and notoriously difficult to treat, and, due to their placement on the brain stem, affect breathing, blood pressure and heart rate.
"We're trying to cram a lifetime into a few months is what we're trying to do," Bill Kohler, Ayden's Army veteran father, told the Statesman Journal.
The family has enlisted the help of their local community to help Ayden create special memories, like honoring him at football and basketball games, and sending him on a Florida fishing trip. Kohler told the Statesman Journal that he even got to watch his son shoot his first buck this winter.
"It was a perfect shot," Kohler told the news outlet. "That was a proud dad moment right there."
Ayden's devastating diagnosis came after he collapsed during middle school football practice. Initially it was believed he was suffering from a concussion, but once his motor skills began to deteriorate, doctors investigated further and found a tumor in his cerebellum and the other in his brain stem, the Statesman Journal reported.
Kohler, who struggled after returning from Iraq, told the news outlet that Ayden's birth saved his life, and that the two are inseparable, often finding solace in the woods while hunting.
"I was a medic in the war, you know, and you fix things," Kohler told the Statesman Journal. "And this was something I couldn't even touch."
Ayden's health has deteriorated but the two have made adjustments along the way so that they can enjoy their favorite activities together. For a hog and ram hunt in Marietta, Ayden's wheelchair has been fitted with an extendable arm to support a crossbow and keep his arm steady, the Statesman Journal reported.
Kohler acknowledged to the Statesman Journal that it's difficult to plan activities far in advance because of Ayden's prognosis, but that he's promised his son that they'll be together for it all.
"No matter how this turns out, son, I will be by your side," Kohler said he told his son. "The whole way."
A GoFundMe page and a Facebook page has been created to help keep supporters updated on Ayden's health and journeys.