Army vet completes cross-country trek to raise awareness for PTSD and suicide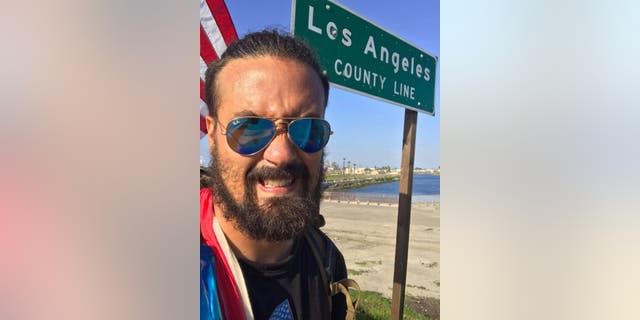 An Army veteran's five-month, 2,200-mile journey to raise awareness for post-traumatic stress disorder (PTSD) and veteran suicide came to an end Wednesday, when he reached his final destination at Santa Monica Pier flanked by dozens of supporters.
"I'm so grateful for the kindhearted people that helped me get through this," Ernesto Rodriguez told Fox 11.
Rodriguez, who began his journey in Tennessee on Veterans Day 2016, was deployed four times and struggled with PTSD upon his return.
FLORIDA MOM RETURNS HOME AFTER OKLAHOMA SURGEON REMOVES 'INOPERABLE' BRAIN TUMOR
"Every deployment I felt a little more numb," he told Fox 11. "It got to the point where when I went back to the civilian sector I didn't know how to handle it."
PTSD is an anxiety disorder that typical follows exposure to a traumatic event such as combat, disaster or assault. Symptoms include nightmares, jumpiness, paranoia irritability and aggressiveness. It is often accompanied by depression, substance abuse or other anxiety disorders.
In 2011, Rodriguez was in the depths of PTSD and attempted suicide twice.
"In 2012, there was a study done that 22 veterans commit suicide a day," he told Fox 11. "I could've been one of those 22 back in 2011. I wanted to find a way to inspire those that are having dark days like that to just keep pushing forward, so I just started walking."
DOCTORS TEAM UP TO STOP PREVENTABLE BLINDNESS
Rodriguez, who carried an American flag with him for the journey, said he wanted to find a way to change the number of veterans committing suicide to zero. During his journey he updated supporters through his Facebook page, which he named "Nerdesto #forthe22."
"It's surprising how many people don't know that number exists," he told Fox 11. "It was great to just be there to just teach people about this epidemic that we have in the U.S."
Though his cross-country trek is complete, he said his work is not over. He is planning to write a book and become a motivational speaker to continue helping other veterans.