American Heart Association: Dementia, hypertension strongly linked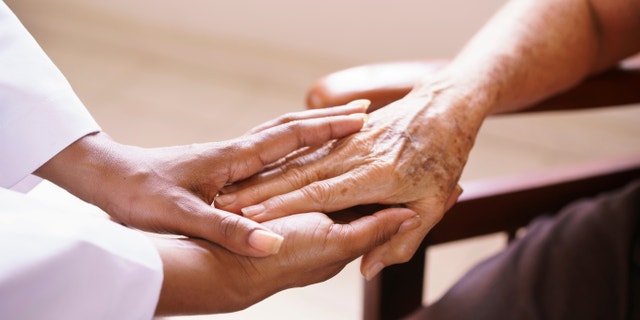 NEWYou can now listen to Fox News articles!
There's a strong association between high blood pressure and brain diseases like Alzheimer's, the American Heart Association (AHA) announced in a statement published Monday on its website and in the AHA journal Hypertension. The group's warning, which does not imply a definite causal relationship between the two conditions, comes on the heels of a meta-analysis regarding how hypertension may influence diseases such as dementia, vascular cognitive impairment and stroke.
"Many observational studies suggest treating hypertension may reduce the cognitive impact of high blood pressure, especially on vascular cognitive impairment, but observational studies are not designed to prove cause and effect," Dr. Costantino Iadecola, chair of the writing committee, said in a news release.
Vascular cognitive impairment and Alzheimer's disease are the leading causes of cognitive impairment, according to the AHA. The former condition refers to a range of changes in brain function caused by impaired blood flow to the brain. Patients with dementia often have a combination of vascular cognitive impairment and Alzheimer's.
The AHA called for rigorous studies to shed more light on the possible relationship between hypertension and brain disease. So far, doing so has been difficult for scientists because of the time elapsed between when a patient has high blood pressure and when cognitive issues appear. The AHA wrote that these longitudinal studies would ideally explore when at-risk patients would be best off beginning treatment to protect the brain, the blood pressure patients should aim for, and the ideal medications for doctors to recommend.
"We know treating high blood pressure reduces the risk of heart diseases such as heart attacks, congestive heart failure and stroke, and it is important to continue treating it to reduce the risks of these diseases," Iadecola, also the director of the Brain and Mind Research Institute at Weill Cornell Medicine, said in the release. "However, we need randomized controlled studies— which do prove cause and effect— to determine if treating high blood pressure, especially in middle age, will also decrease the risk of cognitive impairment later in life."
The National Institute on Aging, part of the National Institutes of Health (NIH), has closed recruitment for one such long-term study, called the Systolic Blood Pressure Intervention Trial: Memory and Cognition in Decreased Hypertension (SPRINT-MIND), according to the NIH website.
"The SPRINT-MIND trial, a new study that is designed to evaluate the role of treating high blood pressure relative to cognitive impairment, may provide answers to some of the outstanding questions about treating high blood pressure relative to reducing the risk of cognitive impairment," Iadecola said in the release.
Worldwide, dementia affects an estimated 30 to 40 million people—a number that is expected to triple by 2050 due to the aging population. By that time, estimated treatment would exceed $1.1 trillion.