9-year-old given month to live wishes for Christmas cards to celebrate favorite holiday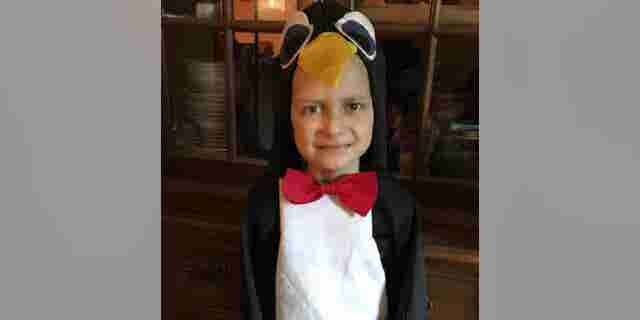 A 9-year-old boy is celebrating his last Christmas early, and has asked for the world to send him holiday cards to help spread cheer. Jacob Thompson, who has been battling stage 4 high risk neuroblastoma since age 5, was admitted to Barbara Bush Children's Hospital a few weeks ago and given about one month to live after doctors discovered the cancer had spread to his hip and head.
On Nov. 1, Thompson's mother, Michelle Thompson Simard, shared on Facebook that the first card had arrived from a friend named Nolan. It was decorated with a penguin, which is the boy's favorite animal.
CHILDHOOD CANCER BY THE NUMBERS
Simard said her son believes in the motto "live like a penguin," which to him means to "be friendly, stand by each other, go the extra mile, jump into life and be cool," GoodHousekeeping.com reported.
An update posted to the family's GoFundMe page on Thursday said the cards were starting to stream in.
"The response for cards has been great!!!" Simard posted. "We're so excited about this."
In addition to the cards, hospital staff plan to transform his room into a Christmas wonderland next week, complete with a tree, snow and a visit from Santa, WLKY reported.
HOSPITAL, FAMILY TO MEET OVER TODDLER'S STALLED KIDNEY TRANSPLANT AMID PROTESTS
"Jacob loves the holiday season," his mother told the news outlet. "And we want him to know that Christmas wishes come true and that there are good people who care all around the world."
Those interested in sending Thompson a card can address it to:
22 Bramhall Street
Room 653
Portland, Maine 04102