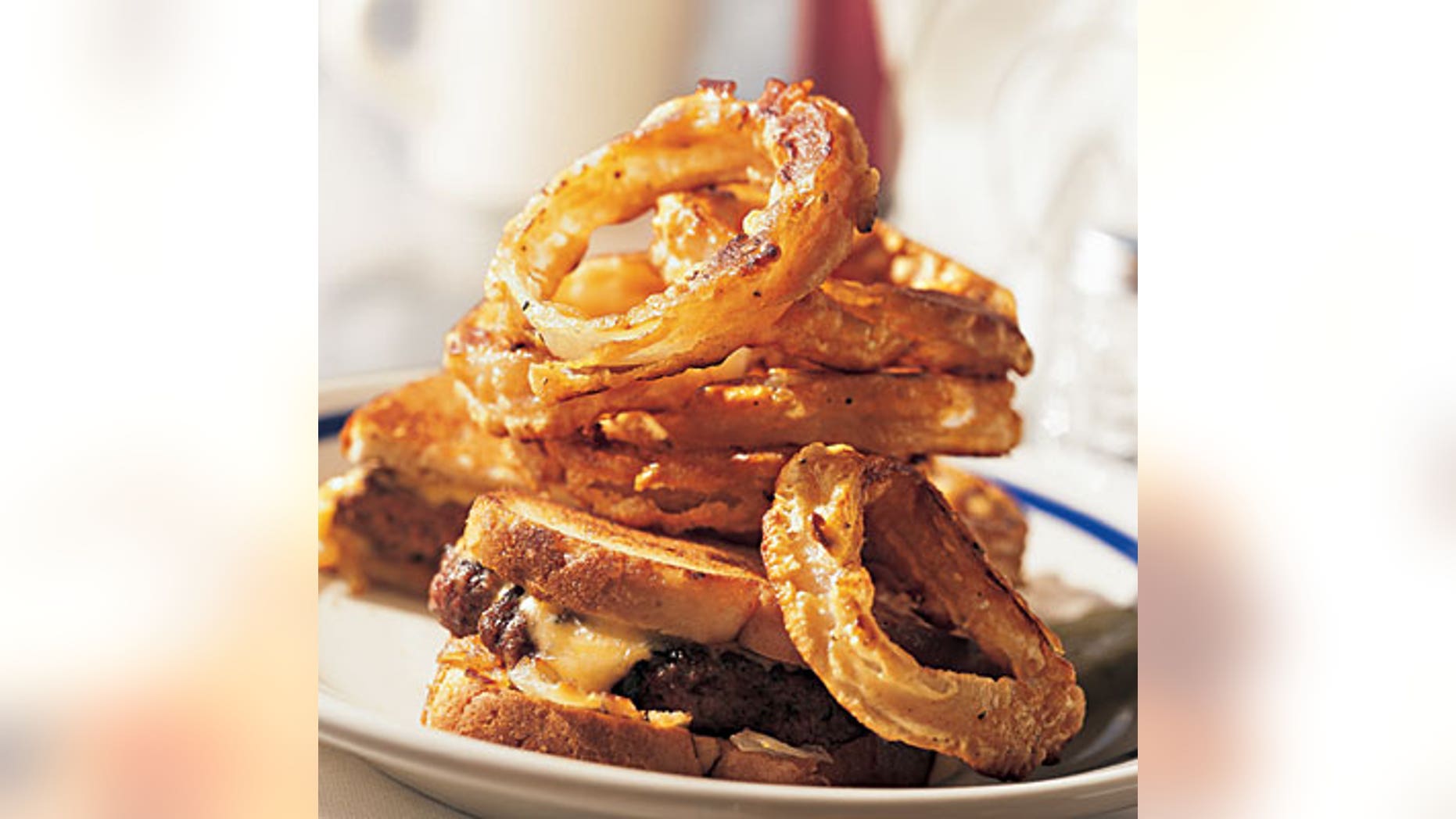 Guys get a bad rap for their "diet." From pizza and beer to fried chicken and wings, these stereotypical "man foods" can really pack on the calories, saturated fat, and sodium. Lighten them up by making just a few minor tweaks while still salvaging the flavors they crave. So go ahead, blame the guys (and enjoy your beer and wings with them). Here are a few of man's best food friends lightened.
1. Beer
This drink of choice seems quite simple to lighten—simply drink light beer. We asked our Facebook fans which light beer they prefer and the answers varied with Bud Light and Amstel Light ranking highest. If light beer isn't your guys thing or if he isn't willing to give up his full bodied beer, try another strategy. Encourage him to drink just one or two higher calorie, full-flavored beers. Choose a high gravity, slow sipping beer versus pounding can after can of light beer.
2. Burgers
A hamburger doesn't have to be oversized or loaded with fatty toppings to be a good burger. You may think that the easiest way to lighten a beef burger is to just switch to ground turkey, but that isn't always true. Not all ground turkey is as light as you may believe so make sure to check the label to ensure you're purchasing ground turkey breast (versus "ground turkey" that may also include the darker meat and skin). In fact, regular ground turkey has more fat and calories than 93 percent lean ground beef. So if you prefer beef, choose the extra-lean ground beef or ground sirloin and top with crisp lettuce, juicy tomatoes, and reduced-fat cheese.
3. Pizza
Ditch the meat-lover's pizza and replace the mounds of sausage and pepperoni with a variety of colorful veggies. Just one slice can really pack in the calories, saturated fat, and sodium but with a few smart tweaks like using fresh vegetables, a sensible amount of cheese, and lean meat, you can still savor every bite to the fullest. To cut down on the calories even more, use a thin, whole wheat pizza crust.
4. Nachos
Nachos are chock-full of goodness hitting on all types of flavor and texture notes. For a quick and simple nacho fix without the added calories, fat, and sodium, make your own by using wholesome ingredients. Substitute salty taco-seasoned ground beef with shredded lean pork tenderloin. In place of premade, lard-packed refried beans, mash pinto or black beans and dollop on the chips. Add diced avocado in place of mounds of guacamole to evenly distribute the creamy, cool flavor and keep the calories in check. Finally, top with shredded reduced-fat cheese and pop under the broiler until melted instead of drizzling with neon orange cheese sauce.
_________________________________________________________________________
More From CookingLight.com:
Healthy Grilled Burgers
22 Healthy Lunch Ideas

8 Healthy Office Snacks
The Most Common Nutrition Mistakes
_________________________________________________________________________
5. Fried Chicken
Frying your own food doesn't have to be bad for you. So before you give your guy a hard time for munching on fried chicken, consider that he may actually be eating something that isn't as bad as you think. But here's the catch—the healthiest fried food is what you fry yourself using healthy oils, light breading, and reasonable portion sizes. So if he's prone to driving through to pick up a bucket of chicken, you may want to curb his habits and make your own. Also, try pan frying or oven baking for a crispy and even lower calorie option.
6. Wings
Chicken wings get a bad rap because they're traditionally greasy, fried, skin-on tailgating treats. But they don't have to be! If you want to cut down on the fat and calories in this appetizer, remove the chicken skin. However, 55% of the fat in chicken skin comes from the heart healthy mono-unsaturated fat so a little bit won't blow your saturated fat budget for the day. To simply degrease wings, bake or grill them instead of deep-fat frying then toss in hot sauce or buffalo sauce. You can also reduce the calories even more by using chicken breast tenders or even fish tossed in wing sauce.
7. Onion Rings
If your guy has tried to convince you that onions rings count as a vegetable serving, try this trick to keep him true to his word. These onion rings taste just as good as ones he would eat at a diner or a bar. Instead of searching for the onion in a sea of fried batter, this recipe highlights the true onion flavor by thinly coating it in a beer-seasoned batter, lightly frying until golden brown in a small amount of oil, and then baking to finish off them off. For a strong beer flavor, use a darker beer.
8. Meat and Potatoes
Beef often gets a bad rap for being high in saturated fat so choose lean cuts of beef for a healthier meat option. High-quality, lean protein helps to support healthy muscles, provides iron, and keeps you feeling full plus it's a good source of energy-providing B vitamins. When selecting meat, any meat ending in "loin" is usually the most lean and quite tender. Also try flank steak, tri-tip, and hanger steak for a budget-friendly option.
Ditch the fried fries or butter-filled mashed potatoes and offer grilled potato strips to satisfy your guy's meat and potato fix.
9. Cheese Sticks
Panko and Parmesan cheese give these crispy appetizers the same look and feel as traditional cheese sticks but for a fraction of the calories. Instead of cheese, dredge zucchini sticks in a breadcrumbs, panko, and Parm mixture then broil (versus frying) for a crispy texture. Six zucchini sticks with red pepper sauce only have 170 calories which is roughly equivalent to only two cheese sticks without sauce.