7-year-old who grew hair for cancer patients' wigs diagnosed with stage 4 cancer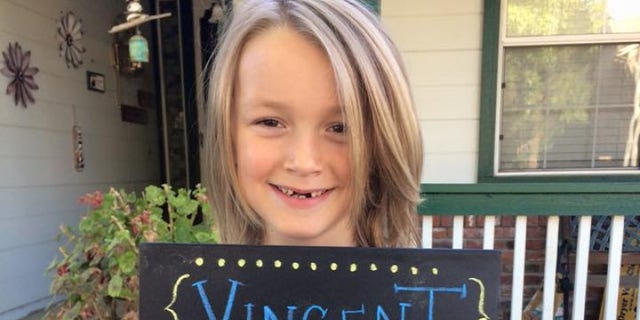 NEWYou can now listen to Fox News articles!
Vinny Desautels, of Roseville, Calif., spent two years growing his hair out to help make wigs for kids with cancer. Now, the 7-year-old is now battling the disease himself.
Vinny, who donated 13 inches of hair and endured teasing while he grew his hair out, came home with a pain in his knee the first week of May, Fox 5 reported. At the emergency room, doctors discovered a large growth on his right hip. The next day, doctors inspected his right eye, which had become progressively more swollen, thinking it and the hip growth were related. They found a malignant mass in the bone around his eye, and behind his nose and cheek.
"It is stage 4 aggressive cancer," Vinny's father, Jason Desautels told Fox40.
The second grader remains optimistic while trying to understand his diagnosis.
"Well, the veins from my hip are traveling to another place right behind my eye, and it's making it squinty," Vinny told Fox40.
Relatives started a GoFundMe page to support the family and medical costs. Mom Amanda is six months pregnant and Jason is a combat veteran, according to the page.