8-year-old daughter of cancer survivors diagnosed with rare form of breast cancer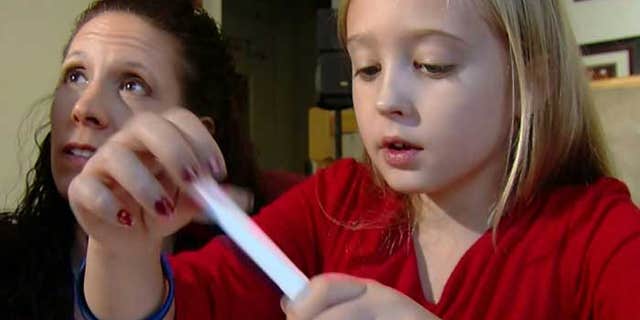 After beating cancers of their own, Troy Turner and his wife, Annette Turner, must muster up the strength to survive another battle— this time, for their daughter Chrissy, who has been diagnosed with a rare form of the disease.
Fox 12 Oregon reported that the 8-year-old, who lives in Centerville, Utah, is preparing to undergo a mastectomy at the Huntsman Cancer Institute after being diagnosed with secretory carcinoma, a subtype of breast cancer that occurs in only one in 1 million people. Chrissy's doctors say she's the youngest person they have seen diagnosed with the disease, according to the news station. The first symptom of the disease was a lump on Chrissy's breast that appeared in October.
"I was scared the first time that I knew about it," Chrissy told kptv.com. "But I knew— I knew that I could fight it off, and I hope that I can fight it off."
Annette, a holistic life coach and personal trainer, previously beat cervical cancer, and Troy, a Desert storm veteran who works at Hill Air Force Base, was diagnosed with Non-Hodgkin's Lymphoma when Chrissy was a baby.
"She was our therapy when he was going through chemotherapy. She was always making us laugh and she's got the wit of someone far beyond her age," Annette told the news station.
Annette said she and Troy would stay strong for her daughter as they did during their cancer battles.
"We're just going to keep fighting and doing everything we can to smile every day and laugh every day and carry our head high and do our best to overcome this," Annette told kptv.com.