3-legged puppy recorded running stairs to 'Rocky' theme song is adopted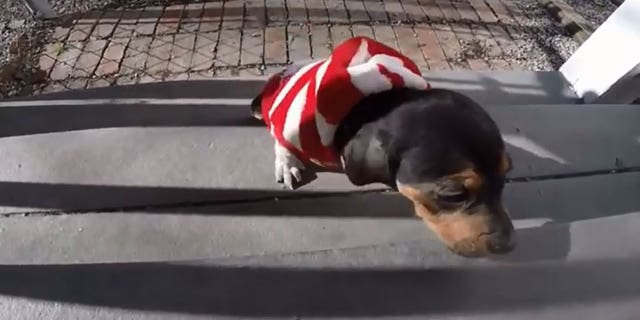 A video of a 5-week-old puppy with three legs climbing the stairs to the "Rocky" theme song is being credited with helping get her adopted. Holly, who appears to be a type of Beagle, was discovered by Pender Animal Control in North Carolina with her mother.
Holly's back left leg was completely crushed at the top, bottom and knee, but the shelter could not afford to have it amputated. Adopt an Angel, a charity run in North Carolina, stepped in and covered the cost for Holly's surgery.
She was then given a foster home by an employee at the vet's office who helped heal her. The video of Holly climbing the stairs quickly gained more than 25,000 views, and donations to help cover her surgical expenses poured in. People also began inquiring about how to adopt her.
Fox 5 NY reported that Holly has been adopted but did not identify her new owners. Adopt An Angel said that her mother is still available for adoption and is currently undergoing heartworm treatment.