Tennessee hunter spots 12-point albino buck in rare sighting: 'It was like seeing a ghost'
A hunter in Tennessee said she had a "once-in-a-lifetime experience" after spotting a rare albino buck last week.
Amy Henderson Hall shared a video and photos of the 12-point buck on Facebook, writing the animal "walked right underneath me and hung out with me for 30 minutes."
RARE ALBINO DEER WITH BLUE EYES CAUGHT ON VIDEO IN MICHIGAN
"I teared up and was totally amazed," she said.
Hall told Fox News Tuesday she spotted the buck while hunting on her friend's property in Williamson County.
"It was a very eerie, ghostly feeling," she said of the animal, adding it was her first time seeing an albino deer. "It took my breath away."
White deer are "extremely rare," according to the website ProtectTheWhiteDeer.com, which is run by a group in Wisconsin that aims to protect the animals. The snowy color is a genetic trait that's inherited, according to the group.
Hall said the buck she saw was a "true albino," meaning it had a pink nose and eyes, a "result of blood vessels showing through the skin and clear lens of the eyes," ProtectTheWhiteDeer.com reported.
The site reported only one in an estimated 20,000 deer are born with the condition.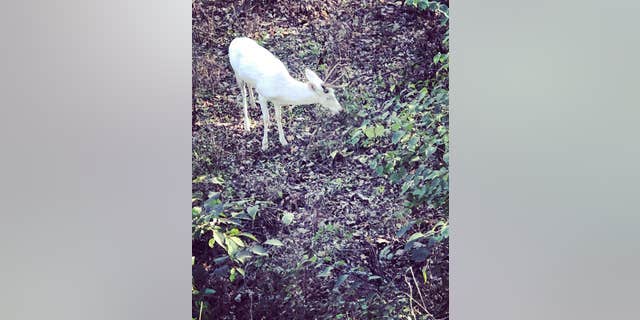 Hall, who said she hunts deer to feed her family, hopes her experience will serve as a reminder to those in Tennessee that hunting albino deer is illegal.
Following Hall's sighting, the state's wildlife resource agency reminded residents that albino deer are both rare and "illegal to harvest" in the state.
Other states, such as Illinois, Iowa and Wisconsin, also have laws protecting white deer, according to the online animal rights publication The Dodo.
"It was like seeing a ghost."
KENTUCKY MAN BAGS 'RARE' DEER WITH DECAPITATED BUCK HEAD ENTANGLED IN ITS ANTLERS
Hall said she watched the buck for roughly 30 minutes as it grazed and rubbed its antlers on a tree.
"It enjoyed the space, nothing ever bothered it," she said. "This experience was amazing; it was like seeing a ghost."
Fox News' Jennifer Earl contributed to this report.