Fishermen hoping to catch catfish reel in massive alligator gar instead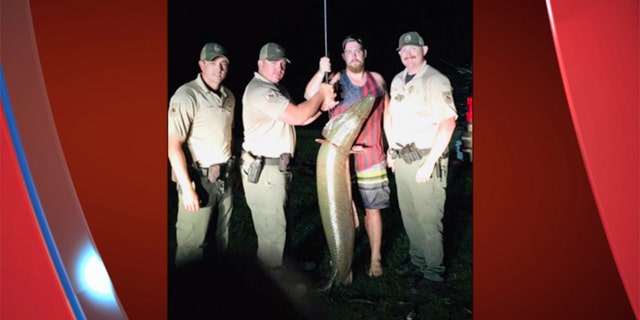 Two men fishing for catfish in Oklahoma over the weekend were in for a big surprise when they reeled in a massive alligator gar, instead.
Tim Butler and Canton Stafford, who were camping at Lake Texoma near McBride, had set out several rods in hopes of catching some catfish overnight.
SOUTHWEST FLIGHT MAKES EMERGENCY LANDING BECAUSE PASSENGER WAS ALLEGEDLY SMOKING POT
When Butler saw one of the lines getting a bite, he told local game wardens he fought hard to reel it in.
"Tim said the huge fish stripped all his line from his reel twice before landing the monster. He fought the large fish, but said it would have been impossible to land the beast without the help of his buddy Canton!" Oklahoma Game Wardens wrote in a Facebook post.
The unexpected catch was 6 feet 2 inches long, with a 30.5-inch girth.
Butler told the wardens the alligator gar would feed the whole camp for the rest of the weekend "and then some."
FOLLOW US ON FACEBOOK FOR MORE FOX LIFESTYLE NEWS
In 2015, the record was set when a fisherman caught an 8-foot alligator gar weighing 254 pounds out of the same lake, according to NewsOK.