6-foot bull shark leaps into family fishing boat, 'petrifies' kids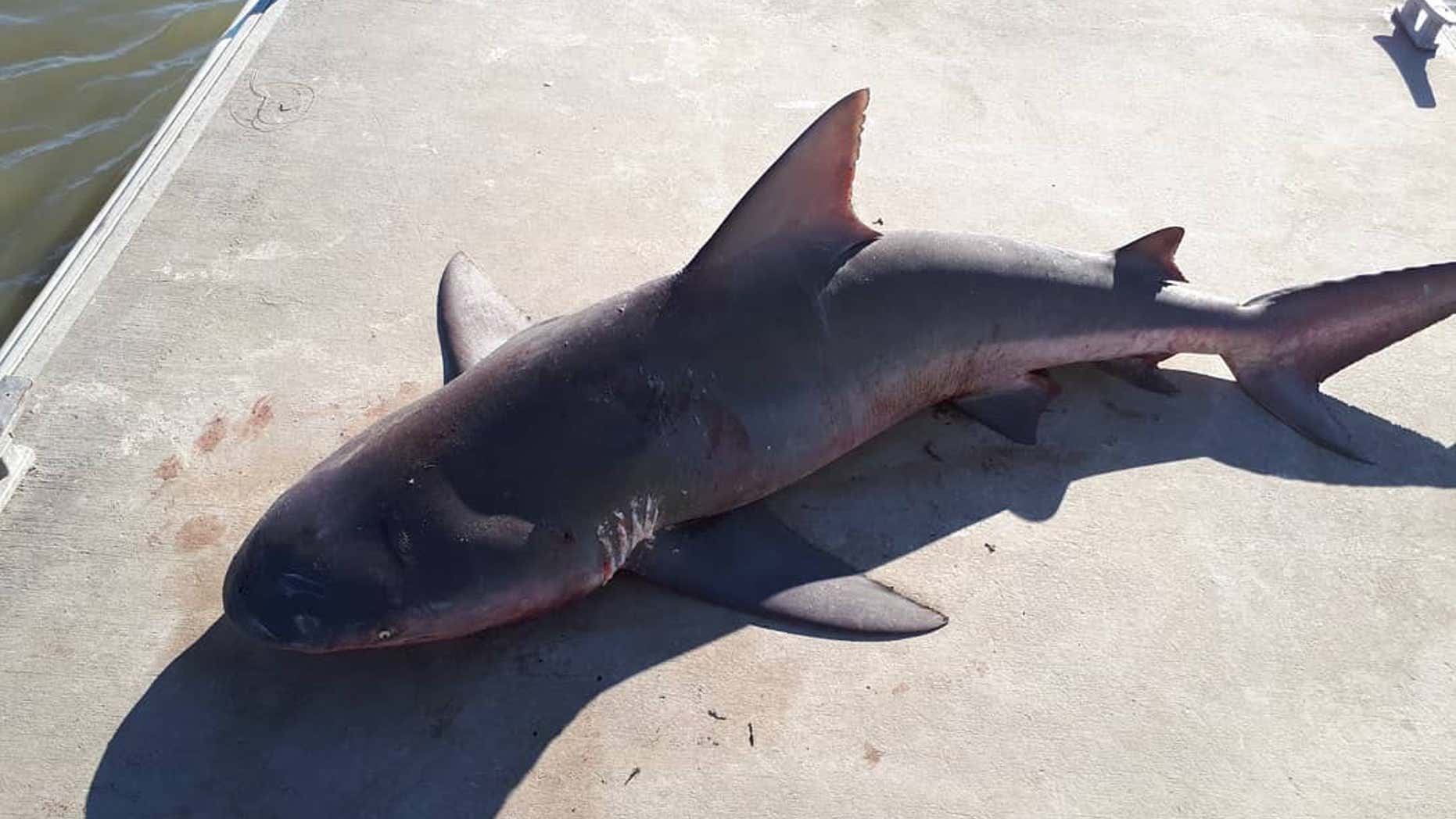 A family on a fishing trip in Australia got a bit closer to the wildlife than they had planned earlier this month.
A father and his three children went fishing in a river on the North Queensland Coast Oct. 5, the Daily Mail reported, when a six-and-a-half-foot bull shark jumped into the group's boat – which had steered toward a seven-foot crocodile.
500-POUND GOLIATH GROUPER EATS SHARK AS SHOCKED FLORIDA FISHERMEN WATCH: 'HE JUST SUCKED IT IN'
The frightened family started yelling for assistance, alerting a local resident, Ken Madsen, who was nearby loading his boat onto a trailer.
"The next thing I hear is 'help,' 'help' and saw the tail end of a shark disappearing into the boat," Madsen said to the Sunshine Coast Daily. "The kids ran up the front of the boat because there wasn't much room."
Madsen said after hearing the "almighty commotion," he launched his boat back into the water and went to aid the family. However, when Madsen got there, he said the shark was so large, he could not possibly get it off the boat while on the water, the Daily Mail reports.
TIGER SHARK DEVOURS TUNA OFF FISHERMEN'S LINE, LEAVES ONLY 'THE HEAD, THE SPINE AND THE TAIL'
The two younger children carefully boarded Madsen's boat, noting the large crocodile that was still lurking nearby.
"The kids reckon they're never going fishing again."
Madsen and the unnamed fisherman secured the dinghy to Madsen's boat and towed it back to shore where the men were able to drag the shark onto a floating platform.
Fortunately, Crocodile Safari guide Mark Norman, who posted a photo of the fish on Facebook, was on the river at that time and was able to help drag the bull shark back into the water.
FOLLOW US ON FACEBOOK FOR MORE FOX LIFESTYLE NEWS
Norman wrote on Facebook that the shark weighed around 220 pounds.
"In my 65 years I've never seen anything like it. They were all petrified. Even the father, he had no idea what to do," Madsen said to the Sunshine Coast Daily. "The kids reckon they're never going fishing again."