World's Strongest Man orders Taco Bell's entire menu for eating challenge: 'My stomach hurts so bad'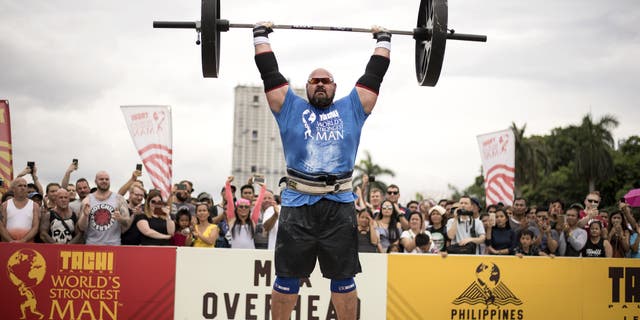 Taco 'bout a stomachache.
Brian Shaw, a four-time World's Strongest Man winner, knows how to eat. The six-foot-eight, 415-pound athlete from Brighton, Colo., routinely uses his popular YouTube channel to chronicle his unique diet – which has him consuming 12,000 calories and six pounds of meat each day to maintain his (almost) larger-than-life size, BarBend reported.
TACO BELL TESTING THE 'TRIPLELUPA,' WHICH IS ESSENTIALLY THREE CHALUPAS CONNECTED END-TO-END
Unsurprisingly, being a man who eats so much, Shaw is often pestered by fans wanting him to take on food challenges, to which he often complies. His 14,000-calorie Chick-fil-A cheat meal challenge has been viewed nearly 2 million times.
So when users suggested Shaw do an eating challenge with Taco Bell, the strongman, who is used to pushing his body to the limit to perform amazing feats of strength, agreed — and it did not go well.
In the video, which Shaw uploaded on his YouTube channel, he begins by ordering nearly the entire Taco Bell menu — however, as he notes later, he took none of the vegetarian options.
After spending $120.03 on his 40 items, including dessert, and toting all five bags home with him, Shaw embarks on a seemingly day-long task of eating the Tex-Mex fare.
CLICK HERE TO GET THE FOX NEWS APP
Though Shaw speeds up the video while he is attempting to eat the 25,000-calorie meal, he takes several breaks throughout to inform viewers that he is not enjoying his time.
"[This is] the worst eating challenge that I've ever taken part in," he says at one point in the video.
Noting a "weird sauce" as his downfall, the strongman gets sicker as the video progresses until he eventually gives up on eating every item and resigns himself to just taking "one bite" on each of the burritos he has.
Though Shaw complains about the nachos being "the worst" he has ever seen, among other problems he has with Taco Bell's menu, he does find some solace with the Cinnabon Delights dessert, which he deems "OK."
However, the sweet ending did not make up for everything before it, he said.
FOLLOW US ON FACEBOOK FOR MORE FOX LIFESTYLE NEWS
"It was really bad. My stomach hurts so bad. But also I can feel myself sweating. Because I'm like almost, my body is just like, 'I want to get this out, I want to get this out.' I'm sweating because I'm almost trying not to throw up. I mean this is awful, guys. I don't highly recommend this."
At the end of the video, the competitive strongman declared he likely will not be returning to Taco Bell "maybe ever."