Woman with arachnophobia orders KFC so delivery driver will kill spider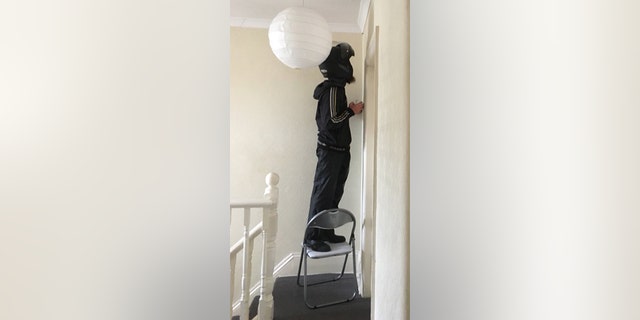 Turns out restaurant delivery drivers will do more than just bring you food.
Demi Sweeney, a college student in England, is so terrified of spiders, she ordered food from her local delivery service in hopes the driver would take care of the creepy crawler for her.
When Sweeney spotted the one-inch arachnid on her wall, she called a friend hoping to enlist someone's help, but the friend suggested she order some food for delivery and see if the driver would be willing to help, according to The Washington Post.
VIN DIESEL VISITS ICE CREAM SHOP IN WISCONSIN, WALKS OFF WITH SUNDAE DISH
Sweeney then messaged Deliveroo customer service to see if her spider-killing needs could be met.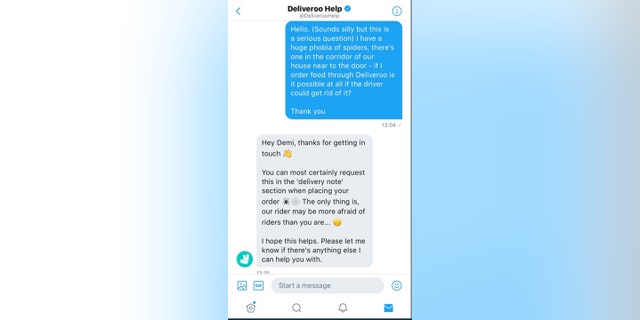 "Hello. (Sounds silly but this is a serious question). I have a huge phobia of spiders, there's one in the corridor of our house near the door – if I order food through Deliveroo is it possible at all if the driver could get rid of it?" she wrote.
Deliveroo responded saying she could "most certainly request this" but it's possible the driver "may be more afraid of spiders" than she is.
Sweeney decided to give it a shot and ended up ordering from KFC, tough mistakenly purchased two meals instead of one, she told the Post.
When the delivery driver, Joe, showed up a little while later, Sweeney pleaded for him to help her out, even though he admitted he didn't like spiders either.
"I then begged telling him, 'Please, you have to help me – I only ordered food for your help,'" Sweeney told The Washington Post.
Lucky for Sweeney, Joe agreed to help out. He pulled up a chair to stand, knocked the spider off the wall and ended up chasing it until he was able to catch it and flush it down the toilet.
Sweeney later tweeted about the encounter, calling Joe a "life saver."
"My fear of spiders was taken to a whole new level today in which I ordered food in a hope that the delivery driver would remove the spider," she wrote alongside a photo of Joe taking care of business.
Deliveroo replied to her tweet, praising their employee: "What a guy! Great to see Joe could lend a helping hand."
A rep for the company also told the Post they "can't guarantee a spider-catching service every time you order a Pad Thai or a Margherita, but in Demi's case we're glad the creepy crawly won't be causing any more trouble!"
FOLLOW US ON FACEBOOK FOR MORE FOX LIFESTYLE NEWS
Others on Twitter responded with their concern over what Sweeney is going to do the next time she encounters an arachnid.
"Does this mean that you're going to do this every time a spider exists? Maybe a new emergency spider removal response set up is needed?" one user wrote.
"I think it may get a little expensive!" Demi replied.