Viral video shows officer choke black man in tuxedo outside of Waffle House, prompts investigation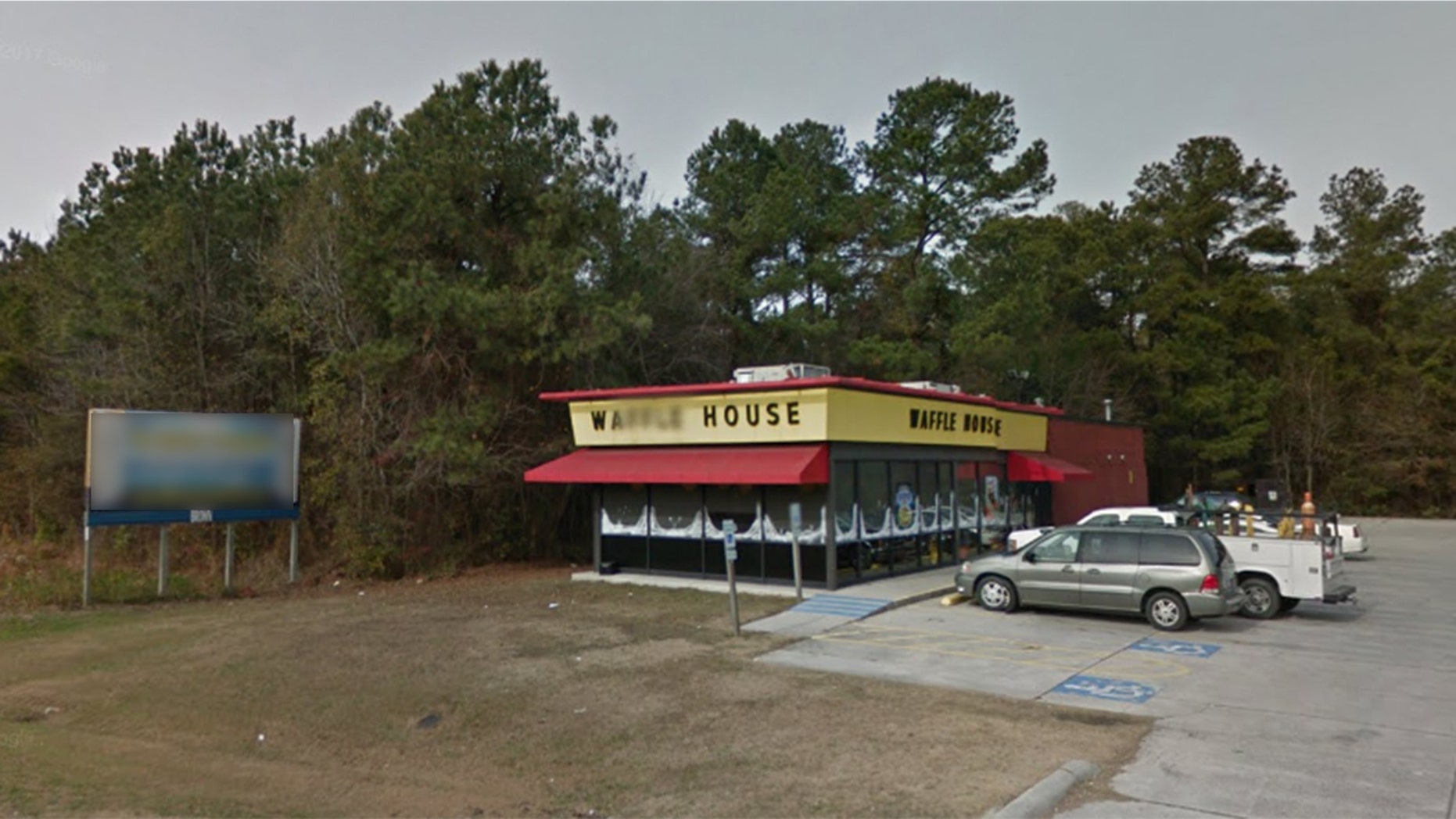 A video showing a North Carolina police officer choke a man wearing prom attire outside of a Waffle House — and then wrestle him to the ground — has gone viral and prompted an investigation into the incident by Warsaw police.
The incident took place at the Waffle House in Warsaw on Saturday. Twenty-two-year-old Anthony Wall had taken his 16-year-old sister to her prom and went to the restaurant chain afterward to grab a bite to eat.
While at the Waffle House, Wall said he got into an argument with several staff members and the police were called. It is not reported what the argument was about.
WARNING: Video contains strong language
FAST FOOD FLASHER: STREAKER TARGETED BUFFALO WILD WINGS, TACO BELL, WAFFLE HOUSE, COPS SAY
The police arrived on the scene and took the man outside.
In the video, which has been seen over half a million times, a police officer grabs Wall by the neck and chokes him against the restaurant window before throwing him to the ground and arresting him.
It is unclear what happened when police arrived, before the physical altercation.
Wall was charged with resisting arrest and disorderly conduct, ABC 11 reported.
"Your hands should have never been around my neck like that if my hands were in the air."
"I was pretty much trying to scream for air and trying to breathe because he was holding my throat and that's when I got aggressive with him because [he was] choking me," said Wall.
Wall told ABC 11 he takes full responsibility for the negative interaction with the Waffle House employees, but does not feel the cops' actions were justified because his hands were in the air while the officer choked him.
"Your hands should have never been around my neck like that if my hands were in the air," said Wall.
Police Chief Eric Southerland released the following statement to ABC11:
"We are currently investigating the whole incident, interviewing witnesses and gathering additional video. We have also reached out to the District Attorney's Office to make him aware of the investigation. Once the investigation is complete and the District Attorney has had a chance to review the case we will provide the public with an update on the findings."
To the News & Observer, Chief Southerland said he wished people would "not let one situation create any additional situations," but said the officers' behavior in the video does not reflect what Warsaw officers are trained to do in such situations.
"It's not what you're trained to do in incidents like this, but when you're dealing with someone fighting and resisting against an officer, you try to use proper tactics and go for one move, but that might not work because that person is moving or the officer is moving," Southerland said. "In real-versus-training situations, moves don't always work out like you want them to."
FOLLOW US ON FACEBOOK FOR MORE FOX LIFESTYLE NEWS
In a statement to Fox News, Waffle House said it is working with police and also investigating the incident.
"Initial reports say the customer became agitated, and the police were called. In an interview with WTVD-TV in Raleigh, NC, Mr. Wall said he took things too far with our employees. We continue to cooperate with the local authorities in their investigation."
Fox News has reached out to the Warsaw Police Department and Anthony Wall; they have yet to respond to requests for comment.