Veggie Straws don't have any veggies in them, claims lawsuit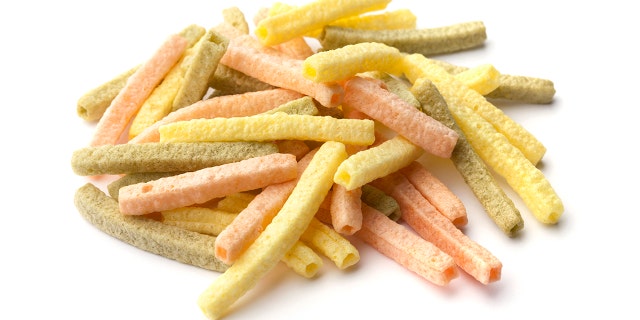 The makers of Garden Veggie Straws have been hit with a lawsuit from two customers who say the brand's packaging and advertising made them believe that Veggie Straws contained vegetables, which the plaintiffs say is not true.
According to The New York Post, two men have filed a potential class-action lawsuit against Hain Celestial Group, which produces the Garden Veggie Straws.
The Veggie Straws are described on the packaging as "vegetable and potato snacks," and the bag says they have 30 percent less fat than the leading potato chips. The packages also feature photographs of spinach leaves, tomatoes and potatoes. The plaintiffs say the Veggie straws "do not contain" any of the actual vibrantly depicted vegetables. They assert that the company is misleading people who are trying to seek out healthful foods and snacks.
The Veggie Straws ingredient list includes potato flour, potato starch, corn starch, tomato paste and spinach powder.
"Although the marketing and labeling of the Garden Veggie Straws depicts whole tomatoes, spinach leaves and potatoes, and separately claims those vegetables are 'garden grown' and 'ripe,' there are no garden grown or ripe vegetables in the Garden Veggie Straws," the lawsuit says. "Instead, the Vegetable Straws contain highly processed byproducts of what were once vegetables, and with respect to tomatoes and spinach, only contain trace amounts of those byproducts upon information and belief."
The plaintiffs are looking for the suit to be a class action of people who purchased Hain Celestial Group's Garden Veggie Straws in the past six years.
This article orginally appeared on The Daily Meal.