Uniformed officer asked to leave 'gun-free' Outback Steakhouse because of service weapon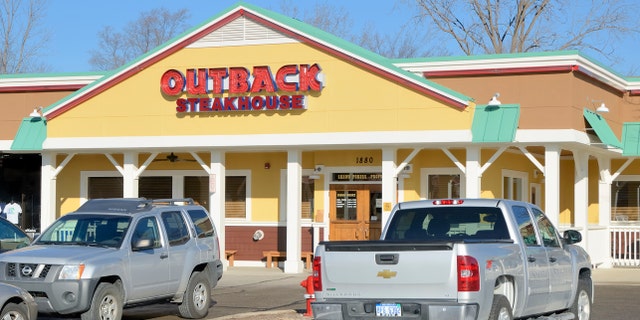 A uniformed officer carrying his service weapon was asked to leave an Outback Steakhouse restaurant because it is a designated "gun-free zone."
Tennessee Wildlife Resource Agency officer Andrew Ward went to Outback Steakhouse to have dinner with his wife Friday evening, he wrote in a public Facebook post.
Ward said in the post that a manager approached him and requested that he put his gun in his truck. Ward told the manager that he could not because he was in uniform and had to have his weapon on his person.
MODEL CHRISSY TEIGEN LEAVES $1,000 TIP AT OUTBACK STEAKHOUSE RESTAURANT
The manager left to make a call, Ward writes, and then returned to ask Ward and his wife to leave because Outback is a "gun free zone."
Ward noted that he does not "blame the manager," but was angered by the treatment an armed "uniformed Law Enforcement Officer who is sworn to protect and serve the public" received.
Since Ward posted the incident on Facebook, he said a representative for Outback contacted him and apologized for what they called a mistake.
In a statement to NewsChannel9, the Director of Media and Community Relations for Outback's parents company, Bloomin Brands, said:
"We've always allowed uniformed law enforcement officers to carry their side arms inside our restaurants. A manager made a mistake and we have discussed this with her. We have contacted the guest personally and apologized."
Ward said the chain told him "there was another customer that was 'scared for her life' who was seated across" from the couple, and said "she was afraid because 'police are shooting people.'"
According to Ward's post, "This customer went on to demand to be escorted to her vehicle out of fear of being shot."
FOLLOW US ON FACEBOOK FOR MORE FOX LIFESTYLE NEWS
On Facebook alone, Ward's story has been shared over 200,000 times and has over 150,000 reactions on Facebook with many calling the actions of the restaurant "unbelievable."
Ward continues not to blame the manager for her actions.
On Saturday, Ward told NewsChannel9 that he considers the incident to be over.
"I have spoken with the manger involved, the regional manager and the Vice President of operations for Outback today. They have apologized profusely and I have accepted their apology and the issue in my opinion has been concluded."
Outback Steakhouse also sent the couple a $100 gift certificate for the ordeal.