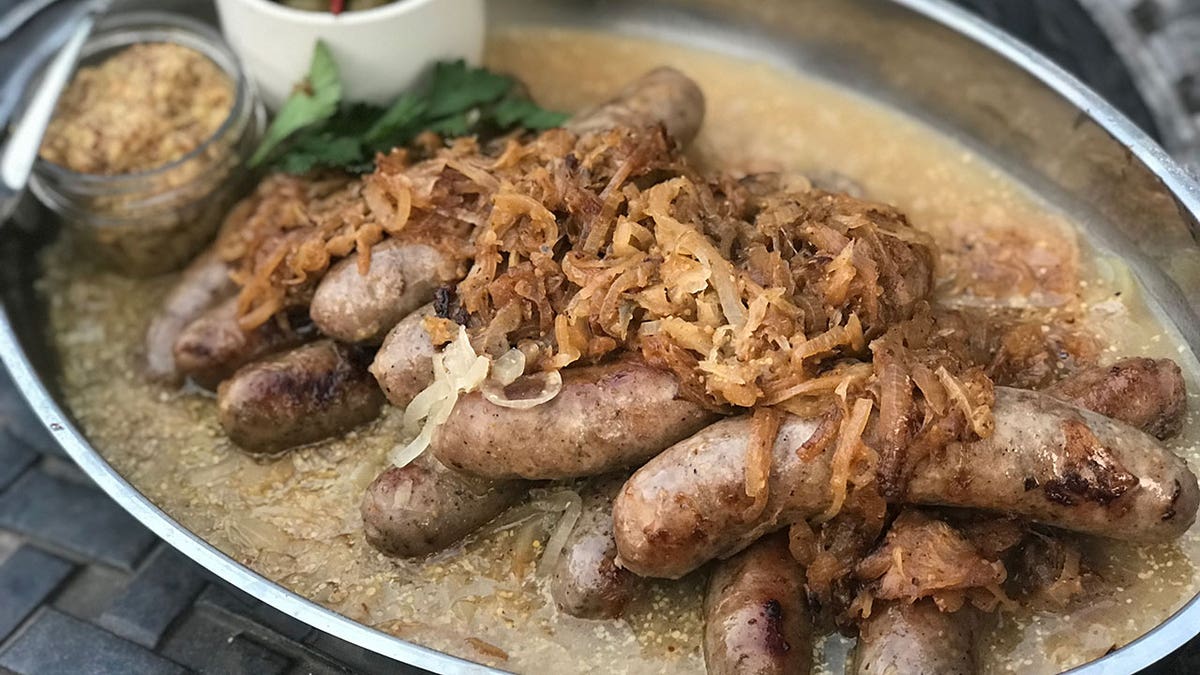 You can't go wrong with a Super Bowl snack created by a chef who knows how to feed hungry football players.
Thomas Boeman, the chef and co-owner of Revival and Corner Table in Minneapolis, has actually served lunch for the Minnesota Vikings on two different occasions — once directly before a game, and then again after the team invited him back for seconds.
When it comes to feeding fans, however, Boeman suggests a recipe that even a novice chef can tackle: beer-braised bratwursts with sauerkraut and hot mustard. And not only is his recipe easy to master, but it's guaranteed to satisfy the hungriest of football fanatics — whether they're on the field or just watching from the sidelines.

Cook Time:35 min
Prep Time:10 min
Total Time:45 min
Servings: 12
Ingredients:
2 large yellow onions, thinly sliced
3 cloves garlic, crushed
2 tablespoons brown sugar
2 cups sauerkraut, drained
1 cup sauerkraut brine
One 16-ounce beer
12 bratwurst sausages (fresh, not pre-cooked)
12 bratwurst buns
1 jar hot mustard
Fresh grated horseradish
Preparation:
1. Combine onion, garlic, brown sugar, sauerkraut, sauerkraut brine and beer in large roasting pan or Dutch oven.
2. Bring the mixture to a boil and cook for 10 minutes, then season with salt and pepper to taste. Water can be added, if needed, to achieve a saucier consistency.
3. Add the bratwurst to the roasting pan or Dutch oven, turn the heat down to a low simmer, and cover. Let cook for 15 minutes.
4. In the meantime, heat a grill or grill pan to medium heat. Lightly oil the grates of the grill or grill pan, if needed.
5. Remove par-cooked brats from the Dutch oven. Transfer to a grill or grill pan to caramelize the outside. Continue cooking until internal temperature reaches 160 degrees F.
6. When finished cooking, place bratwurst in buns and top with the onion/kraut mix, hot mustard, and the hottest fresh grated horseradish you can find.