Toughest U.S. restaurants to get a reservation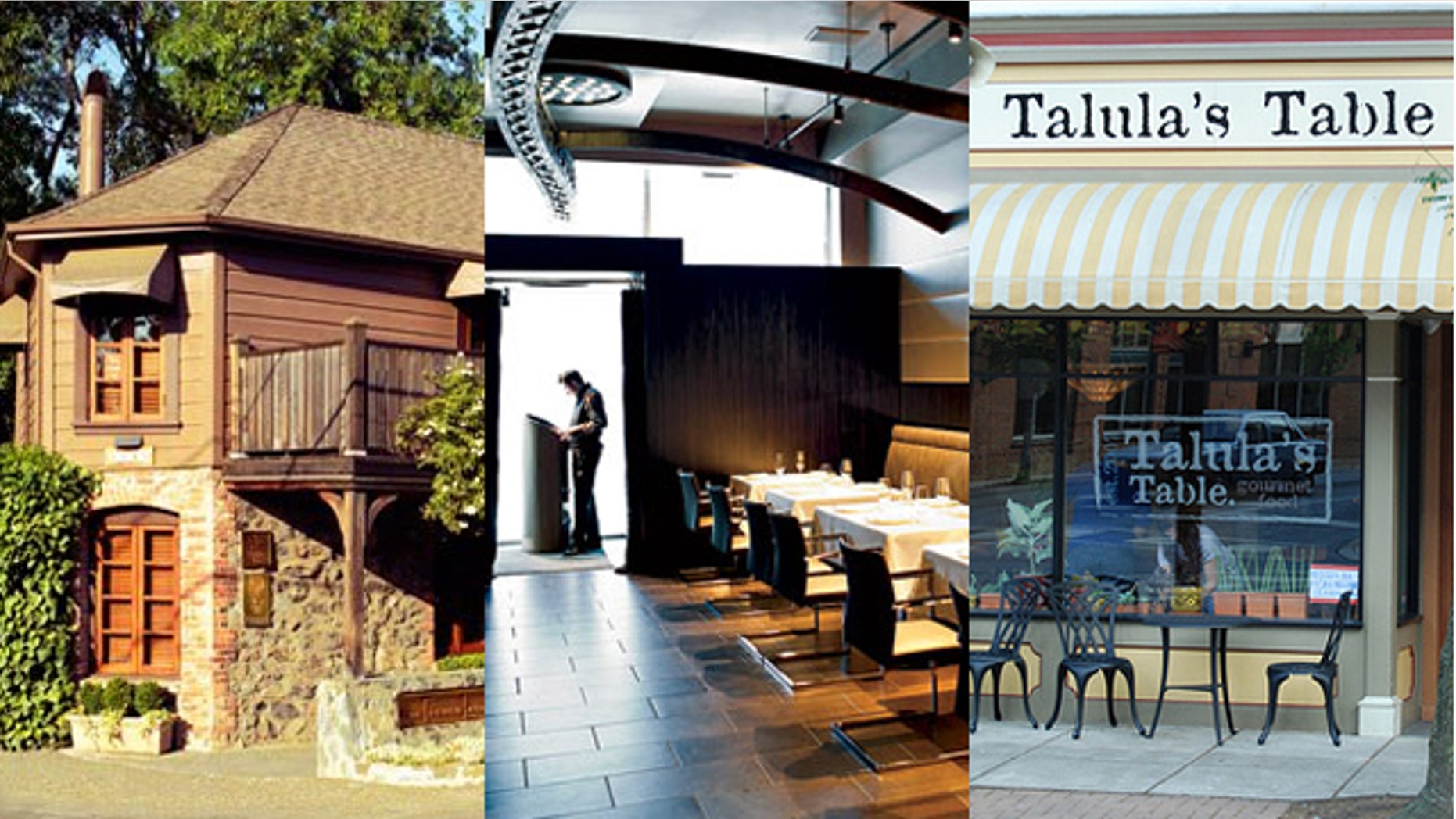 Entry into some restaurants can be as tough as getting front row tickets to the hottest Broadway show, or scoring courtside seats see to Jeremy Lin play in a Knicks game.
Waits for some of the star restaurants can be months, even years in the making, and if you do succeed in dining there, you're rightfully allowed equally-long bragging rights.
These are not your regular restaurants.  We're talking about the most popular eateries around the country; places your foodie friends drool over; places where people wait out in the blistering cold to eat or spend more time scoring a reservation than picking out an anniversary gift. These are restaurants pioneering new food, new ways to eat out, and simply making food so tasty, everyone wants a chance to dig in.
So here, in no particular order, are the hardest restaurants in the country to get a table at:
French Laundry, Napa Valley, Calif.
When you walk around French Laundry, it's hard to believe a lot of people are facing economic hardship. This wildly popular Napa Valley gem serves two tasting menus a night at $270 a pop. Wine, a must in Napa, is extra. If you want reservations you had better mark your calendar and hope for luck, in front of your computer, or on the phone. Reservations are taken two months in advance. Up to 500 people call per day to ask, beg and plead for a table. That kind of demand is unheard of for a restaurant that's been around for more than a decade.
French Laundry management tells FoxNews.com: "We are humbled by the interest we receive for reservations at all of our restaurants. We understand that with such interest, comes expectations and we continue to strive to overreach them, for each of our guests."
The menu changes nightly, with no single ingredient being repeated in a meal.
On a given night in February, guests choosing the chef's tasting menu had sautéed filet of Atlantic striped bass with spätzle, green garlic, Jidori hen egg, horseradish and fine herb emulsion as part of their nine-course menu. While one of the dishes, for those choosing the tasting of vegetables menu, was ash-baked truffle with Satsuma mandarin, Marcona almonds, sunchoke and petite lettuce.
Travail Kitchen, Robbinsdale, Minn.
People have been known to wait up to four and a half hours to get into this hot little Minneapolis-area spot. Dara Moskowitz Grumdahl from Minnesota Monthly says, "Travail is nothing short of a phenomenon. People line up to wait in the dead of Minnesota winter wearing snowmobile suits and facemasks, but it's worth it because of the fabulous, world-class molecular gastronomy food -- at corner diner prices." As a matter of fact, just this month, we are told a couple brought folding chairs to wait outside the front door until they opened at 5:00pm.
Did we mention it was 15 degrees outside?
The New American restaurant prides itself on its no-reservation policy. "Travail started as an equal opportunity neighborhood pub, and we try to maintain that sentiment regardless of how busy we get. Reservations never made sense, and offering them would require additional resources that we would rather operate without," co-owner James Winberg says.
If you can score a seat, you can feast on spiced pumpkin soup with brown butter cotton candy, pepitos and rye bread croutons. Perhaps you'd rather the black currant bombs with brown butter and micro cilantro?
LudoBites, Los Angeles, Calif.
This restaurant has a true following -- and you can take that meaning both literally and figuratively. It's actually a "touring" restaurant. That means it moves around to different Los Angeles locations, on average every six weeks or so.
Good luck getting in..
Reservations at all eight incarnations have been fully booked. Sometimes all six weeks have been reserved in under 60 seconds. Now in its eighth location, Ludobites got 10,000 requests in a 24-hour period, for just 550 seats. So for the 5.5 percent who actually scored a seat, it's like winning the gastro-lottery. Opentable.com even crashed during booking for Ludobites 6.0 when it was inundated with 150,000 requests.
The menu changes even more frequently than the location. Diners at Ludobites 8.0 have gotten to dine on everything from uni (sea urchin) crème brulee, to day boat scallops with leek, potato and black truffles.
"Running LudoBites is both exciting and beyond stressful all at once. With each iteration the demand continues to grow, which also means that the number of people who actually get reservations is reduced, and hence the expectation of the experience continues to get higher each time," says co-owner Krissy Lefebvre. "We feel privileged and honored to have so many [people] that want to come to LudoBites and simply want to provide a really unique and enjoyable dining experience."   
Talula's Table, Philadelphia, Pa. 
With only 12 seats it's no wonder it's practically impossible to get a table at Talula's Table in Kennett Square. Let's just say if you want to get in, you have to be a very patient person, and a planner. Tables typically book up a year in advance. You can put yourself on a waitlist, but just know you could wait 365 days and still not get a coveted spot.
If you'd like to just pop in to see if you might get a lucky spot, think again. Owner Aimee Olexy says she has never been able to accommodate a walk-in.
The success isn't something Olexy takes lightly. "Beyond proud for sure, but we take it really seriously," she said. "We want our guests to remember it forever. Our staff puts the most incredible talent and heart in it daily.  It really is a magical thing to be part of."
The restaurant's $100 eight-course tasting menu changes seasonally. This winter you'll find items like halibut with preserved lemon, grapefruit gelee, olive oil mousse, Marcona almonds and romaine. There's also a cheese course, Jasper Hill's Moses Sleeper (bloomy-rind cheese) with chestnut crepes and orange marmalade.
No need to book a show after going to Next. The meal is the event of the evening. Co-owner Nick Kokonas says they have booked every seat and every table since the day they opened. What sets the restaurant apart from others is that they don't take reservations. Instead they sell advance tickets for meals.
As with any popular show, there are sometimes ticket scalpers looking to resell their seats to Next. Also like show tickets, Kokonas says if you can't make it, there is no canceling. "If you can't make a play or a Bears game you don't call the venue and tell them your wife isn't feeling well or the baby sitter no-showed.  You simply miss the event."
The eating experience has been known to go five hours long, with up to 29 courses. It features four different menus a year, all announced in advance. The most recent menu is chock full of molecular gastronomy. Lucky ticket holders are dining on gorgonzola balloons, smoke foam and carrot air with coconut milk.
The Catbird Seat, Nashville, Tenn.
It may have just opened this past October, but The Catbird Seat is already filling seats like no other restaurant in Nashville.
The most unique thing about the restaurant is its set-up. The tables all surround an open U-shaped kitchen. So diners get to watch their meal being prepared. With only 32 seats, you need to be flexible about what dates you want to experience the interactive dining.  The restaurant operates their own online reservation system, with reservations taken 30 days in advance.
Another unique element? Don't expect to see a menu. Each course is a surprise.
The $100 seven-course tasting menu changes nightly with playful dishes like porcini mushrooms Oreos with parmesan cream, and malted cream with chicory gel and dark chocolate pistachio crisp.
"It's high-end cuisine that doesn't feel pretentious.  People always say they feel like they are in Josh (Habiger) and Erik's (Anderson) kitchen in their home, and I think that comfort they feel is a really neat juxtaposition of fine dining and easy-going hospitality," co-owner Benjamin Goldberg says.
Chef's Table, Brooklyn Fare, Brooklyn, N.Y.
You'd surely think the most sought-after reservation in New York City would be in the heart of Manhattan, but it's actually tucked away inside of a Brooklyn market.
Chef's Table inside Brooklyn Fare seats just 18 people. Reservations can be booked six weeks in advance, with one week getting booked at a time. Calls for reservations are taken on Mondays and the weeks usually fill up in less than 90 minutes.
A little twist? You have to book the reservation in pairs of 2 or 4. The director of reservations tells us they get 1000 inquiries a week, so less than 10 percent score a coveted seat.
Each person gets at least 20 courses for $225. The menu is a closely guarded secret, as the restaurant requests no notes or pictures be taken. The meal is constructed day-by-day, but diners have reported feasting on dishes like seared scallops with morel mushrooms, white asparagus, green almonds and shellfish foam.
Prime 112, Miami Beach, Fla.
This is not your average steakhouse. Prime 112 owner Myles Chefetz says they have been booked solid "for 8 years since we opened. We have had a few openings during hurricane evacuations."
The restaurant says despite having every seat filled, people will come at the start of the dinner hour and wait up to three hours for no-shows.
When asked how it feels to be the most popular restaurants in the Miami area, Chefetz replies: "we are one of the most popular restaurants in the country and not to sound self-promoting, Prime 112 has a local, national and international following." The restaurateur adds, "I don't take this for granted because I never forget what the alternatives can be (I've been on the other side of it).  I would compare this experience to a double-edged sword, as at times it can be too much."
In addition to a full steak menu, the restaurant features items like sesame crusted Hawaiian big eye tuna with a crispy ginger rice ball, wasabi sauce & sweet soy. You can end your night with chocolate peanut butter s'mores or fried oreos.
é by José Andrés, Las Vegas, Nev.
It's no shock why this restaurant within a restaurant is one of the most exclusive places in Las Vegas. There are only eight seats available, twice a night (5:30pm and 8:30pm). Plus it's only open Wednesday through Sunday.
é by José Andrés is tucked away inside Jaleo in the Cosmopolitan Hotel on the Vegas Strip. "I want é by José Andrés to be a discovery, to be a journey. I want people to find it, and be astonished," chef José Andrés says.
If you do discover the restaurant, reservations are taken via email only, exactly one month in advance. After you make a reservation you actually get a golden ticket in the mail confirming your spot.
There are no menus. Instead, the chefs prepare the meal in front of you, all while sharing the story behind the food. You get at least 20 small courses for $160. Past dishes have including smoky oysters with onion confit and toasted honey air, gold dusted beet jewelry and a nitrogen almond cup topped with caviar.
Komi, Washington D.C.
This Dupont Circle restaurant has the distinction of saying they served President Barack Obama and the First Lady.
They probably got in no problem, but that isn't the case for most guests. To obtain a reservation you need to call exactly one month in advance and don't expect to get in if you have more than four people in your party.
With the Greek inspired tasting menu, you get at least 10 courses for $135. While the menu changes, in the past people have been treated to fried spanakopita with a liquid center, trout caviar with leek and frozen baklava.