Like it or not, we're living in the "Era of the Blog." In a country where just about everyone has the ability, with the click of a mouse, to not only consume but create content, it seems like anyone with an opinion to voice has taken to their laptop and started a blog. This is obviously nothing new (as anyone who used to have a Xanga account can tell you), but the fact alone that anyone, anywhere, can set up a platform and instantly reach millions of readers is one worth celebrating. So for the fourth year running, we're ranking the top 25 food-oriented blogs, ranked according to readership and social media following.
There's plenty of time to argue the merits of what makes a food blog great, be it the amount of breaking news, quality of the recipes, layout, industry usefulness, or wide appeal, but for today's (and previous years') purposes, we took a very objective approach: we tracked down nearly 200 leading food blogs, using "best-of" lists from sites including Saveur and Babble, and then compiled four data points on each of them: the average number of monthly visitors for the past year (using Compete.com's data), and the number of Twitter followers, Facebook fans, and Pinterest followers.
To arrive at the final 25, we factored in the number of average unique visitors (this accounted for 50 percent of each blog's score) and the data from the three social media components (which accounted for the remaining 50 percent). The blogs with the highest total scores made the cut.
While the list didn't change dramatically from last year, there were a few notable differences. The Kitchn made a leap from number six up to number two, and Picky Palate jumped from number 12 up to number five on our list. Skinnytaste, which ranked third last year, fell to number 10 this year, and David Lebovitz, whose star just keeps rising, jumped from number 11 up to number six. Simply Recipes held onto the top spot for the fourth year in a row.
There were also several newcomers, while others fell off the list entirely. This year we welcome Bakers Royale, Chocolate & Zucchini, Elana's Pantry, Food52, Gluten-Free Girl and the Chef, Simple Bites, and Thug Kitchen to our list, while we say goodbye to Annie's Eats, Gluten-Free Goddess, Mommy's Kitchen, Our Best Bites, Pinch My Salt, TasteSpotting, and A Year of Slow Cooking. Falling off our list in no way indicates a drop in quality; reasons vary from blog to blog. Some have slowed down the rate of posting entries; others have simply been surpassed by other blogs in traffic.
The blogs on our list offer everything from recipes to breaking restaurant news to simple musings about life and food, but they're all worthy of being on your radar if you love food.
1. Simply Recipes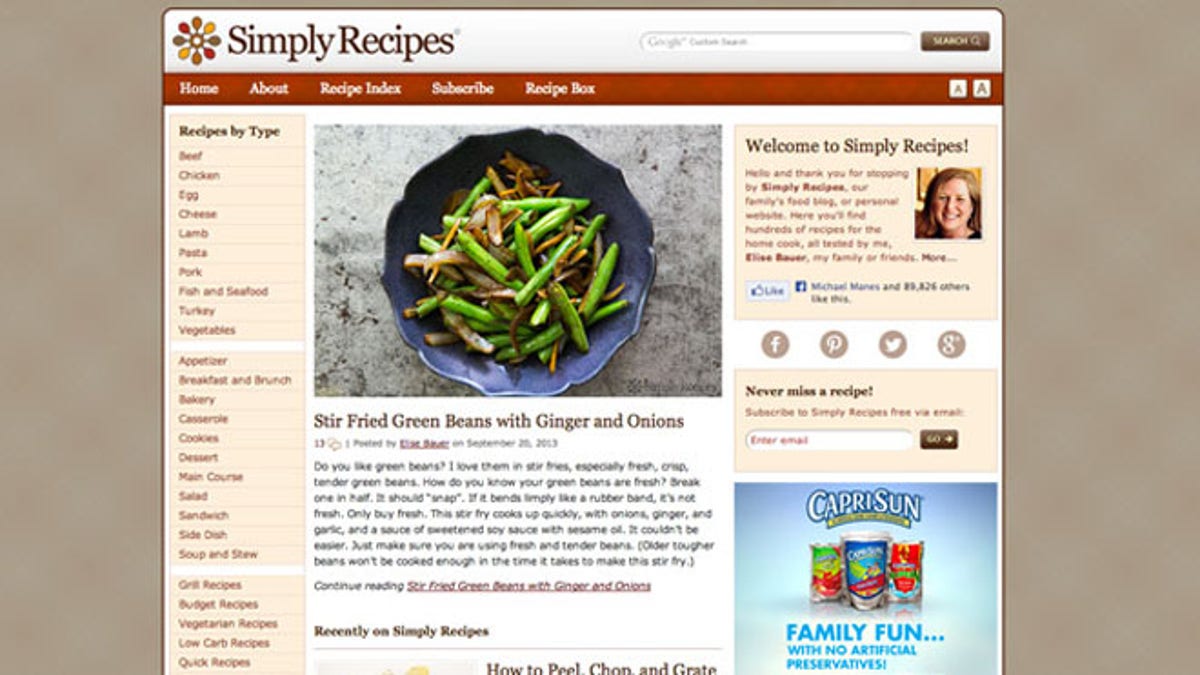 A virtual recipe box of founder Elise Bauer's favorite homespun dishes, Simply Recipes features her tried-and-true recipes, along with those crafted by family and friends. Bauer started the blog in 2003 as a way to document the recipes that she grew up with and those that she developed. Simply Recipes claims the top spot on our list for the fourth year running.
Average Monthly Unique Visitors: 2,130,665
Twitter: 81,313
Facebook: 91,557
Pinterest: 58
2. The Kitchn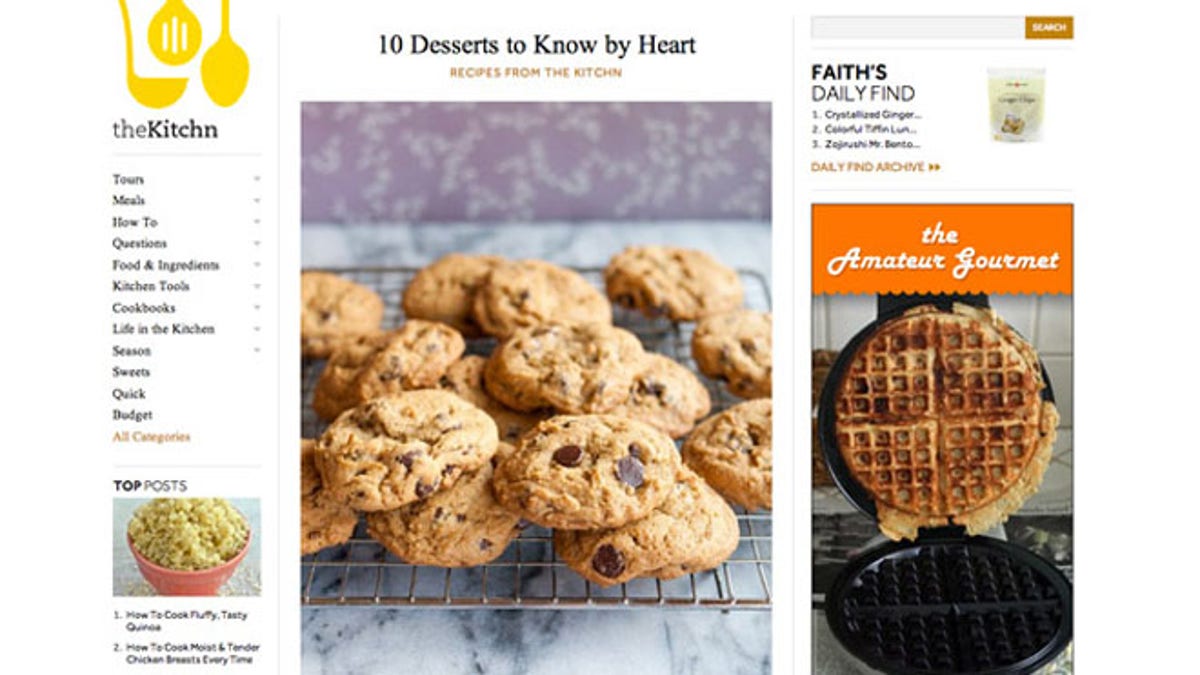 The Kitchn is the food-focused arm of the home improvement site Apartment Therapy. The Kitchn believes that, "simplicity and luxury are not mutually exclusive," and provides its readers with simple tips, how-tos, and recipes. Sara Kate Gillingham-Ryan is the founding editor of this blog, however, Faith Durand (pictured) manages The Kitchn on a daily basis.
Average Monthly Unique Visitors: 1,043,813
Twitter: 53,680
Facebook: 72,123
Pinterest: 8
3. The Pioneer Woman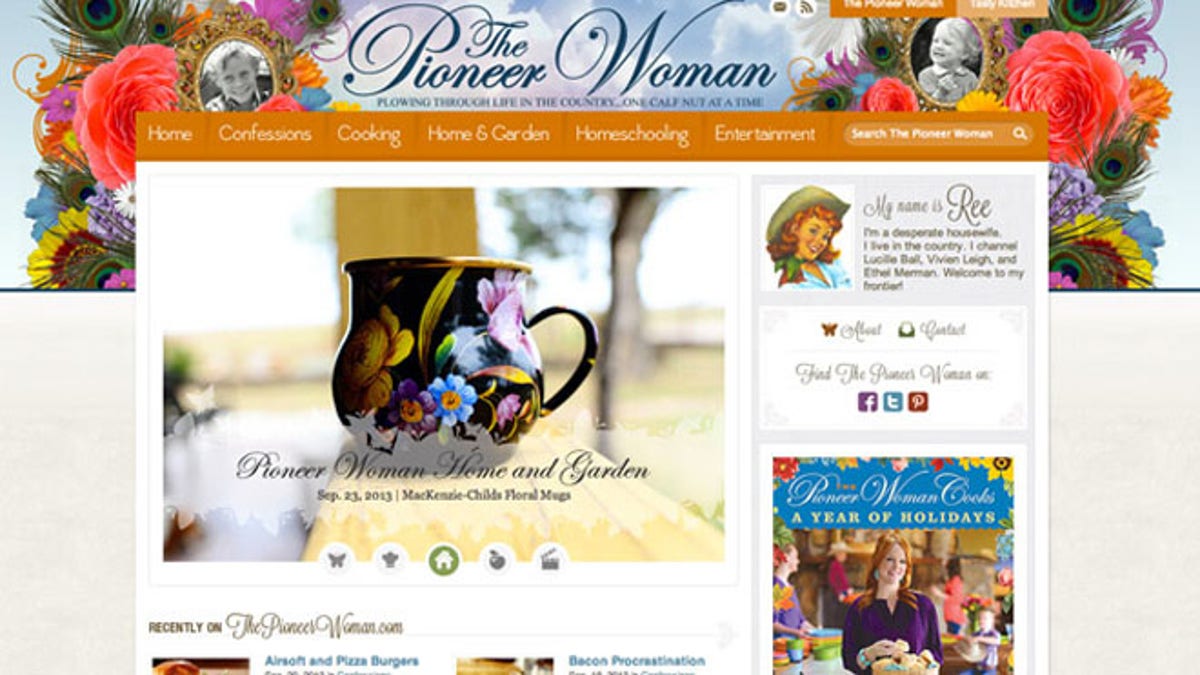 Pioneer Woman Ree Drummond documents her life as a "domestic country wife," with photos and recipes that she whips up for her husband and four young cowpokes. Two years ago, Drummond went from blogger to television host, bringing her "cowboy-friendly" dishes to Food Network.
Average Monthly Unique Visitors: 162,477
Twitter: 423,685
Facebook: 841,945
Pinterest: 14
4. Cake Wrecks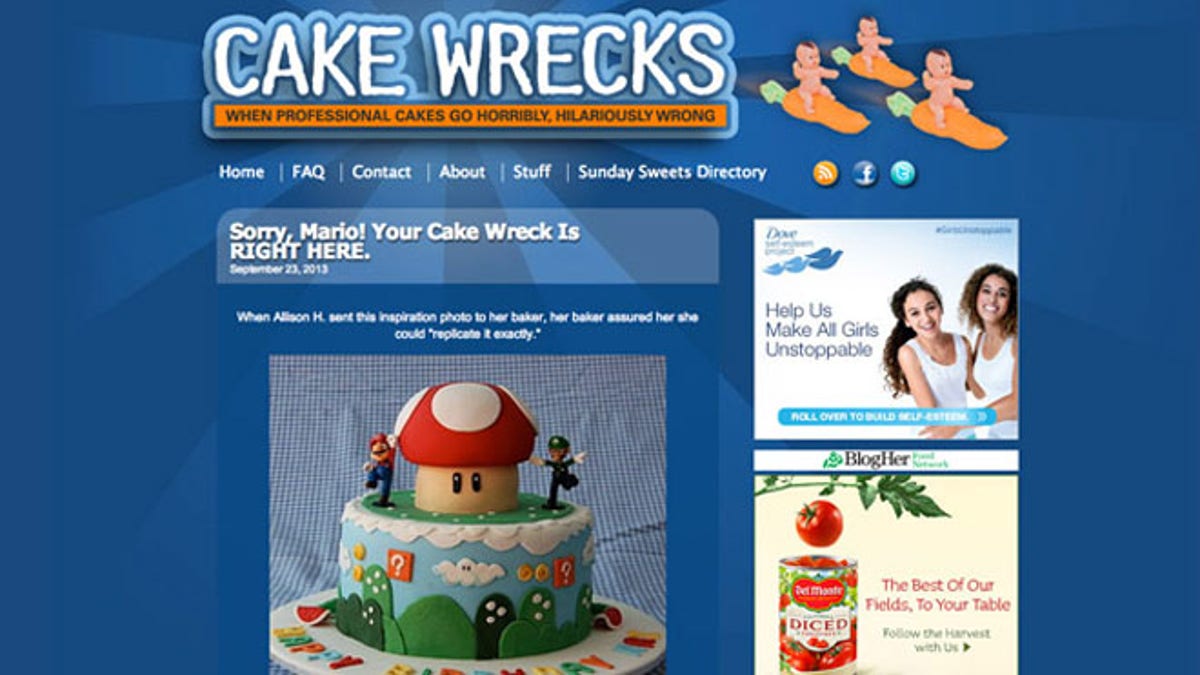 Holding steady at number four, Cake Wrecks documents the most outrageous, silliest, and creative cakes out there. Users submit snapshots of the cake wrecks they come across and the best are hand-picked by founder Jen Yates and published.
Average Monthly Unique Visitors: 38,325
Twitter: 1,250,073
Facebook: 181,685
Pinterest: n/a
5. Picky Palate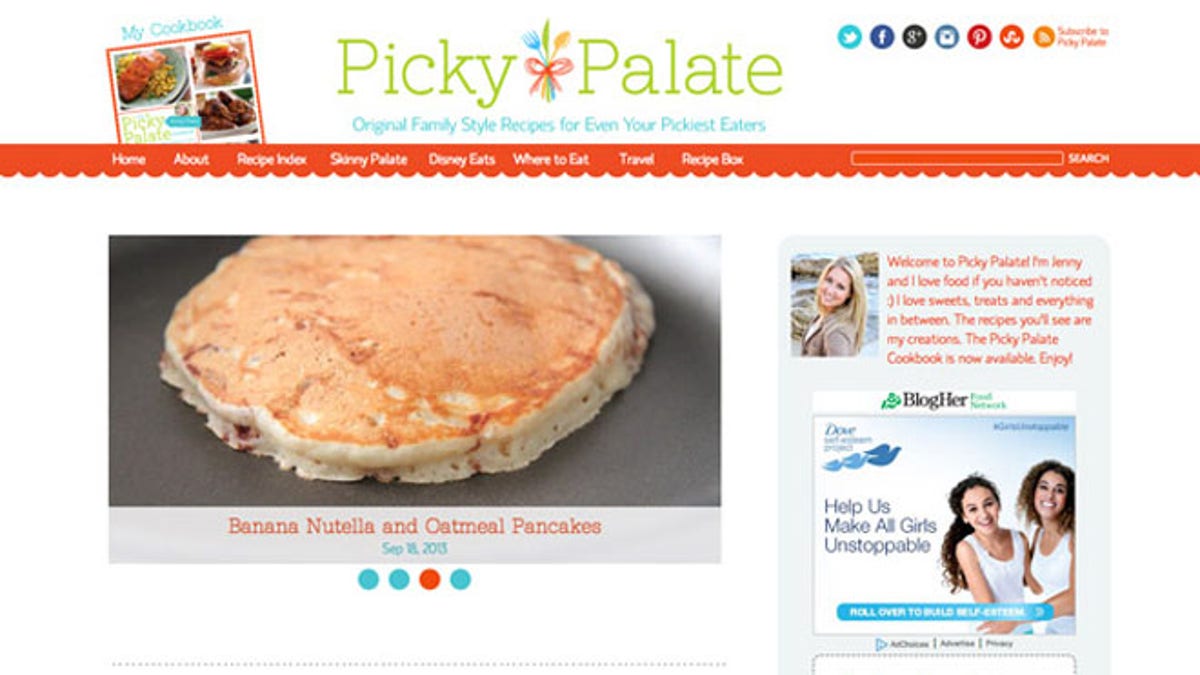 Started by Jenny Flake in 2007 after she retired from her job as a dental hygienist to spend more time at home with her sons, Picky Palate is full of recipes designed to appeal to picky eaters of all ages. The dishes that appear on the blog tend to be family-friendly and are interspersed with giveaways and the occasional product review. The first Picky Palate Cookbook was released last year.
Average Monthly Unique Visitors: 80,043
Twitter: 20,401
Facebook: 66,816
Pinterest: 3,075
6. David Lebovitz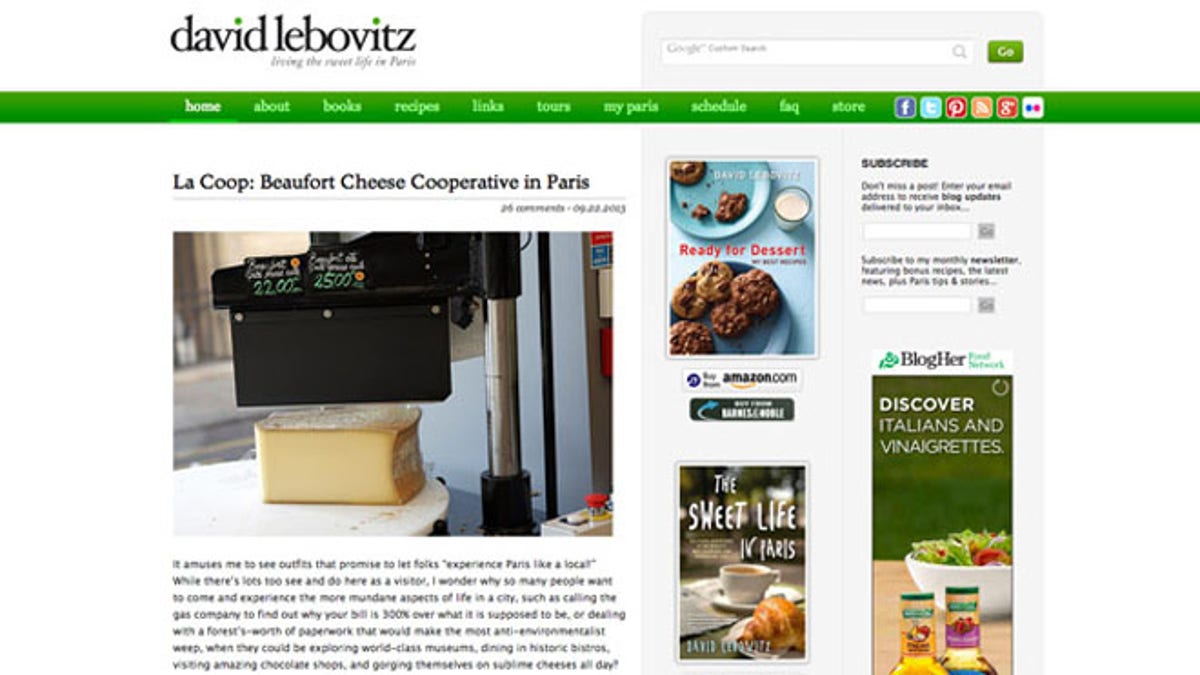 Acclaimed former professional pastry chef David Lebovitz has a food blog that's chock-full of recipes, reviews, and all things Paris. With seven cookbooks under his belt, Lebovitz uses his blog as a place to share musings on his travels and newly created recipes.
Average Monthly Unique Visitors: 90,770
Twitter: 167,157
Facebook: 45,959
Pinterest: 2,501
7. Serious Eats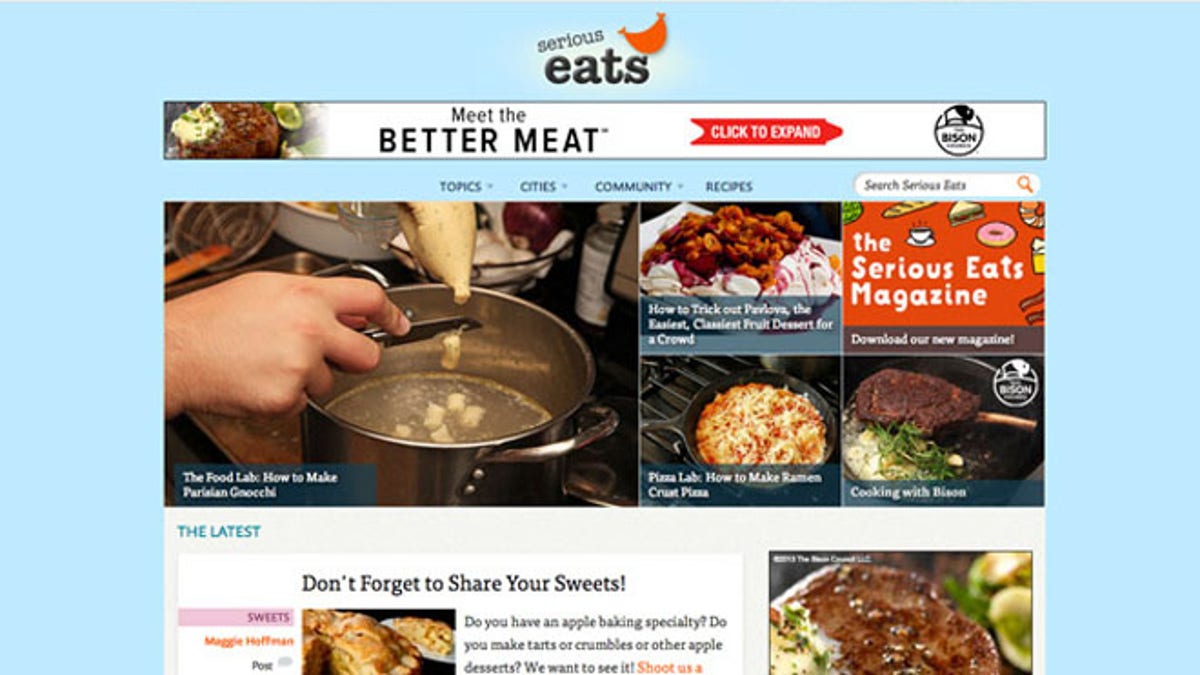 Serious Eats founder Ed Levine has assembled a team of knowledgeable food writers to explore everything from how to sear a perfect steak to how to differentiate between pizza styles, with recipes, restaurant reviews, taste tests, and plenty of other food-oriented content mixed in. There's also a very active community of commenters, and coverage has expanded to 12 cities.
Average Monthly Unique Visitors: 528,944
Twitter: 206,531
Facebook: 65,970
Pinterest: 128
8. Gluten-Free Girl and the Chef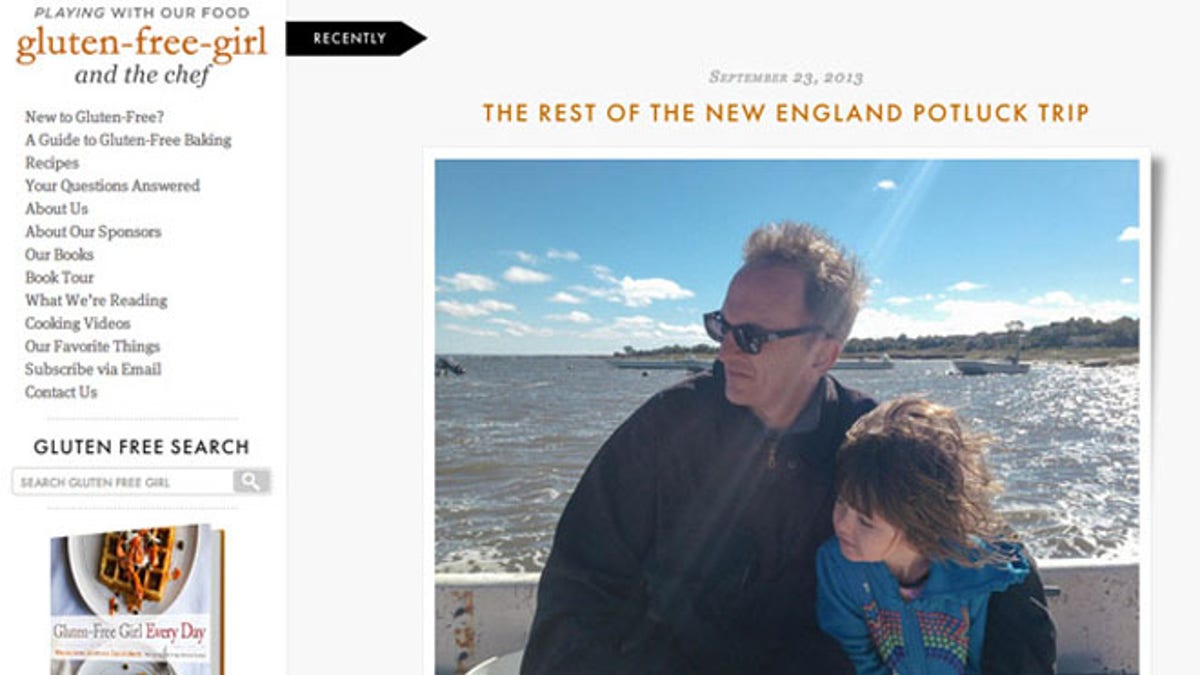 Shauna James Ahern has been living a gluten-free lifestyle since 2005, and on her blog she has been writing about her experiences living with Celiac along with recipes and cooking videos from her husband, "the chef." She's published three books and their site has become a must-visit for anyone interested in a gluten-free lifestyle.
Average Monthly Unique Visitors: 33,101
Twitter: 165,041
Facebook: 54,798
Pinterest: 2,183
9. Rasa Malaysia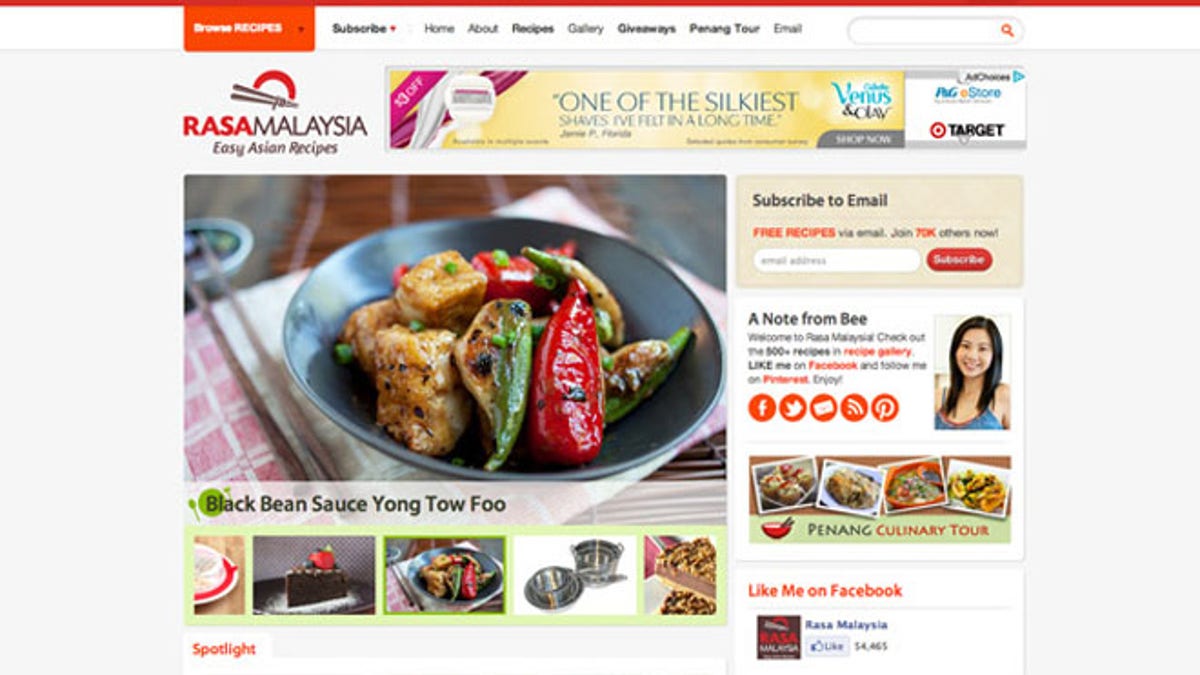 Bee Yinn Low, the author and professional recipe developer behind Rasa Malaysia, has published authentic and approachable pan-Asian recipes since July 2006, and the blog has jumped up from number 24 last year. Low's cookbook of easy Chinese recipes hit bookshelves a couple of years ago. The blog has one of the largest Asian recipe collections available online.
Average Monthly Unique Visitors: 97,817
Twitter: 29,546
Facebook: 53,445
Pinterest: 2,063
10. Skinnytaste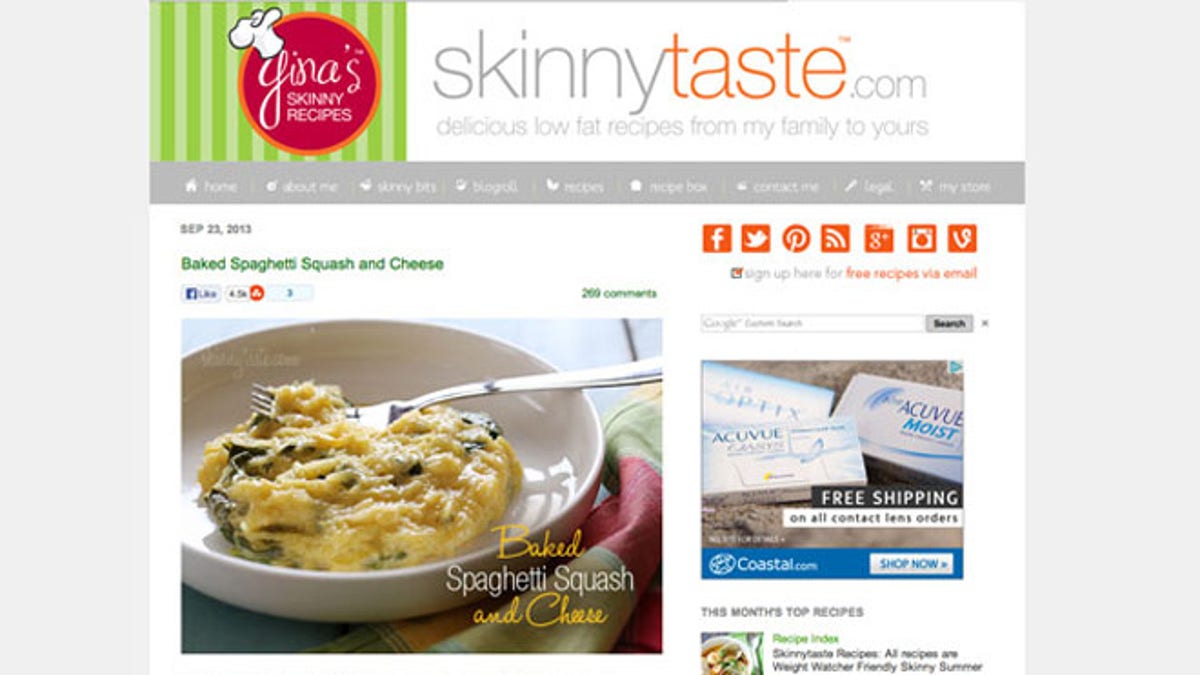 Skinnytaste features recipes developed by author and founder Gina Homolka. Skinnytaste's recipes are "healthy dishes that don't sacrifice any of the flavor" of their full-fat counterparts.
Average Monthly Unique Visitors: 358,778
Twitter: 27,350
Facebook: 268,263
Pinterest: 144
See all 25 food blogs at The Daily Meal
More from The Daily Meal
101 Best Restaurants in America
World's 30 Best Restaurants for Sunset
10 Reasons Why Avocados Are the Best Things Ever