Top 10 Thanksgiving Wines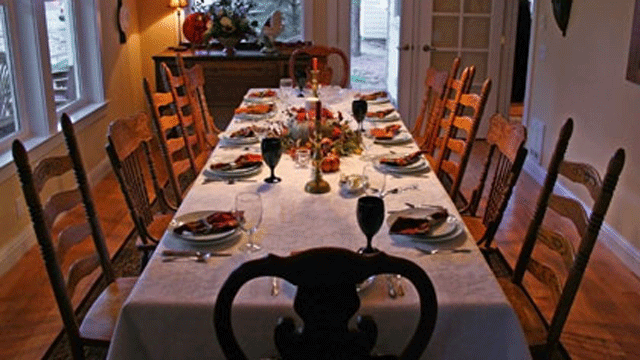 So you're invited to Thanksgiving dinner. How do you decide what wine to bring with you? Here are ten All-American selections guaranteed to pair well with turkey and the trimmings. Since most of them are priced under $20, you shouldn't hesitate to put them on your own table as well.
These top Thanksgiving wines reflect the diversity and variety of U.S. wine production. We've included whites and reds, sparkling and sweet wines, from California to Georgia and Michigan to Texas.
SPARKLING

L. Mawby Blanc de Blancs $20
Larry Mawby has been producing wines on Michigan's Leelanau Peninsula since 1978. All of his L. Mawby label sparkling wines are made using the traditional Méthode Champenoise and are aged in the bottle before disgorging. Made mostly from Chardonnay grapes, the Blanc de Blancs is nicely structured with medium bubbles. Aromas of crisp spiced apple and baked peach follow through to fresh and lively flavors of ginger and grapefruit.

Kluge Estate2008 SP Rosé $35
Acquired by Donald Trump in April 2011, Kluge Vineyard and Estate in Charlottesville, Virginia, is now Trump Winery and Vineyard Estates. Kluge's red and sparkling wines have been served at the White House and at Chelsea Clinton's wedding rehearsal dinner. Made according to the Méthode Champenoise, the SP Rosé is composed mostly of Chardonnay grapes with the addition of five per cent Pinot Noir. Raspberry and rose on the nose and strawberry on the palate make this a light and fruity sparkler.
WHITE

Shaw Vineyard 2007 Dry Riesling $20
Although Steve Shaw has been growing grapes in New York's Finger Lakes region for over thirty years, he only began making wines under his own eponymous label in 2002. His 2007 Dry Riesling is pleasantly dry and well-balanced, with flavors of ripe peach and tropical fruit. Enjoy it paired with Thanksgiving foods or on its own.

Biltmore Reserve2010 Chardonnay $15
The most visited winery in the United States, Biltmore benefits from proximity to railroad baron George Vanderbilt's massive French chateau in the mountains of North Carolina. Made from estate-grown grapes, this oaky Chardonnay offers aromas of lemon, pear and apple. On the palate, a pleasant acidity is balanced by smooth tannins for a fuller mouthfeel.

Conundrum 2010 California White Table Wine $22
A blend of Chardonnay, Sauvignon Blanc, Muscat Canelli, Viognier and Semillon sourced from Napa, Monterey, Santa Barbara and Tulare counties, Conundrum, while not exactly representative, is truly a California wine. Sweet and slightly effervescent, Conundrum's originality lies in the complexity resulting from this non-traditional blend. Heady aromas of honeysuckle, together with hints of peach and vanilla, mingle on the palate with melon, pineapple and pear.
ROSÉ

Messina Hof 2010 Sophia Marie Rosé $14
Paul and Merrill Bonarrigo, owners of Messina Hof Winery and Resort in Texas, trace their family heritages to Messina, Sicily, and Hof, Germany. Their Sophia Marie Rosé, named for their first grandchild, is composed entirely of estate-grown, hand-picked Lenoir grapes. Sweet and slightly effervescent, this young and fruity wine is not a typical rosé.
RED
Meiomi 2010 Pinot Noir $22
Among the Wagner Family of Wine's many labels is Meiomi (pronounced May-oh-mee), which means "coast" in the now extinct Yuki and Wappo languages of northern California. Blended from grapes sourced in Sonoma, Santa Barbara and Monterey counties, this Pinot Noir is broad and balanced. Aromas of blackberry and cola reveal successive layers of cherry, vanilla and oak leading to firm tannins and a long finish.

Dancing Bull2009 Cabernet Sauvignon $12
Dancing Bull Winery in Modesto, California, began by producing a Zinfandel in 2002. Since then, their line has expanded to include Sauvignon Blanc, Chardonnay, Merlot and Cabernet Sauvignon. The latter is made partially with grapes sourced from Sonoma County, leading to darker coloring and more fruit forward flavors. A robust, full-bodied wine, this Cabernet offers ripe plum, cherry and black currant flavors with hints of clove and chocolate.

Eberle 2009 Barbera $26
In 1973, Gary Eberle began working in his family's pioneering winery, Estrella River (which is now Meridian). He co-founded the Paso Robles appellation in 1980 before opening his own eponymous winery in 1983. Eberle focuses on Rhône varietals with a little bit of Italy in the mix, such as this Barbera. It is medium-bodied with soft tannins and a balanced acidity. Ripe red fruit flavors with vanilla and a touch of spice make this Barbera a food-friendly wine.

SWEET
Chateau Elan Muscadine $11
Reminiscent of a French country estate, Chateau Elan Winery and Resort, near Atlanta, was founded by pharmaceutical tycoons Donald and Nancy Panoz. On a visit to their research lab in Gainesville, they became fascinated by Georgia's indigenous Muscadine grapes and decided to cultivate their own. Like their fruit-infused Muscadine blends, this pure Muscadine wine is sweet and foxy.
More from GAYOT.com
The Best Places for Dining Out on Thanksgiving