Top 10 prestige champagnes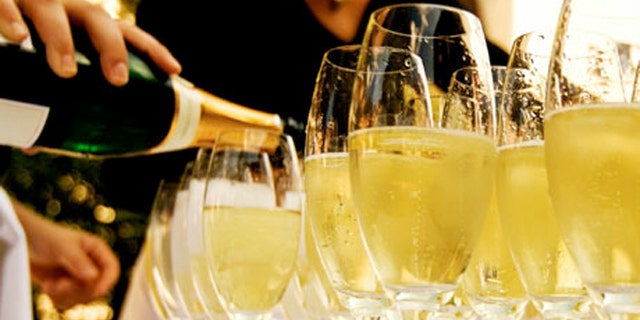 Prestige cuvées represent a champagne house's finest offerings. Many of these "Tete de Cuvee" champagnes on our list are vintage-dated and only produced in the most exceptional years.
While one of our selections costs more than $2,000, most can be bought for $200 or less, making them perfect for anniversaries and other special occasions.
What better way to start a new year?
Champagne Armand de Brignac
"Ace of Spades" Rosé
Price: $475

Each Armand de Brignac Champagne comes in its own shiny black case for safekeeping. The pink bottle inside the box contains an impressive assemblage of sparkling white wine and still Pinot Noir. The resulting rosé Champagne features strawberry and blackcurrant aromas that continue on the palate.
Champagne Philipponnat
2003 Clos des Goisses Brut
Price: $140
Pierre Philipponnat acquired the Clos des Goisses vineyard in 1935 and subsequently produced one of the first single-vineyard Champagnes. The 2003 vintage is composed of 70 per cent Pinot Noir and 30 per cent Chardonnay. This full-bodied sparkling wine boasts well-integrated fruit, mineral and spice flavors accompanied by a vibrant acidity.
Champagne Perrier-Jouët
2004 Belle Epoque Rosé
Price: $270

Japanese anemones adorn this elegant bottle, underlining the floral aromas of the Champagne inside. Blended mostly from Grand Cru Chardonnay grapes and some Pinot Noir, the 2004 Belle Epoque Rosé boasts a crisp mouth feel and flavors of strawberry, pomegranate and blood orange.
Champagne Taittinger
2005 Comtes de Champagne Rosé
Price: $200
The Comtes de Champagne whose seal adorns this bulbous bottle was Theobald I of Navarre (1201-1253). Legend has it that the crusading knight brought the first Chardonnay cuttings to France from Cyprus. The 2005 vintage is composed of 30 per cent Chardonnay and 70 per cent Pinot Noir and features rounded red berry flavors with notes of violet and pear.
Champagne Laurent-Perrier
Grand Siècle
Price: $150
This seventeenth-century bottle design evokes the "Great Century" of King Louis XIV. A fifty-fifty blend of Chardonnay and Pinot Noir grapes, the multi-vintage Grand Siècle is sourced from twelve of the region's seventeen Grand Cru vineyards. The wine displays notes of honey, almond and brioche on the nose and a dry, full-bodied mouthfeel on the palate.
Champagne Krug
1998 Clos d'Ambonnay
Price: $2,200
Composed entirely of Pinot Noir grapes from the Clos d'Ambonnay vineyard and cellar-aged for twelve years, this offering is Krug's finest Champagne. The 1998 vintage boasts complex and perfectly-integrated flavors, including blackberry, raspberry, red currant and licorice.
Champagne Ruinart
Dom Ruinart 2002
Price: $150
Founded in 1729, Ruinart is the oldest established Champagne house. Dom Ruinart is named for the founder's uncle, a Benedictine monk whose many interests included oenology. The 2002 vintage is sourced entirely from Grand Cru Chardonnay grapes, imparting flavors of citrus and tropical fruits with a hint of minerality to the resulting golden Champagne.
Champagne Moët & Chandon
Dom Pérignon 2003
Price: $160
Named after Dom Pierre Pérignon (1638-1715), a Benedictine monk and cellar master who pioneered a number of winemaking techniques, Champagne Dom Pérignon was the first prestige cuvée. Only 38 vintages have been produced since the wine's inaugural release in 1936. The 2003 vintage displays bright floral aromas and flavors of lemon and orange zest.
Champagnes Charles Heidsieck
1995 Blanc des Millénaires
Price: $185
"Champagne Charlie" Heidsieck lived a colorful life that involved travel in America during the Civil War, time spent in a Union prison and a gift of valuable land in Denver, Colorado. Composed of 100 per cent Chardonnay, the 1995 Blanc des Millénaires has been aged for more than fifteen years, giving the wine plenty of time to develop. Offering aromas of dried fruits and nuts, it reveals soft lemony flavors with notes of caramel and vanilla on the palate.
Champagne Veuve Clicquot
2004 La Grande Dame
Price: $150
Veuve Clicquot is one of the few Champagne brands named for a woman, the widow of François Clicquot, son of the founder. Having inherited a large company with diverse operations, she decided to focus on Champagne. Primarily composed of Pinot Noir, the 2004 La Grande Dame displays complex peach and floral aromas. In the mouth, the wine is full-bodied and features a chalky minerality that reflects its terroir.
MORE ON GAYOT.com
Top 10 Real Champagnes Under $30
More Top 10 Champagne and Sparkling Wine Lists
Favorite Champagnes of Celebrities