Top 10 heart-healthy restaurants in the United States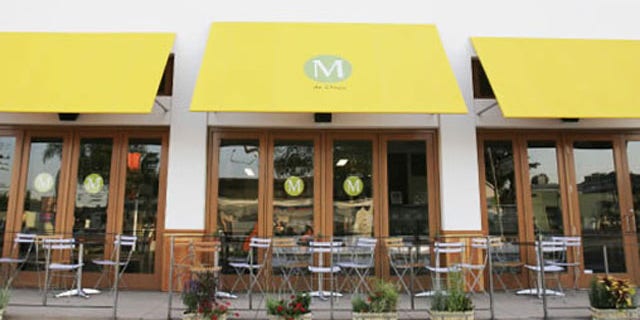 The announcement that Paula Deen, famous for her high-fat recipes, has been suffering from Type 2 diabetes for the past few years, is just the latest reminder of the importance of eating healthier.
While dining out at a restaurant can be considered a treat, it doesn't mean you have to abandon your diet. Savvy chefs know that they don't have to drown a dish in butter to make it delicious—lean sashimi, inventive salads and low-carb creations are just a few satisfying meals that can be low in sodium, cholesterol and saturated fat, but not low on taste.
These top 10 heart-healthy restaurants in the U.S. offer healthy meal options that will help you to both eat well and live well.
Canyon Ranch Grill
Canyon Ranch SpaClub
The Palazzo Resort Hotel Casino
3325 Las Vegas Blvd. S.
Las Vegas, NV 89109
702-414-3600
Sister of The Venetian's Canyon Ranch Café, the cozy Canyon Ranch Grill in the adjoining Palazzo features granite tabletops, a friendly 12-seat bar and an extensive menu that belies many myths about spa cuisine. Breakfast specialties include sweet potato hash with natural ham and poached egg, and the "Healthy Elvis," a grilled peanut butter and banana sandwich. For lunch, try the kale chips with homemade ranch sauce, halibut and shrimp ceviche with tomato and avocado, or a grilled ahi sandwich on focaccia with avocado, Swiss cheese, tomato and onion. Burgers include a grass-fed beef burger and the chicken burger --- organic chicken breast ground with Southwestern spices. Fresh fruit smoothies and wines nicely complement the imaginative fare.
Claire's Corner Copia
1000 Chapel St.
New Haven, CT 06510
203-562-3888
Since 1975, Claire's has been a New Haven, well, haven for health-food aficionados, offering up a cornucopia of fresh, vegetable-centric fare. But even the most rabid rabbits would be tempted by the line-up of pies, cookies and cakes chef-owner Claire Criscuolo and her crew bake fresh daily as well (the Lithuanian coffee cake alone is worth the trip).
They also offer breakfast to grateful co-eds all day, as well as good soups, pita sandwiches and big leafy salads that contain locally grown, sustainable organic products whenever possible. But wait, there's more: Mexican, Italian and Middle Eastern favorites round out the eclectic menu, from flatbread pizzas and burritos to falafel. Healthy smoothies are less-than-250-calories delights. Prices are student-friendly, as is the service --- which can, granted, be a bit too easygoing at times, but at least their attitude's in keeping with the hippie vibe. Order at the counter, and remember to recycle when you clear your table
Dalesio's of Little Italy
829 Eastern Ave.
Baltimore, MD 21202
410-539-1965
Known for its California-influenced Italian cooking, its spa cuisine offerings, and its wine list, Dalesio's is something of an enigma in Little Italy. Over the years it has resolutely refused to embody the pervasive red sauce gestalt. And though that will be Tony Bennett crooning away, the look of the restaurant is lightly Victorian, a touch romantic, and very comfortable. Its Italian classics --- scampi fra diavolo and veal saltimbocca --- are distinguished by a light touch. A first-rate roster of wines by the glass is available.
Green Zebra
1460 W. Chicago Ave.
Chicago, IL 60622
312-243-7100
This (mostly) vegetarian restaurant is under the deft hand of chef Shawn McClain. Years after its opening, foodies --- including the carnivorous sort --- continue to storm this place for dishes like creamy burrata with almond carrot-top pesto, pickled Hakurei turnip and red quinoa. The concise menu, while healthy, also is decadent and dramatic.
Options might range from curry roasted cauliflower risotto with brown butter cauliflower purée and red-eye sauce to black bean pozole with heirloom yellow hominy, shaved radish, cilantro and cotija cheese to somen noodles with hearts of palm, papaya, edamame, shiso and ginger-soy. Check out the affordable tasting menu --- it's $55 for four savory and one dessert course; it can be paired with wine ($35) or creative, non-alcoholic drinks, like pink peppercorn-thyme soda ($20). Come for brunch, too, when options like french toast and cheese-laden grits are served.
M Cafe
7119 Melrose Ave.
West Hollywood, CA 90046
323-525-0588
Created by the masterminds behind iconic restaurants Chaya Brasserie and Chaya Venice, M Café is a perfect spot for inspiring the whole family to enjoy healthy cuisine. Displayed in a deli-style setup with a case of glorious goodies running the entire span of the rectangular space, the macrobiotic-based cuisine focuses on flavor.
Although the menu is meat-free and veggie-heavy, there are several hearty fish selections, like the grilled tuna burger. We love the vegetable inari sushi over brown rice, as well as the almost matchstick-thin organic fries. Among the most enjoyable options are the two- and three-salad combos, which allow you to mix-and-match from the colorful displays of pasta salads, marinated vegetables and slaws. Desserts are also conscious cuisine, made without eggs, dairy or refined cane sugar. If it's available, try the chocolate fudge cake for a delicious treat. The restaurant also does a brisk take-out business for all three meals. See more of the Top 10 heart-healthy restaurants in Los Angeles.
Makoto
Bal Harbour Shops
9700 Collins Ave.
Bal Harbour, FL 33154
305-864-8600
At this Japanese restaurant from Stephen Starr (whose previous Asian groundbreakers include Buddakan and Morimoto), chef Makoto Okuwa, a longtime Morimoto protégé, fully proves he deserves having his own name above the door. The menu's divided into two equal parts: both creative and traditional sushi/sashimi, and izakaya-style small or large plates. Among the latter are some complex composed selections showing off the chef's inventiveness and contemporary technique (like "frosty Kobe fried rice," featuring a molecular gastronomic combo of melting warm liver and a frozen beef "popsicle"), and others are more classically-inspired: thin Kobe beef strips, cooked tableside on a hot stone that barely melts the beautiful marbling to butter; simple but well prepared items from a coal-burning robata grill that imparts subtle smokiness to king crab claws, miso/truffle-glazed short rib skewers, and more.
The sushi/sashimi side of the menu, featuring pristine Pacific fish flown in from the Tokyo market three times weekly, is equally accomplished, whether you go for makis like a crisp soft-shell crab roll that puts the usual "dragon rolls" to shame, or individual nigiri assembled with the ideal amount of fresh wasabi. The dessert selection is topped by an imaginative East-West flourless chocolate cake with an odd-sounding but delectable yuzu/miso custard center. Wine selections, though global, are limited, but the saké list is extensive.
Millennium Restaurant
The Hotel California
580 Geary St.
San Francisco, CA 94102
415-345-3900
San Francisco's swanky temple to upscale vegan cuisine is located in The Hotel California near Union Square. Despite the black and white tiled floor, zinc bar and dark wood, the restaurant's pretense- and meat-free sensibilities show through in the faux leather upholstery and recycled chandeliers and curtains. Chef Eric Tucker's inventive food draws meat-eaters and vegans alike.
For starters, try the spinach salad with smoked tofu in place of the usual bacon. The small-plates section of the menu might boast a dish of coriander crusted mushrooms with radish salad and kumquat-ginger-chili jam. Entrées range from sweet soy and chile glazed tempeh to arborio rice crusted artichoke risotto with caramelized leek and barley risotto, sautéed kale, oil-cured black olives and Meyer lemon. The wine list has been carefully chosen to match the unique menu. For dessert, try the sorbets or house-made cookies and truffles. See more of the Top 10 heart-healthy restaurants in San Francisco
Natural Selection
3033 NE Alberta St.
Portland, OR 97211
503-288-5883
If "vegan restaurant" brings to mind endless salads, colorless meat-alternative scrambles, and bowls of tofu mush served with indifference, prepare to have any preconceived notions blown away at Natural Selection. Instead, you'll find inventive preparations using vegetables, grains and fruits served in a warm setting with professional service and attention to detail. You can order à la carte, but the best bet is the $35 four-course dinner (two options for each course).
The always-changing menu might include a carefully composed roasted delicata squash with shell beans, escarole, quinoa and turnips as the main dish, and lemon poppy seed trifle with peach, blueberry, white chocolate, and cashew cream for dessert. Many dishes are gluten free, and a couple of items among the daily eight are typically vegetarian rather than purely vegan, such as chanterelles and piperade with cardoon and rutabaga, and a brioche bread pudding with mascarpone. Wine pairings may be added and there's a clever list of cocktails whipped up from a rolling bar cart.
Rouge Tomate
10 E. 60th St.
New York, NY 10022
646-237-8977
This Belgian export in the East 60s serves health-conscious fare with an elevated, French accent. Ignore the restaurant slogan, Sanitas Per Escam (health through food), and just eat. Chef Jeremy Bearman (who has worked with Daniel Boulud and Joël Robuchon) does an admirable job of cutting corners (i.e. keeping dishes on the healthy side) while still making them appetizing. Hawaiian walu crudo is accented with jicama, avocado, radishes and yuzu, while house-made ricotta cheese is accompanied by Sicilian pistachios, Catskills honey and cider vinegar. And somehow it all tastes better in a room that's chic and airy. The international wine list includes plenty of options by the glass, including a handful of good local New York State wines. There's also an emphasis on organic and biodynamic offerings. See more of the Top 10 heart-healthy restaurants in New York
Spa Cafe
Bacara Resort & Spa
8301 Hollister Ave.
Goleta, CA 93117
805-571-4113
The cuisine at this café is inventive, often-organic and always healthy; and, judging by the very fit crowd who can usually be seen eating here, it's a big hit with spa cuisine fans. These unique dishes will nourish both the soul and the body. You won't find any tofu burgers or lentils here; the dishes are flavorful and complex.
Starters include ahi tuna tartare in a soy ginger marinade, and the Bacara Ranch Salad with avocado, edible flowers, bee pollen and organic greens grown on the resort's 1,000-acre ranch. Rounding out the menu are entrées such as the free-range turkey sandwich with honey Dijon spread, and a sugarless chocolate soufflé for dessert. The wine list features a good selection of Santa Ynez Valley choices as well as organic options.
MORE ON GAYOT.com
Best Heart-Healthy Restaurants Near You
Top 10 Superfoods
Top 10 Immune System Boosters