Top 10 first date bars in the U.S.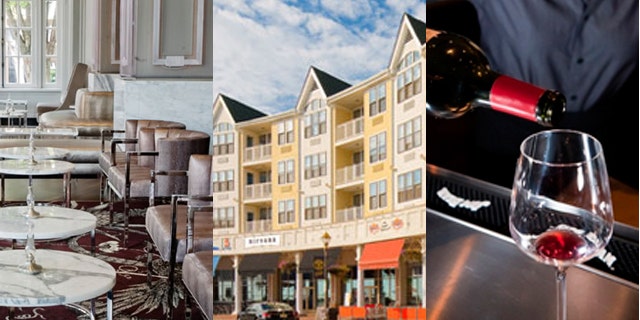 The first rule of first dates is to be yourself, but where should that happen?
You want to pick a spot where you can get to know someone, but also make a good first impression. Meeting at a bar for drinks gives both parties an easy escape route if needed, without having to sit through what could be a painful dining experience. But you want to keep your options open in case both parties want the date to turn into a meal.
We've found the top 10 bars across the country for a first date, where a drink or two could turn to dinner or something more. And if the atmosphere sets the proper mood and the sparks fly, some of these bars are even in hotels.

Pier Village
23 Ocean Ave.
Long Branch, NJ 07740
732-759-2900
What better way to fill awkward silences than with the sounds of the Atlantic Ocean crashing on the beach? Your date will also be impressed by the sea view filling Avenue's floor-to-ceiling windows illuminated by floodlights. The full menu of the restaurant is served at the 25-foot-bar, or guests can enjoy selections from the long wine list or specialty cocktails by the cozy fireplace for a truly intimate experience. We suggest sharing some oysters from the raw bar. This engaging restaurant and bar has its own beach club and nightclub, while shops and a hotel are within walking distance.
Ardeo+Bardeo
3311 & 3309 Connecticut Ave. NW
Washington, DC 20008
202-244-6750
Offering drinks, well-prepared small plates and conceptual art, this colorful Cleveland Park establishment exudes a cocktail party vibe which can remove a lot of first date awkwardness. Besides offering wines from distant ports, it also surprises with a fine selection of dessert wines, brews, and flights of brandies, vodkas, malts and scotches. Choose from more than twenty wines by the glass, which are also offered in half-glasses so you can sample the selection. Check out the Top 10 romantic restaurants in Washington, DC.
Craigie on Main
853 Main St.
Cambridge, MA 02139
617-497-5511
A first date can be like an exercise in improvisation; you're making things up as you go, taking cues from your new partner, trying to please him or her while keeping all options open. Craigie on Main offers plenty of choices to craft the perfect premiere date on the fly. The cozy bar area features an array of unusual artisanal cocktails, as well as local beers on tap, unique bottled selections and an extensive wine list. The rustic restaurant offers a daily-changing bar menu available until 11 p.m., as well as a deeper dining room menu, and two tasting menus, all French-inspired, from James-Beard-award-nominated chef Tony Maws. The theatrical open kitchen should provide plenty to talk about. This favorite of locals is conveniently located on the MTA, with plenty of other date-worthy venues within walking distance: movies, bars, restaurants and dance clubs.
C-House
Affinia Chicago Hotel
166 E. Superior St.
Chicago, IL 60611
312-523-0923
There's no rain check on a first date. If the Windy City weather doesn't cooperate, you can still enjoy a fine "get-to-know-you" at C-View, the sophisticated rooftop bar on the 29th floor of the Affinia Chicago Hotel. Gaze at the city's skylines from the open terrace, or hunker down and cozy up in the more intimate lounge indoor seating area. If the fog rolls in, this hip scenic destination offers plenty of people-watching as an alternative. Savor signature cocktails and light fare high above ChiTown, courtesy of top toque Marcus Samuelsson, or venture down to the chef's C-House "fish and chops" restaurant for an extended evening meal. At either place, you can present your date with bite-sized desserts from The Candy Bar menu accompanied by the words, "Sweets for the sweet?" Check out the Top 10 romantic restaurants in Chicago.

FIRST Food & Bar
The Shoppes at Palazzo
The Palazzo Resort Hotel Casino
3325 Las Vegas Blvd. S.
Las Vegas, NV 89109
702-607-3478
In Vegas, a first date can be planned, or can begin spontaneously after meeting in a loud nightclub and working up a thirst sharing a dance or two. The aptly-named FIRST, a hip, yet laid-back lounge without any pretension, meets the needs of both. High, open ceilings featuring gold detail and tribal tattoo imagery on the floor evoke a sense of urban, industrial design. The Palazzo establishment stays open late, and offers a full bar and comfort food, including many dishes designed to be shared. The huge restaurant is reasonably priced despite its convenient Vegas Strip location, which provides a great view, as well as plenty of options for entertainment and other date activities, including shopping and… did we mention it's in a hotel? Conversation starter: "Have you ever shared a Cotton Candy Kiss… martini?"
Gladstone's
17300 W. Pacific Coast Hwy.
Pacific Palisades, CA 90272
310-454-3474
Driving on the picturesque Pacific Coast Highway… sipping drinks at an outdoor bar while watching the SoCal sun set into the ocean… walking on the beach sans shoes… is there any better recipe for a first date? The view from Gladstone's gargantuan patio is just as beautiful as ever, but the restaurant, located where Sunset Boulevard meets the sand, has been remodeled and the food vastly improved. Stay for dinner at the classic beachfront restaurant, and your date can take home the leftovers wrapped in a cute tin foil animal. Awww!
Le Pichet
1933 First Ave.
Seattle, WA 98101
206-256-1499
Get closer at Le Pichet's intimate bar. Le Pichet is open from 8 a.m. to midnight every day, so couples can get acquainted over coffee and baguettes before deciding to stay for eggs and house-cured salmon. The wine — served by the glass from ceramic "pichets" or by the bottle — is first-rate and fairly priced. If your date likes a certain bottle, you can even gift him or her with one to take home. It's a full bar, so cocktails are also offered, as well as traditional and regional French cuisine from the dining menu of the 32-seat restaurant. The eleven-year-old establishment is in downtown Seattle, so couples can stroll from the bar to check out local shops, the waterfront, and Pike Place Market.
Livingston Restaurant + Bar
The Georgian Terrace
659 Peachtree St. NE
Atlanta, GA 30308
404-897-5000
Livingston's bar area has upholstered seating in small groups, as well as access to a street-side terrace, providing several intimate seating options. A low noise level makes it easy to hold a conversation and seating arrangements are fairly isolated, enabling some conversational privacy. The high-ceilinged Georgian Terrace Hotel bar features a chandelier. The bar menu, besides inventive cocktails, offers small plates, and the respectable wine list has many good choices that go with the food. Daters can segue into the restaurant which features a Contemporary American menu, or Café Mims for more casual fare over coffee and tea. Its location across the street from the Fox Theatre makes it easy to take in a show before or after drinks.
Nopa
560 Divisadero St.
San Francisco, CA 94117
415-864-8643
This neighborhood restaurant, city destination, and industry meetinghouse became an instant San Francisco classic when it opened in 2006. It features a fun wine program, quality cocktails and a kitchen that stays open until 1 a.m. Chat while snacking on the seasonal, rustic fare of a full menu in the long, community-centric bar's open atmosphere with 17-foot-tall windows which help alleviate any first-date claustrophobia. The food is high-end, wood-fired comfort cuisine — pork chops, burgers, whole roasted fish — made with organic ingredients. The price point also makes a good first impression without going overboard, and there are lots of fun nibbles to share such as warm olives and calamari. The stylish, lively atmosphere is a treat but relaxed enough for easy getting-acquainted conversation. There's a lot going on to help break the ice — an exhibition kitchen, vivid mural artwork, and a general buzz of good times and interesting people. Any dreaded silence that ensues can be broken by asking, "Did you know that Nopa stands for 'North of the Panhandle?'"

Terroir Tribeca
24 Harrison St.
New York, NY 10013
212-625-9463
Sleek, yet low-key and unpretentious, this neighborhood wine bar is dimly lit, providing the setting for a comfortable first date. And what better way to loosen up than with a little vino? They even have wine on tap, including a Finger Lakes Riesling. The ample selection of about two dozen reds and two dozen whites served by the glass can be ordered in three-ounce pours, allowing you and your date to sample several different types. Beer aficionados will appreciate the wide variety available including locals, domestic selections and imports from Denmark, Sweden and even Sri Lanka. The massive menu includes plenty of conversation starters, including fun facts, and Sherry is poured for free between 4 p.m. and 6 p.m. Want to continue that conversation over dinner? The bar has a full menu from chef Marco Canora, as well as cheese plates and charcuterie. Check out the Top 10 romantic restaurants in New York.
MORE ON GAYOT.com
The World's Most Romantic Restaurants
Top Wine Bars Near You
Top 10 Romantic Movies