This is what happens when two men attempt to eat noodles while riding a roller coaster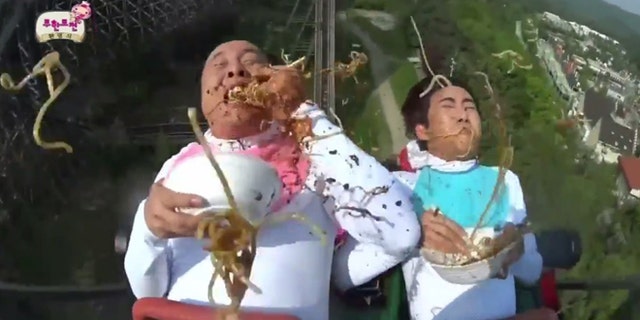 NEWYou can now listen to Fox News articles!
Many people can barely keep food in their stomachs while riding a speeding roller coaster, let alone eat while in motion.
But "Infinite Challenge," a long-running variety show in South Korea, may have outdone itself with this latest vomit-inducing stunt.
Two men, outfitted with useless bibs, were challenged to eat a bowl of traditional Korean noodles-- jjajangmyun—while riding a roller coaster. The ultimate task? To eat the whole bowl without spilling.
Cheerleaders are seated just behind the challengers, rooting them on and inevitably receive a face full of noodle debris during the ride.
Shockingly both men manage quite a few mouthfuls of food before most of their noodles go flying during the twists and turns. It's not clear from the clip who ends up winning the challenge but we can only imagine there was a race to the restroom once the coaster stopped.
This isn't the first time someone has attempted to eat food on a coaster. YouTube is littered with plenty of these misguided attempts-- including another noodle challenge that dates all the way back to 2008.