The world's most expensive taco is ridiculously expensive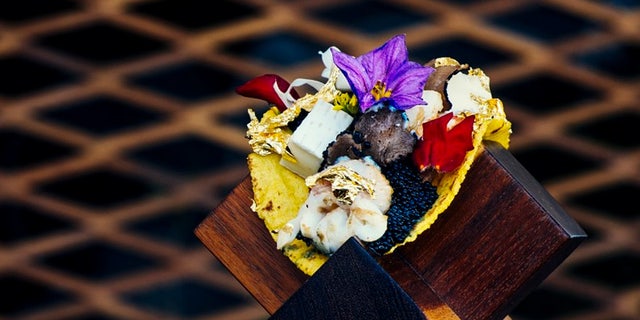 How much would you pay for the world's ultimate taco? Ten dollars? One hundred? How about a thousand?
If you're looking for luxury, check out this super-duper deluxe taco made with Kobe beef, beluga caviar and served on a gold flaked taco. Sounds good, right?
But if you want to try it, you're going to have to shell out a whopping $25,000.
Grand Velas Los Cabos has just unveiled its newest offering, the world's most expensive taco, which is being served at its on-site restaurant, Frida.
In addition to the Kobe beef and Almas Beluga caviar, the taco is also stuffed with langoustines and black truffle brie cheese. No good taco is fully dressed without homemade salsa, and this one comes with a limited-time-only version made with dried Morita chile peppers and seasoned with Ley.925 ultra-premium añejo tequila and civet coffee.
And don't forget that gold flake-infused corn tortilla.
You're probably going to want to wash that taco down with some tequila. No problem, Grand Velas' Executive Chef Juan Licerio Alcala has created the perfect pairing and recommends a hand-crafted white gold and pure platinum bottle of Ley.925 Pasión Azteca Ultra Premium Añejo. The tequila, though, is going to add a whopping $150,000 to your bar bill.
This pricey tequila is for sipping, not shooting.
The taco/tequila duo was created by Alcala, who originates from Durango, Mexico.
Grand Velas' Los Cabos is an all-inclusive (well, mostly inclusive) resort located on Mexico's Baja Peninsula. The $150 million beachfront property features five gourmet restaurants in case your budget only allows for one grand taco tasting.
Velas Resorts are a family-owned business and feature five resorts in Mexico. Rates start at $750 per person per night in double occupancy. The all-inclusive rate includes accommodations, a la carte gourmet meals, premium branded beverages, nightly entertainment and tax and gratuities.
The world's most expensive taco is not included in the all-inclusive rate.