The world's best athletes are eating a lot of McDonald's food at the Olympics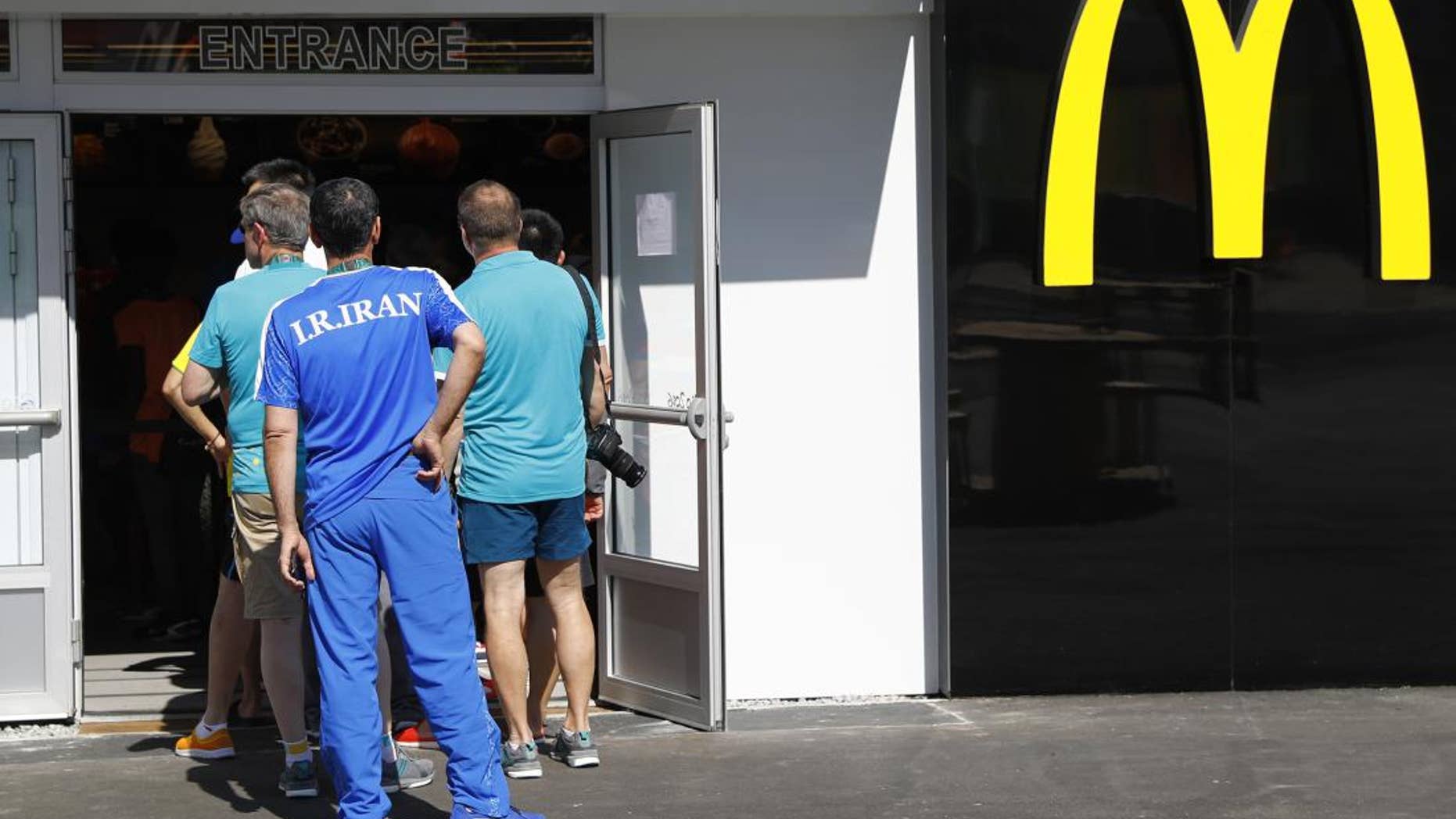 Personal trainers and nutritionists usually advise their clients to lay off the fast food to stay in shape.
But it turns out the world's best athletes are chowing down on insane amounts of burgers, nuggets, and fries—between events and after big losses.
"If you go at peak times, it's maybe one of the craziest experiences I've ever had," Jessica Javelet, rugby player on Team USA, told the Washington Post.
While fans wait in long queues for stadium food, it turns out the world's top sports superstars are waiting in extra long lines for McDonald's food.  No other fast food chains are operating in Olympic Village and, according to the Post, the line has stretched farther than a football field.
And while a Big Mac meal with fries and Medium Coke will set you back about 1,000 calories (about half the recommended daily allowance for a regular person)—many Olympians, who put in plenty of workouts each day, are known to easily put away 10,000 calories or more a day. That makes a simple McDonald's meal barely enough food to fuel Olympic sized feats.
The Olympic Village outpost receives so many orders each day that it has started limiting how many food items non-athletes can take out at a time to 20. And if athletes extend the limit, the order drops in priority they'll have to wait even longer.
But why are athletes filling themselves with fast food at the world's premier sportsmanship event?
Olympic Village apartments house about 10,000 athletes, coaches and team staff during the Games, which means there are a lot of mouths to feed. But many have lamented that when it comes to easily accessible food, it's surprisingly slim pickings.
When it comes to Brazilian food elsewhere, nobody seems to be biting. Other athletes have snapped pics of the casual dining restaurant that features Brazilian food—and some don't appear to be thrilled with their options.
"Normally, in the cafeteria, the food isn't good," Idaliz Ortiz, a judoka from Cuba, told the Post while munching on fries. "In practically all the arenas, it's the same. So the whole world always comes here for American food. That's McDonald's."
Technically, the Olympic Village McDonald's is a McCafe which means it has a smaller menu than a typical location. There are Big Macs, Quarter Pounders, Nuggets and basic chicken sandwiches. But there are also a few nods to Brazilian culture like pão de queijo (cheesy bread balls).
When it comes to athletes and their diets, it turns out they can vary quite a bit. Some are strict vegetarian. Aly Raisman and Simone Biles of the U.S. women's gymnastics team are big fans of lean protein and plenty of vegetables. Usain Bolt reportedly put away 100 Chicken McNuggets a day before setting records at the 2008 Olympics in Beijing. And Ryan Lochte, reportedly ate almost all his meals in Beijing at McDonald's—and went on to score four gold medals.
It turns out Bolt is still a big of McDonald's-- and he's been speeding through his trials in Rio this summer.
But even the athletes who haven't been as successful in Rio are still enjoying the Golden Arches. Australian badminton player Sawan Serasinghe had the ultimate "treat yo'self" moment after he and his partner were eliminated earlier this week. He acknowledged he was sad that his time on the Olympic court had come to an end but grateful for the experience. He concludes: "Now it's time to eat some junk food after months of eating clean!"
So, no matter what the weather, or how long the line, everyone in Rio from weightlifters to gymnasts, basketball players to volleyballers will likely keep flocking to McDonald's until the end of the Games in Rio.