Texas IHOP waitress's kind deed for man with Down syndrome goes viral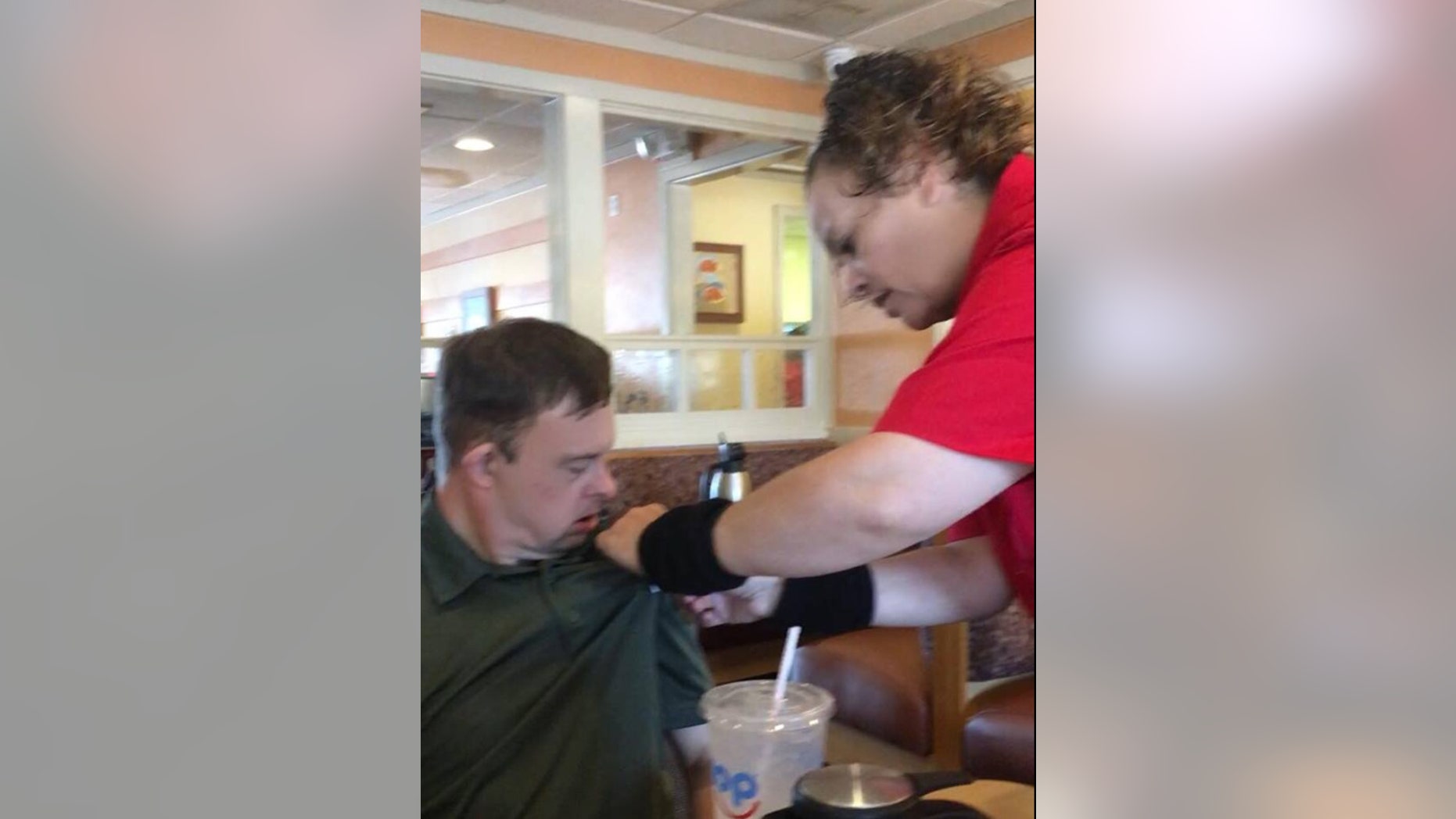 One Texas IHOP waitress is being praised for her small act of kindness for a customer with Down syndrome, serving as a reminder that it's often the little things that can make the biggest differences in life.
On August 22, Regina Thomason took to Facebook to share the sweet surprise she and her brother Dwayne Roach, of Breckenridge, found at IHOP in Abilene, East Texas Matters reports.
According to her post, the siblings stopped at the pancake house after a doctor's appointment, and 50-year-old Roach became fascinated by server Millie Young's name tag, Fox San Antonio reports.
KANSAS CHICK-FIL-A BARRING 'PROFESSIONAL CAMPERS' FROM SCORING FREE FOOD FOR A YEAR
"Dwayne immediately noticed the waitress's name tag (Dwayne has a thing for badges and name tags). He told the waitress that he liked her name tag and then told her that his name is Captain America," Thomason wrote online.
"Before we left - here comes the waitress - pins a name tag on Dwayne's Shirt - and yes it said 'CAPTAIN AMERICA' - Dwayne was thrilled!
"Thank you to Millie at IHOP. [You] made his day!" she added.
In the days since, the story has evidently struck a heartstring with many, with over 950 likes and a slew of supportive comments pouring in.
"It's so nice when someone takes the extra moment to just be nice!" one commenter wrote.
"This brought a few happy tears to my eyes! What a sweet lady!!!" another agreed.
"Way to go Millie - sometimes taking just a few extra minutes can change someone's day and impact a life," one chimed in.
Meanwhile, Young says she simply enjoys making others happy.
FOLLOW US ON FACEBOOK FOR MORE FOX LIFESTYLE NEWS
"When people come in, I want to make them smile. If they leave happy, it makes me happy," she told Fox San Antonio.
"When he left, I said, 'Bye, Captain America!' and he just giggled. It made me feel good," said Young.
According to the outlet, Roach also has a badge from the Breckenridge police department, where he was previously dubbed an honorary officer.