Texas doughnut shop offers scary clown delivery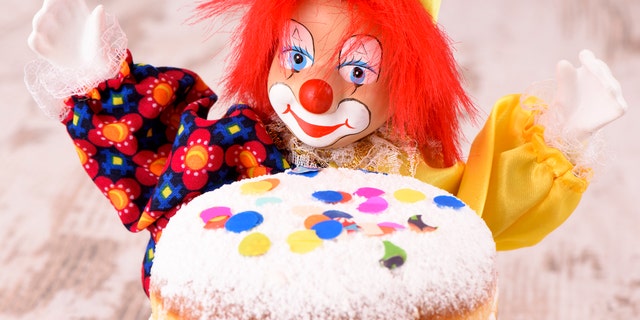 A Texas doughnut shop in is getting showing off their Halloween spirit with a new delivery service.
Hurts Donut in Frisco, TX, is offering a special delivery option for those living nearby – for an extra $5 on top of the already $5 delivery service fee, an employee from the shop will dress up like a scary clown and drop off a box of the artisan treats at your house.
DUNKIN' DONUTS TO BE SERVED ON ALL AMTRAK NORTHEAST REGIONAL TRAINS
Hurts co-owner Kas Clegg told GuideLive that the special – which is available September 25 and 26 – is meant "to keep up with the trends, and clowns are trending right now."
The surge in clown interest is due in part to the smash blockbuster, "It." Though the Hurts' clown costume has unruly red hair, jagged teeth and comes gripping a handful of shiny red balloons, Clegg has denied any relationship between it and the film adaptation of Stephen King's "It."
"It's fall, and it's getting close to Halloween," Clegg said. "So we just wanted to spice it up a little bit and do a super fun delivery."
FOLLOW US ON FACEBOOK FOR MORE FOX LIFESTYLE NEWS
"We just love scary clowns," Clegg added.
Clegg is hoping others love scary clowns, too. The company has said on their Facebook page that if their clown delivery service drums up enough interest, they "may pick a day for out of town clown deliveries as well."