Taco Bell hints at french fries in Twitter conversation with Blink 182 member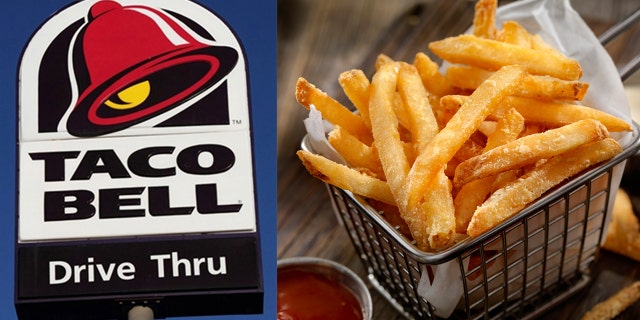 A fast food staple could soon be hitting Taco Bell menus everywhere, if recent banter on Twitter between the chain and a Blink-182 rocker is any indication.
On Oct. 30, bassist and vocalist Mark Hoppus took to the social network to ponder the merits of two favorite Tex-Mex franchises, Taco Bell and Del Taco
SMASHBURGER OFFERING $54 'SMASH PASS' WHICH ENTITLES CUSTOMERS TO $1 BURGERS
"Taco Bell is better than Del Taco but Del Taco has french fries so it's a real Sophie's Choice of fast food," Hoppus jokingly tweeted.
The next day, Taco Bell coyly chimed in with some possible insight.
"That just might change soon, Mark," the chain flirted, adding a winky face emoji.
Likewise, Hoppus seem to be quite delighted with the news.
"Huge if true!!" he responded.
BURGER KING EMPLOYEE CAUGHT ON CAMERA STEALING CUSTOMER'S FRENCH FRIES, COUGHING ON HANDS
While Taco Bell-approved french fries would certainly be a game-changer for fast food aficionados, this isn't the first time the franchise has teased potato dishes. In April 2016, T-Bell experimented with offering Nacho Fries at select California and West Virginia locations, and fries have long been served at international locations, as Thrillist pointed out.
From doling out free tacos in honor of a stolen base at the World Series to collaborating with Forever 21 on an exclusive retail line, the Irvine, Calif.-based eatery has certainly been busy as of late.
Hopefully, though, their test kitchen chefs will find time to slice, dice and get creative with french fry recipes, if only for Hoppus.
FOLLOW US ON FACEBOOK FOR MORE FOX LIFESTYLE NEWS
Live Más, and pass the fries, please.