Superstar chefs, foreigners traveling to Mexico to 'learn what's old'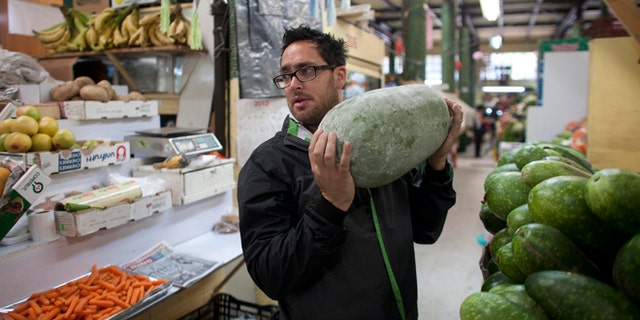 MEXICO CITY – Christopher Kostow foraged in the open stalls of the Mercado San Juan, the most gourmet of Mexico City's crumbling, pungent public markets, as vendors hawked: "This way, this way! What can we offer you?"
Kostow, whose Restaurant at Meadowood in Napa Valley has three Michelin stars, wanted to sample the diversity of the country's fresh ingredients: gray oysters from Baja California, lychee-like hairy rambutan from southern Chiapas, and bags of red flying ants from Oaxaca.
Like other top chefs from around the world, Kostow comes to study and experiment with the purity of ingredients and flavors in real Mexican cuisine, now a top export commodity that was dismissed for decades as tortillas suffocated in heavy sauces, cheeses and sour cream.
"I don't know if you come to Mexico to learn what's new, but rather you come to Mexico to learn what's old," said Kostow, referring to the ancient cooking traditions of the country's many indigenous groups. "There are flavors of great depth, and there are techniques that are pretty challenging."
Though the movement has been slow, Mexico in the last few years has with difficulty earned the respect enjoyed by an Italy or France as a destination for the world's foodies, be they superstars such as Kostow, who was crowned America's best new chef just three years ago, or curious foreigners in sandals writing food blogs and leading mezcal-tasting tours.
Mexico's diverse terrain, from deserts and coastlines to cloud forests and jungles, has produced a vast range of flora and fauna that since pre-Hispanic times has provided the ingredients for dishes that vary by ecosystem. It's the perfect model for the new global trend to cook "paleo," using basic ingredients such as fish, vegetables and roots, and eat local.
In Mexico, that includes worms, grasshoppers and insect larvae, long considered caviar-like delicacies that are now being introduced to a wider world.
"A lot of people that I know are sort of turning their eyes to Mexico as a new place where a lot of innovation is going to happen," said Lars Williams, the research director of the Nordic Food Lab in Copenhagen, Denmark. "It's going to be a very strong player in the culinary world."
Star chef Alex Stupak, who runs a high-end taco joint in New York, visited a Mexico City street food stall in July and made a cellphone recording of cooks kneading masa dough to make huaraches, thick oval tortillas topped with cheese and steak resembling the leather sole for which they're named.
He is experimenting with pasta made from the same dough.
"We are trying to get the right consistency," Stupak said.
Up-and-comer Rosio Sanchez, a Mexican-American pastry chef at Copenhagen's Noma — recently named the best restaurant in the world in a poll of more than 800 restaurant industry leaders — made her signature Gammel Dansk dessert, substituting the Danish liqueur with tequila and bathing the creamy whey in bitter cactus juice.
The movement's leaders include Mexican chef Enrique Olvera of Pujol restaurant, a pioneer in the country's rediscovery of its authentic cuisine. He has been featured in local magazines as a young yet influential cook who has managed to modernize Mexico's pre-Hispanic food traditions in an elegant way.
His menu includes tostadas with escamoles, or ant larvae, and green mole made with different types of ubiquitous Mexican herbs cultivated since Aztec times, known as quelites, that can range in taste from spinach salty to minty.
Olvera has traveled the world in the past few years, hitting spots such as the Napa Valley and Copenhagen and assembling a wide network of the world's best cooks, most ranging in age from their late 20s to mid 30s. His creative plates have inspired chefs such as San Francisco-based Daniel Patterson of Coi, who said Olvera doesn't demonstrate how to make Mexican food, but how to incorporate Mexican flavors into their own creations.
"Mexico is definitely a strong taste influence that we have," Patterson said. "I like Mexican cooking, the depth but also the brightness, a lot of acidity."
It's a hard sell for some not familiar with the cuisine, especially to Mexico's Taco Bell-inundated neighbor to the north.
Exotic dishes, such as soft tacos of crunchy grasshoppers or ant larvae seasoned with garlic, onion and green pepper, are considered delightful by many Mexicans. Paxia, one of Mexico City's many new restaurants featuring haute cuisine, includes a plate of fat, delicately seasoned worms on its menu, as does Olvera's Pujol.
"How can you get gringos to eat bugs?" asked Nordic Food Lab's Williams, who grew up in New York and experiments with Mexican cooking techniques at the nonprofit lab established by Noma chef Rene Redzepi.
One goal, he says, is to discover new flavors in edible bugs. Ants spray a defensive chemical that tastes like coriander or tobacco, and fermented grasshopper's juice tastes like a mix of mole and soy sauce, they discovered.
"We are trying to get insects to be seen as a very valuable commodity," Williams said.
Mexico's original food pilgrim, Diana Kennedy, who is considered the world's recognized authority on Mexican cuisine and has made a career of preserving its heritage, worries some of the chefs are mixing the wrong ingredients and "killing the flavor."
"Many of them are using it as a novelty and do not know the things that go together," she said. "If you are going to play around with ingredients, exotic ingredients, you've got to know how to treat them."
She also says the cooks may be biting off more than American or European clients can chew.
"It's going to be a very small public that's going to accept these very innovative things," she said.
Olvera recently invited a group of chefs to a Mexico City food conference where they shared ideas and dishes, and spent off-hours exploring markets, kitchens and the restaurants of their Mexican colleagues. They opened the conference with a banquet featuring the fruits of their experiments.
Olvera presented a charred mushroom tamale that was smoked, not steamed, bathed in a serrano chili sauce just spicy enough to raise some attention.
"In this time of year, it gets very foggy, like misty," Olvera said of his historic techniques. "We added roots of cilantro, which is our way to say that our dishes have roots."
Stupak made crunchy waves of masa dough that sandwiched shrimp, sea urchin mousse and roasted tomato sauce.
Sanchez, the pastry chef at Noma, knew she wanted something acidic to transform her Danish bitters dessert.
The Chicago-born daughter of two Mexican parents tried with juice from the fruit of a prickly pear cactus, but it didn't work. It wasn't until she tasted the juice of the plant itself, the spine-covered green paddles known in Mexico as "nopal," in a sorbet at Mexico City's Quintonil restaurant that she had the answer.
Drinking mezcal later that night in a local bar, Sanchez asked chef Jorge Vallejo how he made it. Easy, he said, you just stew the cactus leaves in salt and lime and smash them. The 27-year-old Sanchez, her sous chef and Vallejo smashed cactus late into the night at Vallejo's restaurant. Then they rinsed the mess and pureed it.
Less than 12 hours before the banquet, she was juicing 20 kilos of cactus for her signature dessert, a disc made of whey with roasted agave syrup, milk ice cream, crumbs and small cookies. The cactus juice gave it a taste that was acidic, then sweet and finally creamy.
"We were like, 'That's amazing,'" Sanchez said.