Best honeymoon destinations for food lovers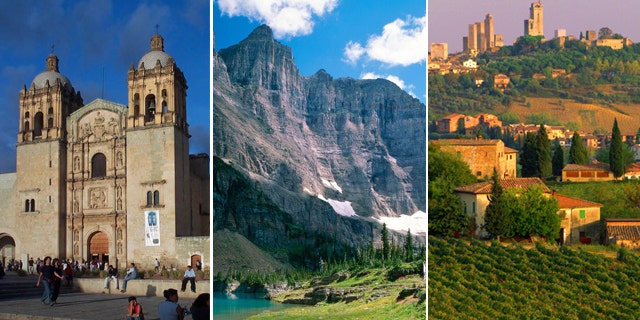 Once the band plays, the cake is cut, and the bouquet is thrown, there is one final part of every wedding to look forward to… the honeymoon. If there is one trip for which phones should definitely be off and itineraries should be nearly blank, it's the honeymoon. And if there is one trip to really indulge in the things you and your newly betrothed love, it's the honeymoon. No matter the destination or how long the trip is, there are tastings to be had, gastronomic splurges to try, and hole-in-the-wall discoveries to be made.
Of course, every couple is different and where some would relish in a week of wine tasting and awe-inspiring views of rolling vineyards, others would prefer the food-fueled bustle of exploring markets in, say, Singapore. And, of course, taste buds differ, too. One pair of newlyweds might be enticed by the promise of a week spent tasting mole sauces in Mexico while another would rather the rich flavors and slow pace of San Sebastian in northern Spain.
Once the destination is decided on, no two couples will be alike when it comes to planning out the days and nights spent away, either. Certain twosomes may want to spend their days touring markets and learning to cook with local ingredients, while other pairs would rather just sample foods cooked by others. And where discovering the ins and outs of a bustling food lover's city, like Istanbul or San Francisco, might entice some couples, others wouldn't feel like the honeymoon had started until their cellphone had no bars and the only decisions they had to make were whether or not to have another cocktail before dinner. So here are 10 honeymoon destinations that have something for every kind of couple —the low key food lovers, the bustling pair that loves to learn, the tasters, the cooks, and the explorers.
South of France
Just as a marriage brings two people together, a honeymoon in the South of France brings two different holidays together in one. Spend the first few days cuddled up in idyllic Provence, with ample wine tastings, perfect afternoon strolls through outdoor food markets, and the scent of lavender throughout. Then, move to the Côte d'Azur, where sun, sand, luxury, and mouthwatering Mediterranean fare await.
Oaxaca, Mexico
Mexico is blessed by having delectable cuisine throughout, but arguably one of the capitals of traditional Mexican foods and flavors is Oaxaca. It's an historical city with cobblestoned streets and a charming atmosphere, but the food is as bold as can be. Take a cooking course, stroll through local food markets, try a different mole every day, and book a room at the intimate Casa Oaxaca.
Montana
What could be more refreshing and restorative after planning that big day than the wide-open sky, fireside glasses of wine, and days spent horseback riding? Getting away to Montana offers all kinds of (year round) holidays, from national parks to dude ranches, and the Paws Up Resort knows how to make honeymooners feel truly away from it all with their Moonlight Camp. Private dinners for two with mountain views and fireside evenings of wine and fondue are followed by days of rafting, biking, and horseback riding.
Tuscany, Italy
No list of gastronomic honeymoon destinations would be complete without stunning, romantic Tuscany. The region is filled with vineyards, olive groves, restaurants, and bakeries, from the coast to the hills outside Florence. Villa rentals are common in Tuscany, so honeymooners should hole up in a rustic Tuscan villa and make their way to vineyards and small towns during the day, exploring the culinary landscape to the fullest, followed by nights strolling in town to find fresh, mouthwatering dinners. The two regions to look at first? Chianti and Maremma; Chianti is all rolling hills and natural romance, while Maremma is a small seaside town with charming beaches and restaurants serving the day's fresh catch.
St. Martin, U.S. Virgin Islands
If sun and sand are two non-negotiable musts, head to the food paradise that is St. Martin in the U.S. Virgin Islands. The island offers adventure, gorgeous beaches, and fantastic cuisine in all price points, from cheap hole-in-the-wall discoveries to luxurious, romantic eateries like the beachfront La Cigale and the old-school, nautical French Le Pressoir. Spend an afternoon deep-sea fishing with Lee's Fish — they'll cook your catch for you back on shore.
Click here for more honeymoon destinations.
More from The Daily Meal:
9 Movie Theaters Serving Gourmet Eats
15 Hot Dogs From Around the World
World's Most Gut Busting Meals