Subway franchisees sue after police claim worker spiked cop's lemonade with drugs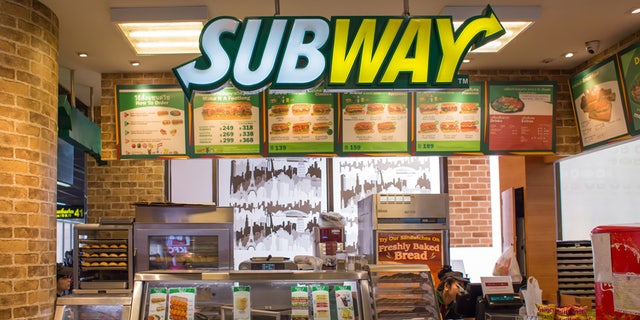 The owners of a Subway restaurant in Layton, Utah, aren't too happy with how their local police talked about their sandwich shop on the nightly news — and now they're suing for defamation.
Last August, the Layton Police Department accused 18-year-old Subway employee Tanis Ukena of spiking a law enforcement officer's lemonade with methamphetamines. But those accusations turned out to be false, and the Layton police admitted as much in a statement released last October.
NUMBER OF SUBWAY RESTAURANTS SHRINKING FOR FIRST TIME IN COMPANY HISTORY
However, during the police department's investigation, they arrested Ukena on suspicion of second-degree felony, Consumerist reports. A spokesman for the department also appeared on the local news just hours after the incident occurred, explaining that "the drink tested positive for THC and methamphetamine," and claiming to be "completely terrif[ied]" by such a crime.
In addition to the location of the Subway restaurant, Ukena's name and face were broadcast on the station, with the spokesman claiming to have seen Ukena "leaning over the beverage for an unknown reason" on surveillance footage taken from the restaurant.
By the time the department officially admitted that lab tests were "unable to confirm that contaminates were in the officer's drink" in October, the franchise had already lost many of its employees, as well as much of its business, say franchise owners Kristen Myers and Dallas Buttars.
And now, Myers and Buttars are taking the city of Layton — and one of its officers — to court for defamation and lost revenue, according to a lawsuit filed last Tuesday.
STUDY FINDS SUBWAY CHICKEN CONTAINS ONLY ABOUT 50 PERCENT CHICKEN DNA
"This has been one of the worst years," said Myers in a statement to The Washington Post. "I'm in the store every day, and I had several days were customers were coming in to give us the riot act. We also had people asking, 'Can you put that special stuff in my sandwich?'"
In their lawsuit, Myers and Buttars allege that the Layton Police Department allowed a spokesman to appear on the news "even though poison in the drink had not been confirmed" at the time of the broadcast.
Furthermore, the franchisees accuse the police department of taking no "prompt action" to correct its statements in order to exonerate the restaurant or its employees.
"[The defendants'] actions demonstrated a degree of flagrancy and outrageousness, and a magnitude of potential or actual harm, that was truly conscience-shocking," the lawsuit read.
Myers and Buttars are seeking compensory and punitive damages in excess of $250,000.
FOLLOW US ON FACEBOOK FOR MORE FOX LIFESTYLE NEWS
Ukena, meanwhile, had reportedly reached a settlement with the city for $50,000, the Star Tribune reported.
A representative for the city of Layton was not immediately available to comment.