Starbucks sells out of $150 travel mug
NEWYou can now listen to Fox News articles!
When it comes warm beverage holders, there are mugs and then there are extreme drinking vessels.
But would you shell out $150 to keep your coffee nice and toasty?
If you can't be bothered to reheat your cooling brew--and just love high-tech gadgets-- consider the Ember travel mug. The pricey mug may seem like an extavagance for only the most serious of java-heard but the high-tech mug is so popular that it's currently out of stock on both the Starbucks website and backordered at Embertech.com.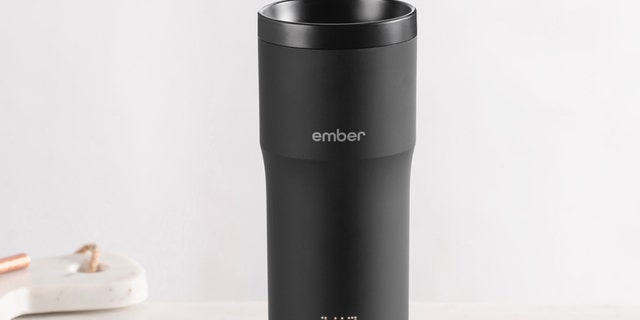 Launched in November, the travel mug was designed by Ammunition -- the masterminds behind Beats by Dre.
The company has a roster of investors and, according to Ember, counts several notable celebrity coffee and tea drinkers among its biggest fans including Demi Lovato, Joe and Nick Jonas, and NFL players Ndamukong Suh and Prince Amukamara.
FORMER NAVY SEAL WANTS HIS COFFEE BRAND TO BE THE OFFICIAL WHITE HOUSE BREW
The company boasts being "the world's first temperature controlled mug." To date, Ember has sold more than 11,000 units (mugs) and the company is working on fulfilling new orders from Starbucks to match the high demand.
So how does it actually work?
The smart-mug allows users to set a customized temperature for any beverage of choice and maintains that heat level until the very last sip. Throught the Ember app, users can give their mug a name, create temperature presets, choose notification preferences and switch between Celsius and Fahrenheit degrees.
COFFEE COMPANY TAKES ON STARBUCKS' REFUGEE PLAN, PLEDGES TO HIRE 10,000 VETERANS
The temperature setting is controlled with a rotating ring at the bottom of the mug. Touching the logo activates the display, which is only on when in use.
The battery life clocks in at around two hours for continuous operation though it only takes a few minutes to heat your drink back up to the desired temperature after the Ember is turned off.
And while $150 may seem like an exorbitant price to pay to keep your coffee at the perfect temperature, plenty of satisfied java drinkers are already singing Ember's praises.
The Ember mug, which retails for $149.95, is currently on backorder until March.