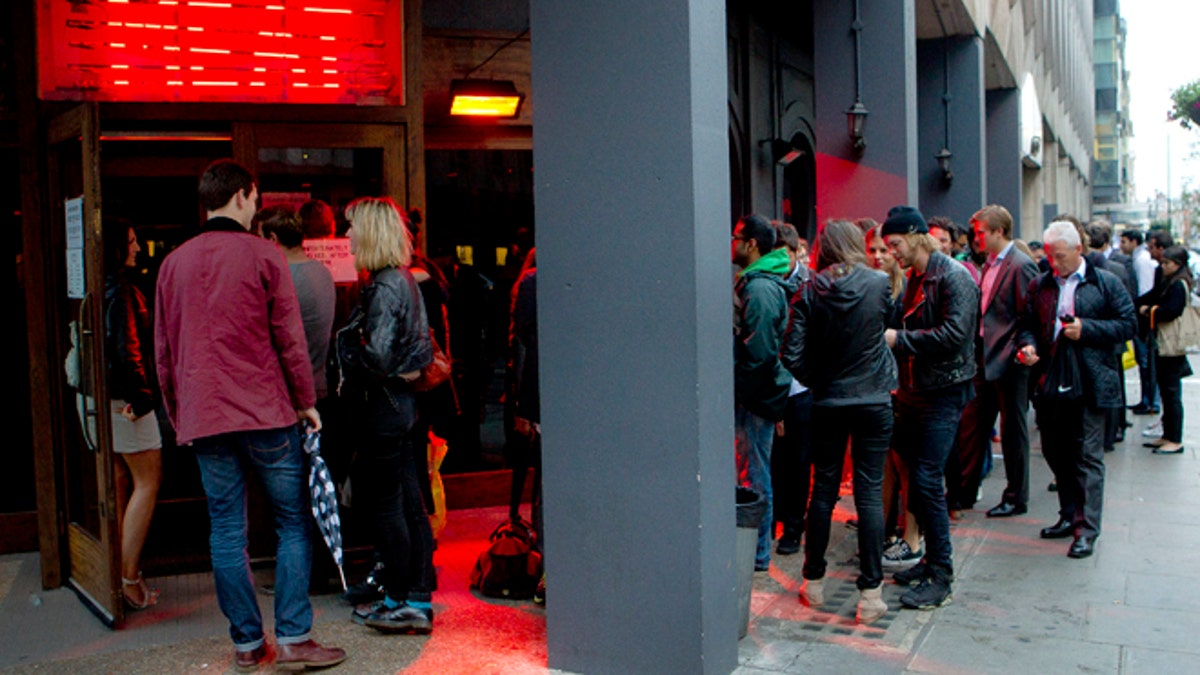 LONDON – The first thing that hits you? Pungent, savory wafts of grilling beef which draw visitors down a shadowy London backstreet to one of capital's most sought after new restaurants.
And the second thing? The back of the line.
It's an often lengthy, sometimes rowdy, chain of expectant diners who inch — occasionally impatiently — along an alley toward a prized table at Meat Liquor, currently London's busiest destination for burgers and cocktails.
Whether for a heralded barbecue at Pitt Cue Co., toothsome tapas at Barrafina, Anchor & Hope's modern English plates or Australian-inspired brunches at Granger & Co., some of the city's best meals are being served with marathon waits, amid a trend to refuse reservations.
At Meat Liquor — which like many of London's most popular new openings began as a modest food truck — visitors face a wait of 60 minutes or more at busy times before they can savor perfectly pink burger patties that ooze with juice and melting cheese.
Whatever the weather, whoever the customer — even for Britain's gold-medal winning Olympic athletes — there are no exceptions, insists owner Yianni Papoutsis.
"We get pleading, bargaining, bribery, tears, intimidation, verbal abuse, threats of violence," said Papoutsis.
None of it works, though those who insist they have a genuine need to cut the line can stand atop a soap box and plead their case. Their fate is decided with a show of hands from others in the queue.
Papoutsis insists his decision to shun formal bookings isn't in the hope of creating a buzz, but to preserve the first-come, first-served ethos from the days customers lined up to reach his van.
"We're a burger joint, a dive bar. Personally, I think it would be pretentious for us to take reservations," Papoutsis said. "A lot of the atmosphere comes from the fact that a lot of people come down on a whim. We get a very varied demographic because of it."
Fellow food truck-turned-restaurant Pitt Cue Co. — which traded up from a van on London's Southbank for a tiny dining room in the Soho district — says it asks would-be diners to wind along the cobbled street outside its door only out of necessity, since it has just 30 seats.
"We are not trying to be cool," the restaurant explains on its website. "We just can't think of a better and fairer system."
Eva Lamont, a 23-year-old from east London who works in music management, waited for 70 minutes at Meat Liquor this week before devouring a "just delicious" cheese-and-bacon burger and fiery chili cheese fries. She said most people appeared to be unruffled by the lengthy wait.
"I could imagine that a small minority of people may not be willing for 90 minutes for a burger — they'd be stupid though," Lamont said. "Considering the food is so tasty and the price is so reasonable, most people will always come back for more, regardless of the queue."
But Natasha Prayag, a 23-year-old copywriter from southwest London eating at the same restaurant, said that while she's often prepared to wait, the queues can become frustrating.
"The idea of a restaurant not taking a booking is quite stressful, as it means stumbling into the unknown, which is something most people aim to avoid, especially if you are paying for the experience," she said.