Shake Shack customer commends burger cooks in viral video
Fast-food employees rarely receive praise for doing exceptional work, but one customer decided to give two cooks the recognition they deserved, albeit in the most roundabout way possible.
In footage that has since gone viral, a young man named Marcus Jeffers likely shocked the staff and clientele at the new Shake Shack restaurant in Marlton, N.J., after rising from his seat and loudly demanding to know who made his burger.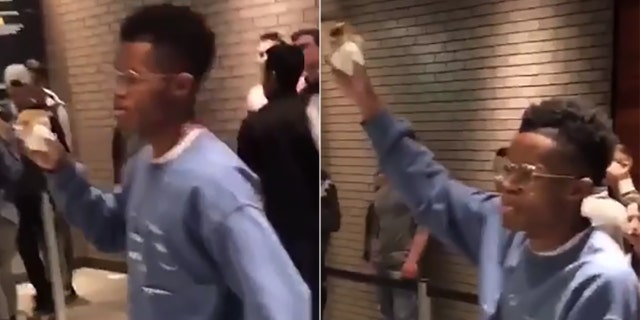 FAST FOOD EMPLOYEE SPITS IN CUSTOMERS FOOD IN VIRAL VID
"Yo," Jeffers can be seen yelling in the middle of the packed restaurant. "Who made this burger, man?"
Approaching the register, he once again repeats his question in an intimidating tone. "Who made this burger, man? I know y'all hear me!"
The employee at the counter turns around to face the rest of the crew, asking them to come forward and answer the customer's query. The first employee eventually points to two cooks, whom he identifies as Jason and Mike.
Then, with a smile across his face, the customer raises his burger toward Jason and Mike and declares, "Jason, you killin' it man. Mike too!"
The footage ends as the entire restaurant — crew included — begins cheering.
MCDONALD'S CUSTOMER TURNS VIOLENT AFTER RECEIVING WRONG BREAKFAST ORDER
The video, which was shared Friday by Jeffers on Twitter, has since been viewed more than 4 million times on Twitter alone, where it also generated more than 134,000 retweets and over 323,000 likes.
Jeffers told Fox News that he and a group of friends came up with the idea for the video after joking around during a visit to the new Marlton location.
"We had seen a video similar to that before, but the people that were in it threw the food at the employees, so we wanted to put a positive spin on it and make it our own," said Jeffers, who confirmed he was actually eating his first-ever Shake Shack burger in the video.
"Once I started yelling, the music stopped and everyone stared at me in silence, and I wasn't sure if I took it too far," he added. "So once I complimented the cooks, I'm glad everyone started clapping afterwards.
"Me and my friends planned on going back very soon to show them how big the video had gotten. Im just glad nothing got out of hand and everyone had a laugh out of it."
FOLLOW US ON FACEBOOK FOR MORE FOX LIFESTYLE NEWS
Shake Shack, meanwhile, appears to have enjoyed the video. The day after Jeffers shared the post, the company responded with a message reading "'On point is what we aim for," in reference to the caption displayed across Jeffers' video.
In other words: Way to go, Marcus, Jason and Mike.