Restaurant receives apology, money after diners walk out on bill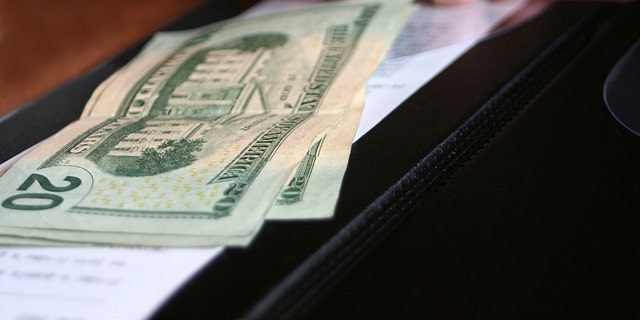 A group of men have received praise for their actions after walking out on a bill.
Three diners walked out of a cash-only restaurant in Middlesborough, England, claiming to search for an ATM, only to never return.
Owner Apollo Apollinaire told the Independent, "I put it down as a bad experience. Usually, people don't walk out as a whole group for a cash machine."
Apollinaire took the experience as one to learn from.
POPE FRANCIS CELEBRATES HIS BIRTHDAY WITH EXTRA-LONG PIZZA
"I just told my staff to next time make sure one of them stays or they leave some belongings until they come back," he said to Mirror.
However, five days later, Apollinaire received a letter that has had "his faith in humanity restored."
The letter, which Apollinaire posted on his restaurant, Kilimandjaro's Facebook page, contained £40 ($53.54) and an apology from the three men, explaining their actions.
"It is my companions and I sincerest apologies that on December 8th, 2017 we forgot to pay our bill. It was very unlike us, which is why we are very remorseful," the letter stated.
The trio, identified as Tom, Alex and Harry in the letter, went on to explain that after the meal, the men tried to pay with card but learned it was a cash-only establishment. Once they had left to find a nearby ATM, the men realized that "the last train to [their] hometown was shortly about to depart."
"This diverted our attention away from finding an A.T.M machine and led to us running down to the train station and just making our train," the letter continued.
The men felt so bad about the situation that they decided to "write [the] letter of apology with £40 enclosed" – the amount of their bill, plus a tip.
FOLLOW US ON FACEBOOK FOR MORE FOX LIFESTYLE NEWS
Tom, Alex and Harry finished their apology with a sincere sign-off: "it is with our deepest regret that not being from Middlesbrough we are not able to come into Kilimanjaro's in person to apologise."
Apollinaire was impressed by the men's actions and captioned the photo on Facebook with an encouraging reminder.
"Don't be quick to judge," his post reads. "Read carefully then you will understand that there are honest people over there too."