Restaurant defends bathroom needle disposal bins amid heroin epidemic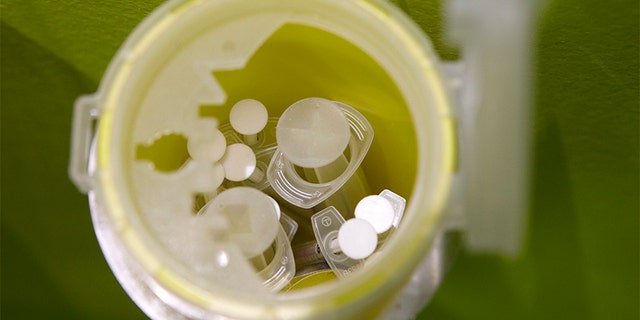 A Washington restaurant has defended itself after being criticized on social media for having needle bins in its bathrooms.
Chaco Canyon Organic Café in Seattle has placed needle disposal bins in each of its bathrooms as a response to the heroin epidemic affecting the Seattle area.
The restaurant claims the bins have been up for a while, but are just now becoming a point of contention because of a Facebook post that was shared by a group called Safe Seattle, lambasting the idea and accusing the restaurant of promoting drug use.
KFC WORKERS ACCUSED OF 'SMUGGLING' CHICKEN INTO RESTAURANT AMID MASSIVE SHORTAGE IN UK
One man who eats at the restaurant regularly said, KIRO reported, "The logic: we won't serve you meat, eggs, dairy, or honey because they're bad for you, but please shoot up heroin in our bathrooms. It's, like, totally vegan. We shouldn't pretend this is normal, safe, healthy, or good for our addicted brothers and sisters."
Lynda Lowe responded with, "The social acceptance of addiction isn't really helpful to addicts (or anyone else for that matter)."
However, there are others who have sided with the restaurant's actions.
"It's the sign of the times..better a sharps container...then finding it walking on the side walk to an elementary school, which I have done," one user wrote.
Another said, "I think restaurants do that so their employees do not get poked by needles. This seems like an unfair criticism of the restaurant."
The restaurant has spoken out about their choice to have a needle disposal bin, claiming it is for the safety of their workers.
"You know, someone poking themselves with [a needle], or someone reusing them," Chaco Canyon worker Jeff Coyne said to KIRO. "It sort of encourages the safe practice of disposing of them."
Coyne says the bins do not encourage people to use illicit substances.
"You know we don't want people to be doing that," Coyne said. "We don't know that people are going to be using a needle in the bathroom."
FOLLOW US ON FACEBOOK FOR MORE FOX LIFESTYLE NEWS
The restaurant stands behind its choice to have the receptacle, but notes that the bins aren't advertised anywhere for the general public -- they are just there in case.
"People are going to be using, wherever they are," Jeff Coyne said. "I've seen people all over the city, using in alleyways."
The heroin epidemic is responsible for hundreds of deaths in Washington state.