Recipe: Pumpkin Cheesecake With Caramel Pecan Topping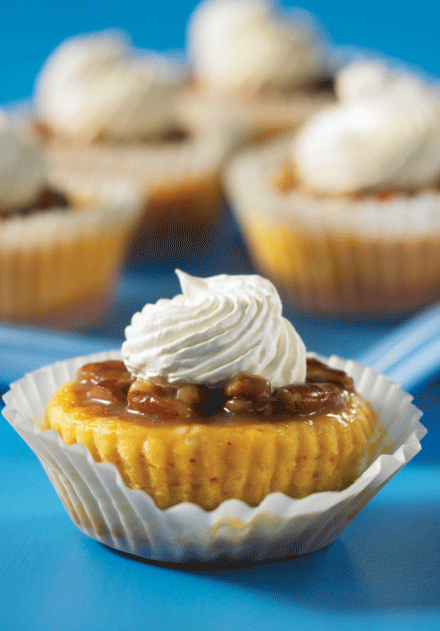 Pumpkin Cheesecakes with Caramel Pecan Topping
Makes 16 to 18 cheesecakes
Pumpkin, spices and pecans make a winning combination. In fact, with this much flavor, you'll want to make these often.
Tips
Graham wafer crumbs can be purchased ready-made, but if you can't find them, you'll need about two 43⁄4- by 21⁄4-inch (11.5 by 5.5 cm) wafers to make 1⁄2 cup (125 mL).
Toasting pecans intensifies their flavor. Spread chopped pecans in a single layer on a baking sheet. Bake at 350°F (180°C) for 5 to 7 minutes or until lightly browned. Let cool, then measure.
Paper liners
Crusts
1⁄2 cup graham wafer crumbs (see tip, 125 mL at left)
1 tbsp granulated sugar 15 mL
1⁄4 tsp ground cinnamon 1 mL
2 tbsp butter, melted 30 mL
Filling
8 oz cream cheese, softened 250 g
1⁄4 cup granulated sugar 60 mL
2 tbsp packed brown sugar 30 mL
1 egg, at room temperature
1 1⁄3 cup canned pumpkin purée 75 mL (not pie filling)
1 tbsp all-purpose flour 15 mL
1⁄4 tsp ground cinnamon 1 mL
1 tbsp heavy or whipping (35%) cream 15 mL
Topping
1 tbsp butter 15 mL
1⁄4 cup packed brown sugar 60 mL
2 tbsp heavy or whipping (35%) cream 30 mL
1⁄3 cup chopped pecans, toasted (see tip, 75 mL at left)
1⁄2 tsp vanilla extract 2 mL
1. Crusts: In a small bowl, combine graham wafer crumbs, sugar and cinnamon. Stir in butter.
2. Place a paper liner in each well. Spoon about 11⁄2 tsp (7 mL) crumb mixture into the bottom of each liner. Use the pie forming tool to tap crust into liner.
3. Filling: In a medium bowl, using an electric mixer on medium speed, beat cream cheese for 1 minute or until fluffy. Beat in granulated sugar and brown sugar until smooth. Reduce mixer speed to low and beat in egg and pumpkin until just combined. Beat in flour, cinnamon and cream just until smooth (do not overbeat). in sugar until stiff peaks form.
Excerpted from 175 BEST BABYCAKES® CUPCAKE MAKER RECIPES by Kathy Moore & Roxanne Wyss © 2011 Robert Rose Inc. www.robertrose.ca Reprinted with permission. All rights reserved.