Police thwart Kroger thief trying to steal nearly $1,200 worth of beef, pork and shrimp
Police say he was hiding a steak under the driver's seat of the getaway car, and a roast in the glove compartment.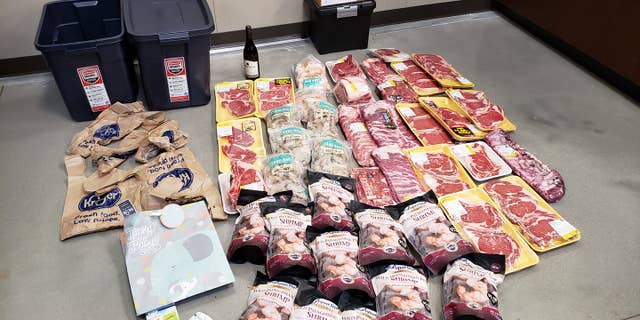 That would've been one heck of a barbecue, though.
A supermarket thief was apprehended in Montgomery County, Texas, after trying to make off with nearly $1,200 in stolen steaks, ribs, chops and frozen shrimp, police say.
The suspect, 52-year-old Michael Cordova, was arrested and charged with felony theft after an officer spotted someone tossing a can out of the car Cordova was riding in, the Montgomery County Constable's Office confirmed in a media release.
'PATHETIC' FROG-THEMED BIRTHDAY CAKE FROM SUPERMARKET LEAVES PARENTS MORTIFIED
The officer pulled over the vehicle, and the driver consented to a search. The officer soon found a T-bone steak under the driver's seat, as well as a roast in the glove compartment. The rest of the ill-gotten groceries were loaded into two plastic bins.
Around the same time, an employee from Kroger had reported the theft and provided details of a car matching the vehicle's description.
"PSA for [would-be] thieves… don't try it here, you will be caught," Montgomery County police wrote on Facebook alongside a picture of the meat, shrimp, and what appeared to be a bottle of wine. "These [would-be] thieves tried to get away with almost $1,200 in beef, pork, shrimp and a few other things today from Kroger on Riley Fuzzel near Birnham Woods."
FOLLOW US ON FACEBOOK FOR MORE FOX LIFESTYLE NEWS
Cordova was arrested and charged with felony theft after authorities had taken into consideration his previous theft convictions. The driver was not taken into custody due to undisclosed medical issues, though a warrant may be issued shortly.
The meat, meanwhile, was later returned to Kroger, officials confirmed.