Vegan 'brisket' outrages barbecue fans on Twitter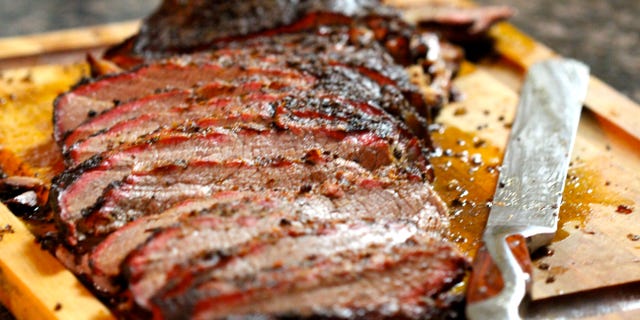 Not since your brother-in-law's last cookout has a slab of brisket caused so much anger.
TV writer Kevin Biegel took to Twitter last week to share his attempt at creating a vegan "brisket" from a combination of common meat alternatives like seitan, jackfruit and miso.
But, in doing so, he generated a flood of responses from BBQ aficionados, who blasted his attempt at recreating the smoky barbecue staple.
MEGHAN MARKLE TO RELEASE CHARITY COOKBOOK
Biegel, a father of two whose IMDB credits include writing for shows including "Scrubs" and "Cougar Town," later explained in the responses that he himself isn't vegan, but began experimenting with alternatives after suffering heart issues over ten years ago.
"I eat [meat] in moderation. I make it for people. But I'm gonna stick with my heart doctors and the experts when it comes to my health, thanks," Biegel added.
On the flip side, Biegel also got plenty of responses from followers asking for the recipe, and commending him on trying to change his diet, even though some suggested that his ingredients — namely the BBQ sauce — were a little high in sugar.
On Monday, Biegel followed up by thanking his followers for coming to his defense, and promised to share the recipe for his vegan brisket, or "vrisket."
FOLLOW US ON FACEBOOK FOR MORE FOX LIFESTYLE NEWS
He also added that he has, in fact, cooked a real brisket before, and has an appreciation for both.
"I've been making BBQ for about a decade and am finally getting okay at the real stuff, too. I live in both worlds!"