Police breakfast photo stirs controversy on Twitter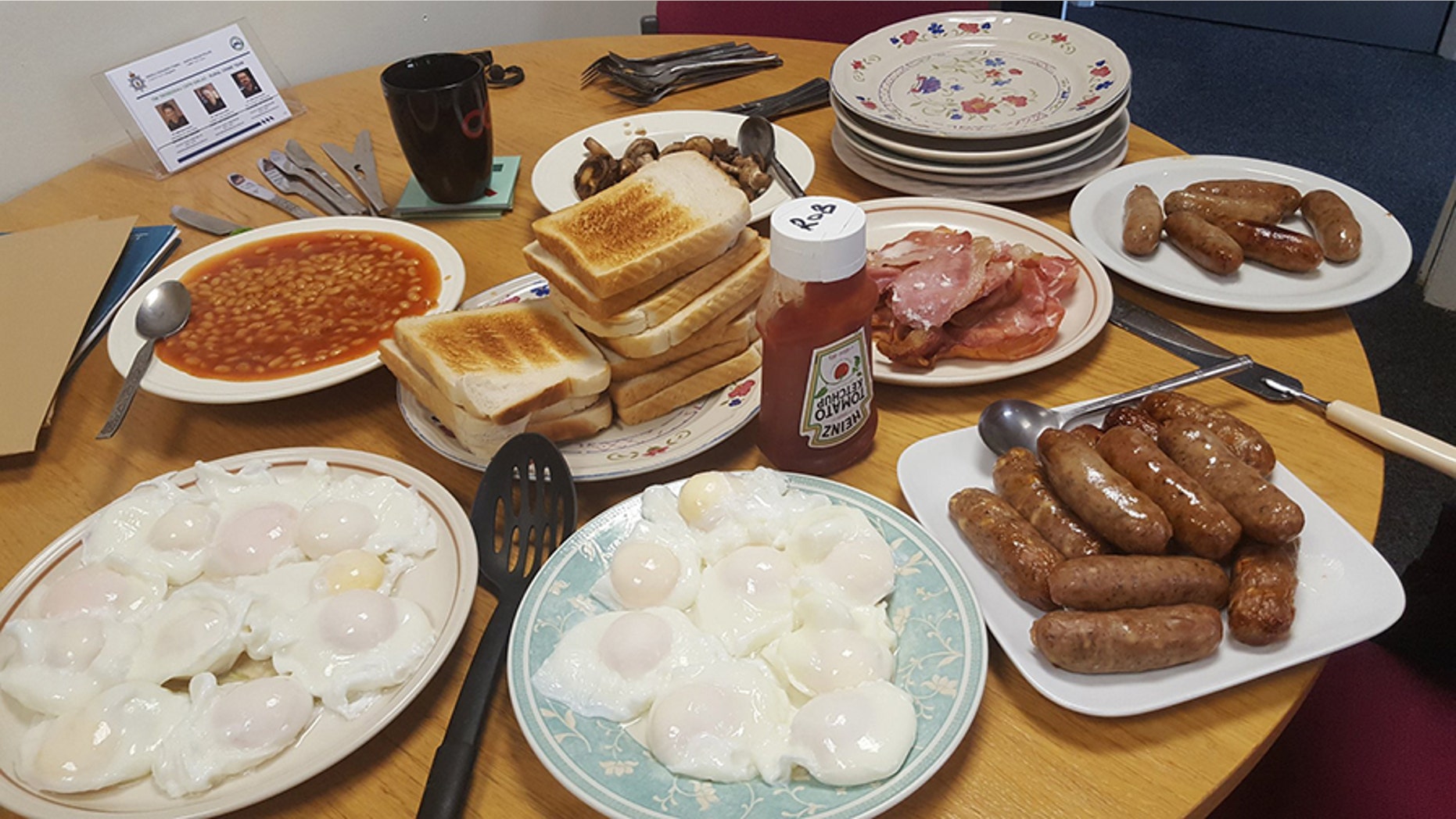 A police team in North Wales received some criticism for posting a picture on Twitter featuring a protein-packed breakfast.
The Rural Crime Team was gathering for a team breakfast last month when they decided to take a snap of their spread – two plates of eggs, two plates of sausage, a plate of bacon, toast, cooked mushrooms and a bowl of baked beans all filled up the round table.
"Not bad eh....not one egg broken..... let the team meeting begin!" the team captioned the photo.
The team shared the pic and appeared to think nothing of it – following up the initial image with another picture of the group enjoying their meat-heavy breakfast.
WOMAN'S MOVIE-THEATER SNACK HACK GOES VIRAL ON TWITTER
The photo itself gained little traction, earning 217 likes and 28 retweets, but it was enough to anger one follower.
A Twitter user named "Diana" called out the police force's palates in a since-deleted tweet, "Speaking as a tax payer I'd prefer them to be less selective when answering questions and perhaps not post breakfast pics that offend vegetarian/vegan followers - pretty thoughtless considering the job title they have."
Diana's outrage, however, was not felt by the majority of Twitter users, who took to the social media platform to mock her.
"As a tax payer, I think you should tweet photos of your breakfast unless it's a protected species," one user wrote in response.
Another sarcastically wrote, "What if I'm offended that your not posting pictures of cooked breakfasts? As a contentious breakfaster I only think it's within my moral and ethical rights to see how good your breakfast is........"
FOLLOW US ON FACEBOOK FOR MORE FOX LIFESTYLE NEWS
"Vegetarian here but not offended. Not a banner waver. People have a right to live their lives as and how they choose," another said.
The Rural Crime Team took a screenshot of the original tweet from Diana and declared they would no longer be engaging with their audience on Twitter for the time being.
"And to finish 2017 I had to post this recent reply about our Twitter account, to show why we are withdrawing from answering questions or comments on Twitter for the time being. Nothing more I can say really....... Happy 2018," the team wrote.