Pizza Hut offers tutorial for making eclipse-viewing apparatus from pizza box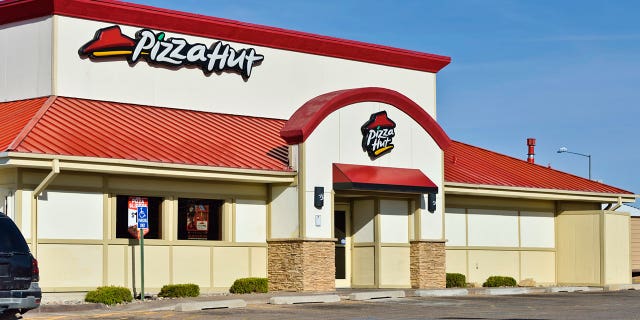 Can't get your hands on a pair of those fancy eclipse glasses everyone's talking about? No worries. Just use a pizza box.
Pizza Hut, ever concerned with the safety of our delicate pupils, has released an instructional video for turning one of their pizza boxes into a pinhole projector, which can be used to safely view the total solar eclipse.
BONNIE TYLER TO SING 'TOTAL ECLIPSE OF THE HEART' ON ECLIPSE CRUISE
The video, which lasts a mere 38 seconds, begins by laying out the materials needed for a Pizza Hut pinhole projector, including: a Pizza Hut pizza box, of course; aluminum foil; scissors; a pen; tape; and a sheet of unlined white paper.
To make the projector, the clip instructs viewers to separate the top and bottom halves of the pizza box. Once separated, simply cut a 1-inch hole in the lid portion of the box, and tape a square of aluminum foil over the hole. Poke a tiny "pinhole" into the foil with the tip of the pen, then set the lid aside. Tape the sheet of paper to the bottom half of the box, to serve as the screen.
To use, place the bottom "screen" portion of the box on the ground, paper side up. Then, with the sun behind you, hold the top part of the box a few inches from the screen, right as the moon crosses in front of the sun. You should see a projection of the eclipse on the sheet of white paper, no glasses needed.
PIZZA HUT'S 'PIE TOP' SNEAKERS ARE CAPABLE OF ORDERING PIZZAS
As NASA has stated, "You should never look at the sun directly without equipment that's specifically designed for looking at the sun," so without eclipse glasses, a pinhole projector is a decent alternative.
It's worth noting that just about any two pieces of cardboard will do to make a pinhole projector — NASA has a guide for fashioning one from a cereal box — basically making Pizza Hut's tutorial just another example of the many brands trying to cash in on the total solar eclipse.
Even still, it doesn't hurt to have a pizza handy while waiting for the eclipse.