Pizza festival a 'scam'; tiny pie cost $75, attendees claim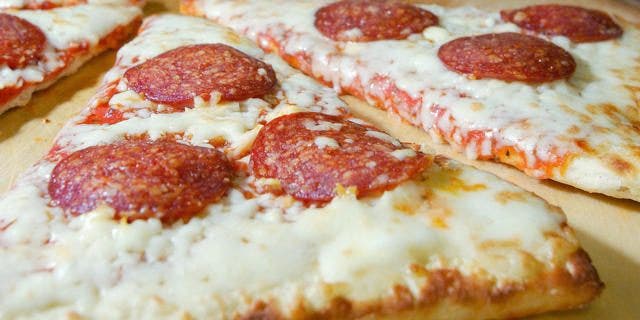 Attendees at a New York City pizza festival last weekend hoped to get a nice slice of a pie, but said were left hungry and furious after shelling out $75 for tiny, cold pizzas and waiting hours in a "shady parking lot."
The food festival in Brooklyn on Saturday promised to give people "an eclectic tasting of the best pizza in NYC." The event organizer, Ishmael Osekre of Aputumpu, did not specify which vendors the pies were coming from and how much will be offered for ticketholders who paid between $36 to $75 to attend.
"Whether it be pepperoni, mushrooms, onions, sausage, black olives, bacon, green peppers, extra cheese, plain or even experimental combos, there will be pizza for taste buds of all types!" the event page stated.
Guests said they arrived at a "shady parking lot" with empty tents and a scant amount of food for hungry attendees. People waited hours in line just to discover there weren't any slices to fill their appetite. Several people began posting complaints and photos of the food they were being offered on the event's Facebook page.
PIZZA HUT THREATENS EVACUATING FLORIDA EMPLOYEES WITH DISCIPLINARY ACTION
"Total s**t don't spend your money if you haven't yet, and if you have get a refund. Three small tents are here, paid $75 for a slice of pizza smaller then my palm," Oscar Mendoza commented on Facebook.
"This was the 'festival' at 4pm! Not very festive!" David Evans posted with a photo of the event.
"It was nothing but Jesus [that] stopped me from flipping over those tables. I drove all the way from Albany with my brother. I will be contacting my credit card company and letting them know that I did not receive a service and I took several pictures and video, which they were so called mad about. Ummm...what did they expect me to do? I also pray for them, because God will deal with them accordingly. Have a blessed evening, everyone," Vanessa Kissee also wrote.
A burger festival was also expected to take place on the same day and location, but people noted there were no burgers to complement their tiny cold slices of pizza.
Attendees were so outraged by the festival they created a separate Facebook group titled: "Pizza Festival Scam Victims."
"This was a rotten scam, they promoted this as a pizza festival and a hamburger festival. People who arrived early said there were about 5 pies cut into micro slices of really bad pizza. There were no hamburgers!" the group wrote. "Clearly this is a scam and the organizers should be held accountable."
Aputumpu said in a statement to Fox News "untimely delivery of food delayed the fun experiences we all looked forward to this past weekend."
It said a "make-up tasting" will be done shortly.
Osekre blamed Hangry Garden, the event producer, for the catastrophe. However, Hangry Garden wrote on Facebook it was only hired to be the vendor for the event.
"We were hired as a vendor for our furniture and games. However we backed out of that arrangement because they misrepresented what they were capable of providing and we care more about creating a great experience then a bottom line," the company wrote.
FOLLOW US ON FACEBOOK FOR MORE FOX LIFESTYLE NEWS
"We at Hangry Garden apologize for any inconvenience this has caused," it continued, adding that attendees can email them for two free drink tickets for their next event with the company.
New York Attorney General Eric Schneiderman's office told Fox News they are reaching out to organizers and have opened an inquiry. They also urged attendees to file a complaint.