PETA condemns Popeyes' 'emotional support chicken' meal
The People for the Ethical Treatment of Animals (PETA) isn't laughing at Popeyes' jab at the raging national debate over emotional support animals on planes.
The world's largest animal rights organization has issued a fiery statement chastising the fried chicken chain for making light of the subject with their 'Emotional Support Chicken' carrier.
MCDONALD'S CUSTOMER ARRESTED FOR TRYING TO BUY FOOD WITH MARIJUANA IN DRIVE-THRU
For a limited time, Popeyes is offering travelers at Philadelphia International Airport an "Emotional Support Chicken" disposable tote when they purchase a 3-piece chicken tender combo meal. The promotion provides guests with a carry-on box in the shape of a chicken and a sign boasting about its chicken's "comforting" effects for travelers.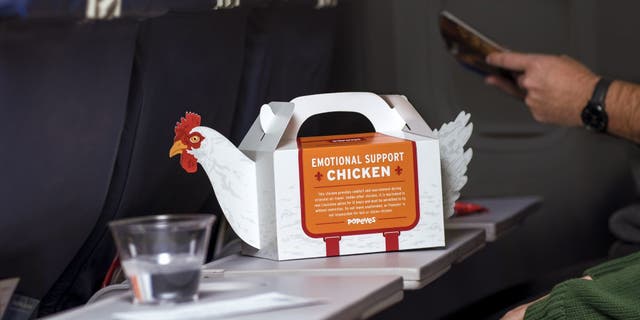 PETA, however, wasn't amused by the move, and responded on Twitter.
"#Popeyes is selling boxes of dead "emotional support chickens" for the holidays, proving they're not above mocking mental illness AND animals who died gruesome deaths. This is what the box would look like if it told the truth about what goes into their food," reps for PETA wrote on Dec. 19.
The organization shared an illustrated image of their take on the to-go carrier, featuring a chicken with sad-looking eyes and a message about the chain's "abused" chicken inscribed on it.
FOLLOW US ON FACEBOOK FOR MORE FOX LIFESTYLE NEWS
"This chicken needs emotional support. She had no comfort or nourishment during her incredibly stressful life. Like all Popeyes chickens, she was abused and killed and constantly restricted – never able to roam or fly," the graphic reads. "Popeyes is responsible for the slaughter of millions of chickens per year."
According to their official webpage, PETA boasts over 6.5 million members and supporters across the globe.
CLICK HERE TO GET THE FOX NEWS APP
Fox News' Alexandra Deabler contributed to this report.