Not all Starbucks in US are closing: Where you can still get a Frappuccino on May 29
NEWYou can now listen to Fox News articles!
Starbucks will be shutting down all of its company-operated stores on the afternoon of May 29 to conduct anti-bias training, but coffee lovers craving their beloved Frappuccinos or free Internet will still be able to get their fix at the company's licensed locations.
While more than 8,000 company-operated Starbucks will be closing Tuesday shortly after 2 p.m., a representative for Starbucks confirmed that "most of its 7,000 licensed stores" are expected to remain open.
These licensed stores — not quite franchised locations (Starbucks does not franchise) and not quite company-owned — are usually those found within grocery stores, hotels, airports or college campuses, the rep explained.
MAN WANTED FOR ALLEGEDLY THROWING HOT COFFEE IN MCDONALD'S MANAGER'S FACE
Last month, the company said the anti-bias training curriculum would be available to licensed outlets as well, and that those stores would be encouraged to participate in the training.
"Starbucks is sharing its training content with its licensed business partners, so they may have the option to make it available to their employees at a later date," the company stated in a news release last week.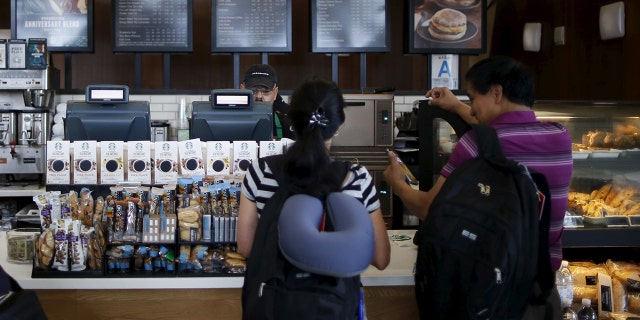 As of Tuesday morning, however, a Starbucks representative said the company still expects the majority of its licensed locations to be operating as normal on Tuesday afternoon. Customers looking for operational Starbucks locations are also directed to visit the company's store locator, which provides hours of operation.
Starbucks chairman and founder Howard Schultz has also made public an open letter to customers and employees on May 29, which he concluded by telling patrons, "We'll see you tomorrow."
STARBUCKS PREVIEWS CURRICULUM FOR 'RACIAL BIAS TRAINING
Starbucks announced it woud be conducting a racial bias training back on April 17, less than a week after two black men, Rashon Nelson and Donte Robinson, were filmed being arrested at a Philadelphia location.
Starbucks CEO Kevin Johnson has since apologized to Nelson and Robinson personally. The men have also settled with the city of Philadelphia for the sum of $1, in addition to the promise of a $200,000 grant to fund a pilot program aimed at helping Philadelphia high-schoolers achieve their aspirations of becoming entrepreneurs.
In the weeks since, Starbucks also announced a new policy — called the Third Place Policy — that would allow any Starbucks customers to use the facilities or occupy the store, regardless of whether the actually purchase anything.
"We are committed to creating a culture of warmth and belonging where everyone is welcome," Starbucks said.
In a Starbucks subreddit, partners were already voicing concerns that the new policy will lead to stores being filled with homeless people and drug users. One user who claimed to work at a Chicago Starbucks wrote that a homeless person using the bathroom got into a fight with a customer and police requested to see the store policy before taking action.
Others claimed that the policy wasn't actually new, but rather Starbucks is publicizing a policy that is already in place.
FOLLOW US ON FACEBOOK FOR MORE FOX LIFESTYLE NEWS
Tuesday's training is set to address the new Third Place Policy, among other concerns of unconscious bias concerning workers and guests. A news release ahead of the training session further confirmed that the session's events will include several video screenings, guided group discussions and a refresher in the Civil Rights movement.
Starbucks CEO Kevin Johnson and Starbucks founder Howard Schultz will be appearing via pre-recorded videos to welcome partners to the session.