NFL protests affecting chicken wing sales, poultry producer Sanderson Farms says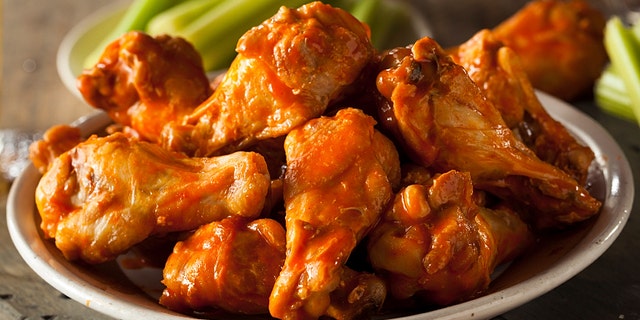 The NFL national anthem protests are being blamed for declining wings sales.
Sanderson Farms, one of the largest producers of chicken in the U.S., said its slumping sales were due to the football players' demonstrations.
The company said their spot prices decreased in the last three months and were 14 percent lower than the same period in 2016, Bloomberg reported.
Joe F. Sanderson Jr., the CEO of Sanderson Farms, said retailers' demand for the deep-fried delight was noticeably lower.
DIGIORNO MOCKS PAPA JOHN'S AMID NFL CONTROVERSY, AND PIZZA CHAIN FIRES BACK
"The only thing puzzling me right now is wings," Sanderson told Bloomberg.
"We've been talking to our wing customers and they're the ones that are telling us that they're seeing less traffic in their stores. They attribute that to the NFL."
The company's shares dropped 13 percent to $145.85 Thursday, its worst since 2004. Pilgrim's Pride Corp and Tyson Foods, the poultry producer's competitors, shares fell as well.
The NFL has struggled with ratings all season. Last week's Sunday Night Football game lost 35 percent of its audience compared to the week before, The New York Post reported.
Critics have said NFL kneeling protests are the cause of poor ratings.
PAPA JOHN'S: NFL LEADERSHIP HAS HURT SHAREHOLDERS
The national anthem demonstrations started last year when former San Francisco 49ers quarterback Colin Kaepernic kneeled to protest what he said was police mistreatment of black males. More players began kneeling after President Trump said team owners should get rid of players who protest during the anthem.
This is not the first time the protests have been blamed for declining food sales.
Papa John's CEO John Schnatter blamed the protests for declining pizza sales. Schnatter told investors the NFL's "poor leadership" through the "take the knee" controversy has lost the pizza chain $70 million.
The Associated Press contributed to this report.